Allstar Genetics are Amsterdam-based breeders with a storied history of growing, breeding and collecting cannabis for the industry's most established seed companies.
Over the years, they've enjoyed overwhelming success by combining their old-school collections with modern marijuana genetics to create some incredibly interesting and highly desired hybrids.
Thanks to their work with a dedicated group of medicinal tokers and growers, this seed bank has thoroughly tested the efficiency of all their strains, independently verifying their results and learning what makes marijuana strains stand out from the crowd. Their library isn't huge, but this enables Allstar to maintain the highest quality and consistency in their feminized and regular beans.
From cup-winning strains like El Cid to King Kong and Westside, you're in for a treat with these super potent, highly stable weed seeds - full of pure dankness and waiting to join your next crop from SeedSupreme Seed Bank.
Origins
Allstar Genetics is an established and reputable seed producer, owned and operated by a team of renowned experts with decades of combined experience.
Since their founding, this seed bank has been committed to the research and development of superior recreational and medicinal strains alike, striving to enrich the global commercial ganja community with the introduction of several exclusive strains unavailable anywhere else.
Brand Evolution
Old-School Meets New-Generation
With such deep roots in the marijuana market, the Allstar Genetics team of breeders acquired a vast collection of classic old-school genetics in their starting seeds, but it was through the combination of these storied strains with marvels of the modern green scene that the seed bank would find their niche and ultimate success as pot seed producers.
"As today Allstar Genetics is official and with our old school and new genetics that we collected in all these years we try to make as much variety as possible so that every strain is special. Allstar Genetics seeds are constantly produced in small batches to ensure that only fresh seeds are sold and germination rate is high. All our seeds are guaranteed fresh unlike many other seed companies that buy there seeds from independent growers we create strains and produce the seeds ourselves." - (Allstar Genetics)
Genetics
The team responsible for Allstar Genetics hadn't actually intended to set up as a seed company, but instead contribute to the success of others on the Amsterdam growing scene. Nevertheless, it didn't take long for the capabilities of the company's now-owners to attract the attention of established and influential cultivators at home and abroad.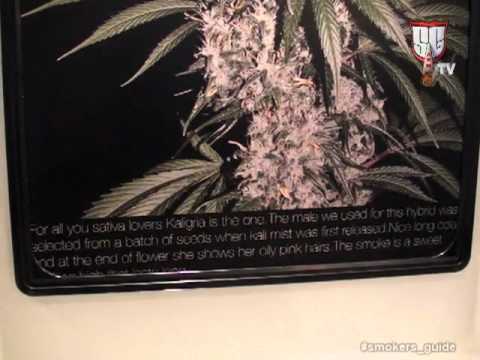 Over the years, Allstar Genetics has invested heavily in the research and development of new and innovative strains unlike anything else on the market. Rather than producing dozens or even hundreds of generic strains, Allstar Genetics has instead set their sights on perfecting just a small handful of flawless phenotypes.
Today, this seed bank's signature strains are a staple in the vast majority of quality coffeeshops across Amsterdam and beyond. Rare, prestigious and sought-after in the extreme, every strain produced by Allstar Genetics is the ultimate 'old-school meets new-generation' specimen for the discerning cannabis connoisseur.
A Compact Collection of Comprehensive Quality
With most typical seed producers, extensive collections of dozens or even hundreds of strains are the norm. The issue being that in far too many instances, quality takes a back seat to quantity. As does innovation, often overlooked for the sake of prioritizing expansion.
At Allstar Genetics, it's an entirely different story. To date, this unique and dynamic seed producer has put out a compact collection of just eight signature strains. In all instances, each of these strains is 100% exclusive to Allstar Genetics and has never been produced by any other breeder. In addition, each of these eight strains has been enriched, refined and stabilized in the course of several years, in order to guarantee exceptional results with every grow.
"The ASG lineup at this moment consists of 8 strains that we developed over the last years. Like most seed companies we can offer more varieties (but these strains at this point are not developed enough) so they will not be released till after passing our breeding program. The goal was to create winning strains that are totally different overall, and instead of creating more strains we work on our current line up." - (Allstar Genetics)
Essential Strains
Whether looking for something to blow your mind or simply pass the time with on a lazy afternoon, you'll find everything you could wish for within the current Allstar Genetics collection. Here's a brief overview of the company's accomplishments to date: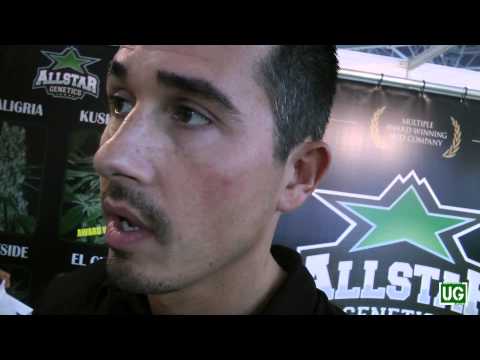 El Cid
A remarkable strain engineered in conjunction with a renowned Spanish breeder, El Cid honors her namesake in more ways than one. A complex and challenging hybrid with beautifully balanced genetics, El Cid was engineered by combining Morrocan Sativa, Hash Plant and Cheese. As you'd expect, the result is an exceptionally powerful and pungent specimen, with the kind of dankness that puts most comparable strains to shame.
El Cid's 50/50 Indica-Sativa split makes for a beautifully balanced yet quintessentially heavy high, with generous THC concentrations and huge yields after as little as 70 days. She's an easy specimen to grow, though performs at her best with a decent amount of TLC.
Zilvermist
Also true to her moniker, Zilvermist treats the grower to the most generous and sublime coating of silver-white trichomes when the flowers start doing their thing. Leaning towards the Sativa end of the spectrum with a 70/30 split, you can count on Zilvermist to deliver a strong and lasting cerebral high when you're in need of an instant uplift.
Give Zilvermist plants around 80 days to flower and you'll be rewarded with up to 500g of delectable buds for every square meter of grow space, along with a delightfully dank fragrance with just the right amount of fruity sweetness in the background.
King Kong
You wouldn't expect a shrinking violet with a name like this, and you'd be right. King Kong was created by combining the genetics of Ed Rosenthal Super Bud and Chronic, resulting an uplifting and comforting strain that's easy to grow from seed in no time at all.
The predominantly Indica genetics make this strain just the thing for combating everyday aches and pains, while at the same time alleviating stress and anxiety for the duration. King Kong is also said to have surprisingly powerful aphrodisiac properties, making her just the thing to take into the bedroom.
Westside
Easy to grow indoors or out, Westside has an enormous following in both recreational and medicinal cannabis circles alike. Particularly when it comes to treating chronic pain and insomnia, this stuff is said to get to work with a near-narcotic effect almost instantaneously. Then again, you'd expect nothing less from an Indica-heavy hybrid that combines the genetics of Northern Lights with Afghani.
Exposed to the odd cooler evening here and there, Westside plants have the potential to produce the most gorgeous purple hues as they approach maturity. All of which adds up to the kind of bag appeal that has to be seen to be believed.
KushDee
Dubbed a true connoisseur's strain by the folks at ASG, KushDee has the kind of pungent and potent fragrance that's an inevitable crowd splitter. Think tons of funky fuel with sweet citrus undertones and you're just about halfway there.
With her 60% Indica genetics, KushDee is known for bringing on a beautifully balanced high that's as uplifting as it is physically relaxing. Newcomers to cannabis cultivation will have no trouble producing a solid 400g bounty of bud for every square meter of grow space, after a flowering time of around 65 days.
Kaligria
Anyone on the lookout for the quintessential Sativa high will find Kaligria right up their street. Completely contradicting her well-balanced 60/40 Sativa-Indica split, Kaligria delivers a soaring and uplifting high that lingers for hours - often with next to no physical effects involved, providing you with the energy and motivation you need to get things done.
Expect one enormous cola punctuated with pretty pink hairs, along with a sweet and inviting fragrance with plenty of fresh fruit in the background. The smoke is dense enough to be satisfying to say the least, but is by no means cough-inducing or difficult to handle.
Automazing
Balanced, easy to grow and (of course) autoflowering, Automazing consistently delivers the goods in terms of fragrance, flavor and fantastic yields. Ideal for confined indoor grow spaces, Automazing plants are conveniently compact and yet capable of producing plenty of potent bud.
Her Jack Herer linage is evident in the cerebral rollercoaster of a high this stuff brings on, immediately transporting you into a more energized, optimistic and creative state of mind. All of which makes Automazing a simply superb choice for a daytime smoke.
Don Tangelo
Saved fittingly for the final course in our listings, Don Tangelo is as sweet and decadent as any dessert you can think of. With predominantly Indica genetics, Don Tangelo brings on the kind of immediate and lasting body stone that makes it impossible to do very much at all. Not that you'll want to, as the sense of contentment that accompanies the whole experience is the epitome of pure bliss.
Expect plenty of sweet mandarin flavors and a mouthwatering aftertaste that'll have you coming back for more. Just be sure to approach Don Tangelo with care if you've anything important on your schedule, as it won't seem quite as important after two modest tokes.