Ceres Seeds is a Dutch seed company founded by a team of breeders with decades of experience working in both the Amsterdam coffeeshop culture and established Dutch Seed Banks.
With a history dating back to 1998, these breeders are true veterans in the production and distribution of premium quality cannabis seeds. Based in Amsterdam and serving discerning growers on a global basis, Ceres Seeds took their name from Ceres - the Roman goddess of agriculture and motherly love.
They focus on excellent quality, super stable F1 hybrids, originally bred from the available imported landrace plants and their personal collections of seeds. Over the years their variety has grown, with new genetics introduced regularly to keep the connoisseur satisfied. Ceres Seeds have produced multiple award-winning strains and have several lines available, including feminized seed versions of their award winning original strains. If you want the seeds of dank and tasty plants from one of the most well established and yet still exciting breeders around then look no further than right here on SeedSupreme Seed Bank.
Committed to Quick and Easy Cultivation
The team behind Ceres Seeds came together in 1988, though found fame in the early 90s after joining forces with coffeeshop Dreadlock in Amsterdam's Red Light District. Ever since, Ceres Seeds has been famed for producing consistently superior cannabis strains and seeds for new and established growers alike.
What makes the difference with Ceres Seeds is the extent to which these guys prioritize strains that are easy to grow, stable, reliable and consistent in terms of output. They've also scooped up a long list of prestigious awards along the way, including a handful of High Times Cannabis Cups.
Essential Strains
Today, the Ceres Seeds collection is dominated by several top-selling strains of immense popularity. For anyone looking to get a taste for what Ceres Seeds is all about, the following heavy-hitters are just about as good as it gets:
Ceres Skunk
An innovative and ambitions take on one of the all-time classics, Ceres Skunk is the ultimate stinker. Not a strain to cultivate where discretion is a priority, Ceres Skunk quickly and relentlessly produces enormous resinous buds that pack an incredible punch.
The potency of the fragrance is rivaled only by the knock-out high, which gets to work after a single toke and has the entire body feeling heavy as a rock. Fast flowering times, simple cultivation, huge yields and massive THC production - Ceres Skunk has all the makings of an absolute superstar on the scene.
Ceres Kush
If you're hunting for a pure Indica with a ton of exotic spice and a near-narcotic effect, look no further than Ceres Kush. Bursting with herbal hashish flavors and plenty of peppery spice, Ceres Kush delivers the quintessential Indica high with a powerful and long lasting body buzz.
Expect short, compact and controllable plants throughout the entire growth cycle, which nonetheless produce surprisingly sizeable buds with a dense and chunky construction. Like all strains from these guys, Ceres Kush asks very little and delivers so much in return.
NORTHERN LIGHTS X SKUNK #1
The irresistible force meets the immovable object with Northern Lights x Skunk #1, which combines the properties of two of the most iconic strains of all time.  Deceptively easy to grow and beautiful to look at, Northern Lights x Skunk #1 packs the kind of potency that can take even the most experienced smokers by surprise.
Suffice to say, this is not the kind of strain to turn to when you've anything of importance to do whatsoever. After just a couple of earthy, spicy and piney hits, you're almost guaranteed to be flat on your back for the duration.
Fruity Thai
Speaking of being taken by surprise, Fruity Thai is an extraordinary specimen that combines all the physical properties of a Sativa plant with a beautifully balanced Indica high.
Proud recipient of a prestigious gong at the 19th High Times Cannabis Cup, Fruity Thai is famed for producing a mouth-watering tropical fragrance, with just a hint of minty eucalyptus in the background.  Expect a powerful and long lasting body buzz, coupled with a sense of clear-headedness, creativity and motivation you wouldn't normally expect from a powerful Indica strain.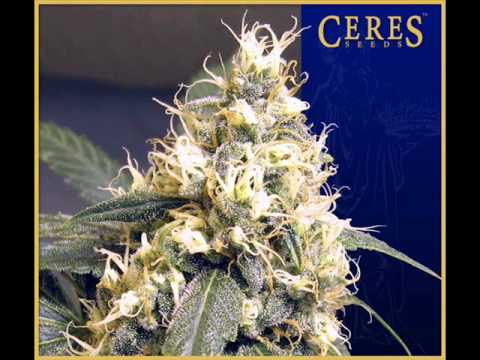 Super Automatic Kush
Simplicity is the name of the game with Super Automatic Kush, which is capable of producing epic quantities of potent weed just 75 days after planting your seeds. Boasting all the spicy and exotic flavors you'd expect from quality Kush, Super Automatic Kush is also great for a welcome dose of heavy physical relaxation at the end of a stressful day.
The flower to leaf ratio of this stuff is truly something else, making it great for making the most of limited time and space.
White Widow
Of course, the Ceres Seeds take on White Widow is also worthy of a mention - the all-time classic from every legendary Amsterdam coffeeshop. Over the years, each and every property in characteristic of White Widow has been taken to the next level, resulting in a super potent strain that's guaranteed to blow your mind.
Quite simply, there's nothing on the market that comes close to White Widow in terms of fragrance, flavor or flat-out power. The fact that she's so ridiculously easy to grow is simply the icing on the cake.