Dr Underground
Based in Spain and proudly supplying connoisseur cultivators with ultra-premium seeds, Dr. Underground is one of Europe's foremost cannabis cross-breeding authorities.
This doctor has the perfect prescription for you; tasty, potent and imaginative cannabis hybrids bred for excellent yield and stable phenotypes.
Taking inspiration from the world's favorite strains Dr Underground's range includes feminized and autoflowering marijuana seeds great for recreational use or growing as cash crops. As he is a doctor, you won't be surprised to learn he has also bred the renowned Pain Killer strain - which has proven to be an exceptional addition to the ranks of quality medical marijuana. Book your appointment with the doctor now and buy premium cannabis seeds at the right price with SeedSupreme Seed Bank.
Rare and Exclusive Cannabis Strains
Established in 2008, Dr. Underground has spent more than a decade indulging in all manner of weird and wonderful marijuana cross breeding experiments. The result of which is a compact yet epic collection of rare and exclusive strains you won't find from any other breeder.
Essential Strains
Focusing heavily on yields, potency and fabulous flavor, Dr. Underground responds to the needs of casual home growers and commercial cultivators on a global basis.
Top-sellers currently up for grabs from this notable and reputable seed producer include the following:
Godzilla Glue
A daring combination of two of the most potent and powerful strains ever to hit the market, Godzilla Glue combines an aggressive fragrance and flavor profile with the kinds of yields you simply won't believe.
Get it right with a good Godzilla Glue and you could be looking at to 1.5kg of quality cannabis for every square meter of grow space after just eight weeks of flowering. Sweet and piney with tons of acrid fuel in the background, Godzilla Glue immediately brings on an intense yet controllable cerebral high that lingers for hours on end.
King Kong
Insanely aromatic, King Kong immediately gets to work on the nose with a combination of sweet citrus and exotic incense, with a touch of inviting haze in the background. All of which makes King Kong superb for the production of hash, concentrates and extracts in general - particularly given her average 800g yield per square meter after just seven weeks of flowering.
As for the high, King Kong is all about alleviating stress and removing all inhibitions from the equation, leaving you feeling like you can achieve just about anything. Although you'll be just as happy sitting around and enjoying your surroundings for the duration, which counts double once the munchies kick in.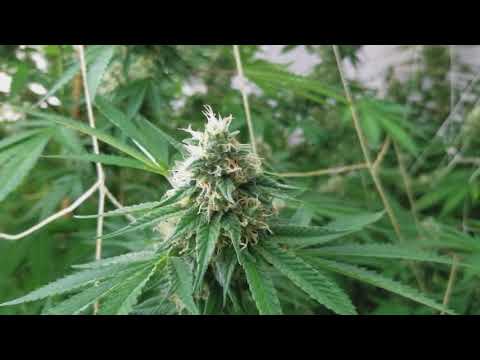 Melon Gum
The folks responsible for Melon Gum have not only managed to reduce her flowering time to seven weeks or less, but also increase her output to around 800g per square meter when grown outdoors. Mature Melon Gum plants are an absolute sight for sore eyes, producing the most beautiful blend of reds, blues, blacks and greens across the flowers and the leaves alike.
Melon, strawberry and lavender notes dominate the fragrance and flavor profile, while the high is just about as social and uplifting as it gets. An excellent daytime smoke when you need a burst of energy.
Black Jesus OG
An interesting specimen with a fragrance often described as at least slightly reminiscent of shampoo, Black Jesus OG impresses with her large and densely packed buds with exceptional resin production. Expect a stink that's hard to keep under wraps during most of the cultivation cycle, though isn't quite as quintessentially skunky as your average OG specimen.
The high is the epitome of a roller-coaster in every sense of the word, firing up the senses while wrapping you in a blanket of peace and tranquility for a taste of pure and unashamed contentment.
Soul Star
A heavy-hitting Indica-dominant hybrid with off-the-scale yields and ridiculous THC production, Soul Star was concocted by combining the genetics of Sensi Star 2004 and Peyote Purple. As you'd expect, the result of this amalgamation is easy-grow plants that are as tempting on the nose as they are gorgeous to look at.
If you're out for that unmistakable Indica high with a fresh and fruity lemon fragrance to set the mouth watering, look no further than Soul Star.