Small in size though big in ambition, Grass-O-Matic is an innovative Spanish seed producer dating back to 2007, and boasting one of the most important accolades of all time in their trophy cabinet.
Grass-O-Matic was the first weed seed breeder in the world to offer fully feminized versions of autoflowering marijuana strains.
Their pioneering years of work in the autoflowering industry has led to the creation of an exquisite range of super stable, high quality strains which produce consistently female plants 100% of the time. Their auto varieties are beloved by breeders and growers, famed for the premier quality of the buds, generous yields and vigorous growth. Grass-O-Matic is also known for the great germination rate of their seeds due to strict quality control during production and packaging. All of this makes them a great option for anyone looking to buy autofem marijuana seeds here at SeedSupreme Seed Bank.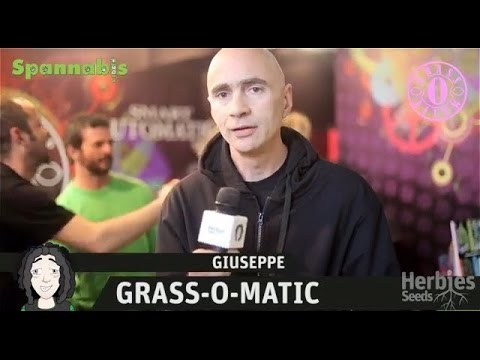 Noted Pioneers and Innovators
Grass-O-Matic is perhaps the dictionary definition of a dark horse on the pot seed production scene. At first glance, they come across as somewhat modest - a small team of seed producers based in Spain, with a relatively compact catalog of products to choose from.
Nevertheless, scratch beneath the surface and you quickly get a feel for what these guys are all about. For one thing, Grass-O-Matic's product catalog is populated exclusively by 100% exclusive strains you won't find elsewhere.  Secondly, these Spaniards place heavy emphasis on quick and easy production of quality marijuana, with fast-flowering strains that deliver consistently superior yields.
And if this wasn't enough, Grass-O-Matic was the first weed seed breeder in the world to offer fully feminized varieties of autoflowering cannabis strains - an incredible achievement that transformed cultivation for millions of home growers and commercial producers worldwide.
"Grassomatic is a bank of feminized autoflowering seeds that is born in 2007 supplying stabilized hybrids with a 95% germination guarantee. All our seeds are selected by hand to assure 1st quality products. Since its beginning Grassomatic has grown exponentially being pioneers in the development of feminized autoflowering plants." - (Grass-O-Matic)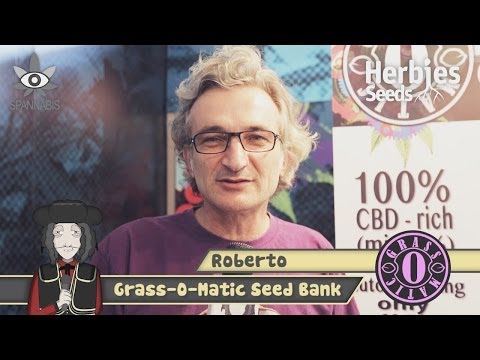 Essential Strains
As masters of fast-flowering autos, it's hard to go wrong with the Grass-O-Matic lineup. Less than 10 weeks is often enough to take things from germination to harvest with Grass-O-Matic's fastest strains, which are perfect for home growers with minimal space at their disposal.
If looking for a taste of what these guys are all about, set your sights on any of the following and you won't be disappointed:
Sugar GOM
This fast-flowering hybrid takes her name more from her appearance than her enticing fragrance or flavor profile. As the buds approach maturity, they develop the most luxurious thick and sticky coating of trichomes, with an appearance not dissimilar to granulated sugar.
The fragrance and flavor of Sugar GOM are more predominantly musky and dank, often with a noticeable hint of roasted coffee and even hazelnut in the background. Expect a deeply rich and satisfying smoke that immediately and intensely gets to work on body and mind in perfect balance.
Maxi Haze
Taking yields to extreme levels without compromising on quality, Maxi Haze can be taken from seed to harvest in as little as 75 days. By which point, you'll be looking at plants no taller than 1.5m with an average output of around 200g for each plant grown.
A popular choice among recreational and medical marijuana users alike, Maxi Haze has a THC content that averages around 18% and is an extremely heavy terpene producer. Hence, an excellent choice for producing fragrant and flavorful extracts or concentrates.
Maxi GOM
Give this stuff just 70 days and she'll give you way more than you'd usually expect from an investment of 100 days or more. The speed at which this stuff grows from start to finish is ludicrous, producing the most intoxicating fruity fragrance with just a hint of aniseed in the background.
Easy to grow indoors or out and rarely reaching more than 1.5m in height, Maxi GOM is a Sativa-heavy hybrid with an energizing effect that's great for any time of day.
Haze GOM
The idea behind Haze GOM is simple - the quickest and easiest shortcut you'll ever take to quality Haze.
This superb hybrid was created by combining the genetics of Super Silver Haze with Lowryder #2, resulting in a super-speedy strain that goes from germination to harvest in as little as 60 days. By which point, you'll be looking at a surprisingly generous harvest of classic old-school Haze, with that quintessentially spicy, fruity and piney fragrance you'd expect. Haze GOM plants also remain exceptionally compact at around 80cm max, so they're great where available space is at a premium.
Auto Mass
It's a similar story with Auto Mass, which likewise has the capacity to get the job done in just 60 to 65 days. Plants of around 1m in height are the norm, which produce the most beautifully fragrant and resinous buds that are unbeatable for hash production. The fragrance and flavor hovers somewhere between exotic spice and dried tropical fruits, making for an overwhelmingly indulgent experience.
Auto AK
Singled out by GOM as one of their proudest and most impressive strains to date, Auto AK is a short, compact and easy-to-grow specimen that's perfect for quiet corners and balconies.
Her Lowryder lineage is evident in her fruity fragrance filled with plenty of sharp citrus, which translates to a refreshing and satisfying flavor that lingers on the palate indefinitely. Speaking of lingering, Auto AK gets to work on body and mind in an instant with a wave of relaxing tranquility and laziness - perfect for the end of a hard day when you've nothing of importance to do.