Based in the heart of Amsterdam, GreenLabel Seeds is a veteran cannabis seed producer with many years of experience. Offering a wide variety of recreational and medical marijuana strains, GreenLabel Seeds is an active campaigner for weed legalization and a noted pioneer for the industry.
These guys have a strong philosophy when it comes to Mother Nature's greatest gift, regarding the marijuana plant as an ignored and stigmatized resource with untold medical potential. They only use the strongest and tastiest plants as parents and are laser focused on producing the most potent ganja they can whilst making sure the beans are completely stable and vigorous. There's feminized and autoflowering cannabis seeds to try out and we have them all for you to buy right here at SeedSupreme Seed Bank.
Celebrating Nature's Gift
GreenLabel Seeds is one of the proudest and most passionate of all seed producers currently in business. Despite having been established as recently as five years ago, these breeders have built the kind of reputation it takes most seed banks decades to achieve.
Much of which is credited to GreenLabel's commitment to campaigning for cannabis legalization and fair legislation around the world. Far from a simple seller of cannabis seeds, these guys have been at the forefront of the industry and the fight for a fair future since they first came onto the scene.
"We at GreenLabel firmly believe cannabis should be treated as a gift from nature, and that this plant deserves better than the way that it is looked at by many nowadays. Its healing and medicinal properties have long been ignored and underestimated, as many governments found it easier to stigmatize the herb rather than supporting and financing – unbiased – scientific research." - (GreenLabel Seeds)
Quality Control for Premier Performance
Taking quality control to an entirely higher level, GreenLabel Seeds insist on personally checking and verifying the quality of every seed that makes it out of their labs. In addition, GreenLabel also keeps a close eye on their partners and associated vendors worldwide, ensuring every seed sold is as fresh and reliable as it gets.
The result of which is an unbeatable germination rate and the guarantee of exceptional results with every grow. Whether setting up a small grow space at home or cultivating cannabis on a commercial scale, GreenLabel Seeds has an innovative and dynamic product catalog you'll want to check out.
"GreenLabel Seeds is an Amsterdam-based supplier of premium quality feminized and autoflowering cannabis seeds. Our seeds come in two different sized packages: 3 seeds and 5 seeds.  In our crossings we use only the most vital and vigorous plants that nature provides us during our selections. Taste and potency are key factors in the development of new varieties, as are stable and uniform genetics. Our seeds are guaranteed fresh and viable. We frequently check with retailers and our distributors to ensure the quality and freshness of our product." - (GreenLabel Seeds)
Supporting the Cause
On the basis of their activism alone, GreenLabel would be a seed bank worthy of acclaim. As it happens, they're also one of the most accomplished and successful seed breeders doing the rounds right now.
Across the board, each and every strain available from GreenLabel Seeds is suitable for indoor and outdoor cultivation where the law permits home growing. Flowering times have been reduced and yields optimized for unbeatable results, ensuring maximum returns with little to no effort required.
"GreenLabel envisions a brighter future. A future where our planet is green. Where cannabis can be grown legally in every country worldwide. Growing and consuming cannabis are still criminal offenses in many parts of our world. We donate part of our profits to various international pro-cannabis movements. If you buy GreenLabel, you're supporting the fight for legalization. Check out the pro-cannabis foundations that we're supporting." - (GreenLabel Seeds)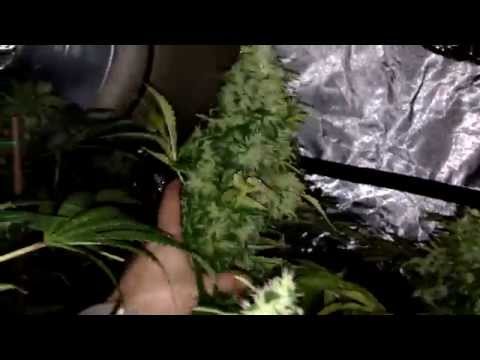 Essential Strains
Here's a brief overview of just a handful of GreenLabel's top-selling strains of all time:
White Fruit
Created by combining the genetics of Blueberry with the all-time classic that is White Widow, White Fruit has the kind of superstar lineage that speaks for itself. Mature White Fruit plants often produce the most beautiful blue and purple hues, which perfectly complement the sweet and fruity fragrance that's always mouthwatering.
The smoke is always a rich and satisfying, though White Fruit is notorious as something of a creeper. Expect a gentle climb at first, before being blown well and truly off your feet of few minutes later.
Mountain Kush
Enormously popular among recreational and therapeutic tokers alike, Mountain Kush combines a beautiful uplifting buzz with a gentle physical stone. All of which makes this a strain for all occasions, elevated further by a beautifully exotic and spicy fragrance.
Mountain Kush is a masterclass in all things adventurous and mysterious, though also happens to be ridiculously easy to grow with absolutely no knowledge or experience required.
Lemon Bud
Combining the genetics of Citral with Skunk was only ever going to come up with something that stinks - Lemon Bud being the product of this unholy union, famed for her exceptional citrus fragrance with bucketloads of dankness in the background.
This is another beautifully balanced strain that combines a gentle body stone with an uplifting and motivating cerebral punch, making Lemon Bud the perfect choice for an afternoon smoke.
Killer White
A direct descendant of White Widow, Killer White is fantastic for confined areas where space is at a premium. The plants stay short and squat from start to finish, producing surprisingly generous yields of exceptionally resinous weed in no time at all.
Killer White is an absolute masterpiece for making DIY hash and general extracts, with her spicy and uplifting fragrance that's hard to resist. All the effects you'd expect from a good batch of White Widow are amplified, so you can expect a powerful brain and body buzz that lingers for hours on end.
Frosty Kush
This girl takes her name from the ridiculously thick and luxurious coating of sticky trichomes she produces throughout the flowering stage. She's also renowned for producing THC in the kinds of quantities even seasoned stoners struggle to deal with, making Frosty Kush one to approach with extreme caution.
Everest Bud
Talk about easy on the eyes - Everest Bud lives up to her name with jagged and towering buds coated in frosty-white trichomes that look like beautiful snowcapped mountains. Everest Bud also has White Widow in her direct lineage, cross-bred with Super Skunk to create something that's as powerful as it is beautiful. Not to mention, a consistently heavy yielder that needs little to no specialist care to do its thing.