Kalashnikov Seeds is (as you might expect) a group of Soviet army veterans with a driving passion for pot. 
These old school growers have been breeding marijuana since just after the turn of the century, and specialize in AK-47 genetics, specifically from the Serious Seeds seed bank, along with a wide range of premium landrace strains from across the world.
Since hitting the green scene, these guys have become the number one choice for Russian cultivators and are making waves in the wider cannabis community with their exclusive and unique 'Express Line' - a range of supercharged feminized seeds famed for their unmatched flowering speeds.
SeedSupreme Seed Bank only deals in the best of the best, and Kalashnikov Seeds make that cut every time.
Origins
Though Kalashnikov Seeds only hit the marijuana market in their native Russia in 2013, the breeders behind this seed bank had been at the ganja growing game for over a decade prior.
These old school breeders were veterans of the Soviet army, but most importantly, they were lovers of anything and everything cannabis. 
Based in the Kuban region near Sochi, these Russian breeders have been working in close and constant collaboration with partners in St Petersburg and the Far East region of China since 2002 to source and breed with premium genetics and pure landrace varieties.
Theirs is a simple goal - to prove to the global community that weed seeds bred in Russia are more than capable of going toe-to-toe with the industry's big dogs. Clearly the fighting spirit remains as strong as ever with Kalashnikov Seeds.
Brand Evolution
From Russia, With Weed
It didn't take long for Kalashnikov Seeds to be regarded as Russia's top choice for home growers seeking quality, and in much the same way, the seed bank swiftly became one to watch on a wider scale, too.
By 2014, these intrepid breeders expanded their offerings to the entire European market, promoting active competition with their western seed bank rivals - and on their own turf, no less.
Perhaps Russia's most famous weed export has always been the Ruderalis genes - itself a divisive introduction to the cannabis cultivation community - however, Kalashnikov Seeds knew their motherland had more to offer the marijuana masses. 
These breeders are out to prove that their pot seeds are as remarkable as the best, and regularly make appearances at events in Europe to engage their fans personally and spread awareness of their impressive accomplishments.
Kalashnikov Express Line
The 'Express Line' from Kalashnikov Seeds is perhaps one of the most important and impressive developments you're yet to hear about - and certainly a reason these Russian breeders have every right to a place at the big table with the industry leaders. 
This truly unique offering presents a super series of feminized strains which behave similarly to autoflowering plants, but with one crucial difference - these are not autos.
The 'Express Line' is composed of entirely feminized weed strains capable of flowering (in some cases) weeks ahead of even the fastest female competition. How Kalashnikov is able to breed these absurdly swift and reliable fems which consistently outperform other top female strains is, however, a closely guarded secret.
You'll find with each of these strains a mystery genetic parent which has helped create these lightning-fast varieties, and while the secret ingredient remains on a need-to-know basis, it seems clear that these guys have stumbled upon a truly revolutionary development in the production of feminized cannabis seeds. 
Popular 'Express' strains include Kalashnikov Express, Baikal Express, AK Kush Express, Kabul Express and White Critical Express. 
Genetic Library
When it comes to their breeding projects, the Kalashnikov Seeds team tends to focus on AK-47 clones, specifically those from the Serious Seeds catalog. 
Clearly the strain speaks to these guys on an innate level (hence the chosen name for their seed bank), however, they are far from solely focused on this perennial favorite, and boast an extensive genetic library containing an impressive range of Russian, Dutch, Spanish, European and Afghan landrace strains.
Their gene pool is fuelled through their close relationship with partners in St Petersburg and the Far East, helping them to keep their breeding projects and genetics as sharp as possible.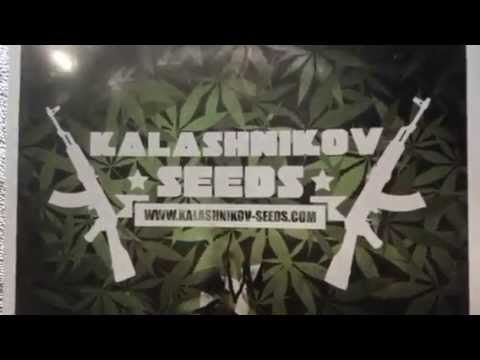 Essential Strains
When it comes to the Kalashnikov Seeds selection, the specimens you'll find are all worth your attention, however, we would be remiss not to stress the significance of their hugely popular 'Express Line' (for obvious reasons).
These are some of the standout strains from this reputable Russian seed bank.
AK Kush Express 
This supercharged version of one of Kalashnikov Seeds' best Indica strains comes through the genetic union of AK Kush and a secret Sativa hybrid strain which dramatically cut down the flowering period. 
In an astonishing 45 to 55 days, this feminized beauty is finished flowering and ready to reward the indoor cultivator with a staggering 700 to 800 grams per meter squared. Yes, you heard that right. Outdoor growers hold onto your hats, because you're looking at anywhere between 1000 and 1400 grams per plant! 
At 85% Indica, AK Kush Express delivers a highly sought-after therapeutic value to tokers, boasting enhanced CBD levels in her genetic makeup. As for the smoke, expect all the distinctive and delightful citrus aroma and tastes of the original AK Kush - you just don't need to wait as long to savor that sweet 20% THC high anymore!
White Critical Express 
White Critical Express is one hell of a hybrid strain aimed at those who love nothing more than a quintessentially classic strain in record time. 
Combining the storied genetics of none other than industry legend White Widow with Critical Mass and a top-secret hybrid, Kalashnikov Seeds have produced with this girl a lightning fast specimen known for explosive growth, compact structure and enormous buds.
The White Widow influence is abundantly clear in the generous coating of trichomes covering White Critical Express, but the aroma is far more swayed by her Critical Mass parentage. Though 60% Indica, this strain is famed for a well-balanced Sativa/Indica effect.
Growers can expect a rapid 45 to 48 day flowering cycle and between 450 and 600 grams per meter squared indoors, or 60 to 300 grams per plant outside.
CBD Cake 
With this one, the Kalashnikov breeders are aiming squarely at those in need of a little CBD therapy. CBD Cake combines the legendary Californian genetics of Wedding Cake (a Girl Scout Cookies hybrid) with the Krasnodar CBD landrace. 
The result is very much a strain as described by the name - a flavorful experience filled with the rich aroma of sweet cakes and fruitful, strawberry-mango notes, supported by a hefty dose of 12% CBD. 
CBD content tends to outweigh THC levels by a small percentage with most phenos, making CBD Cake a regularly sought and ideal treatment for those suffering with insomnia, joint pain, arthritis or post-traumatic stress (PTSD). She's also a real ganja gem for anyone hoping to create oils, tinctures or other extracts. 
Growers are looking at around 58 to 60 days for the flowering cycle with 60% Sativa CBD Cake, and come harvest time can expect between 500 and 550 grams per meter squared indoors, or in the range of 500 to 1800 grams per plant outside - that's a whole lot of prime medicinal nugs there!