The Kush Brothers Seeds has carved out a highly successful niche in a marijuana market filled with tough competition by focusing on producing limited edition lines of premium pot seeds.
Rather than flooding the market and seeking industry dominance, these skilled Spanish breeders embrace the ideology of quality over quantity, working with only the very best genetics on the planet, and have succeeded in achieving legendary status through their truly unique hybrid strains.
It's no exaggeration to say these are strains unlike any others, brimming with vibrant colors and packed with pungent aromas, mouthwatering flavors and potent punches. SeedSupreme Seed Bank brings you the best of these award-winning feminized beans for every preference, budget and intention - a huge variety screaming superior pedigree, and a brand for true connoisseurs with an unwillingness to compromise.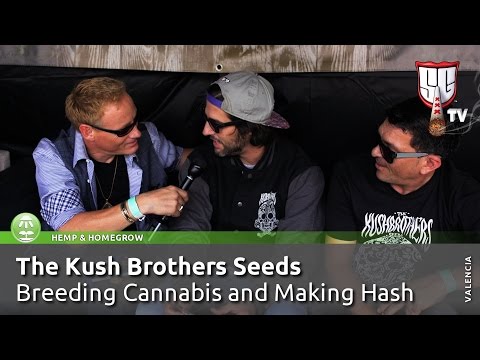 Origins
Based in Spain, The Kush Brothers Seeds was founded by brilliant Barcelona breeders J.M. Kush and A.M. Kush.
Whether the two are in fact brothers by blood or merely by bud is up for speculation, however, what's clear is that these skilled Spaniards make for one seriously impressive team. 
This seed bank entered the ganja growing game with a different goal to most - rather than focus on becoming the name in consistent and reliable cannabis seed genetics, The Kush Brothers' aim is fixed instead on creating truly exclusive limited edition runs (which are also consistent and reliable, of course!).
Driven by this desire to deliver quality above quantity and bring ganja lovers a never-ending number of new strains bred from the best of classic and modern genetics combined, these Spanish breeders entered the green scene and swiftly proved their chops were up to the challenge.
Brand Evolution
Connoisseur-Grade Genetics 
Truly it takes a connoisseur to cultivate for a connoisseur, and when it comes to discerning taste, the guys behind The Kush Brothers Seeds have proven themselves more than capable time and again. 
Any reputable breeder should agree that there is an art to producing truly unique and memorable strains, eliciting the desired traits from color to flavor, aroma, THC and CBD levels and, of course, the effect of the strain itself. 
This talented duo of Spanish breeders consistently display the level of comprehensive knowledge required for the task when it comes to premium genetics and breeding techniques.
Through their sheer unwillingness to compromise in their results, The Kush Brothers Seeds has become a renowned favorite of fellow connoisseurs seeking to sample the finest strains the market has to offer. 
Quality Focus
Above all else, The Kush Brothers Seeds believe in quality above quantity.
They demand exceptional results from every single seed which hits the shelves from their breeding projects, and have never allowed themselves to settle for anything less than the beans they themselves would be happy cultivating.
These are breeders with a hands-on ethos and an intimate and innate understanding of the marijuana plant.
Their skills when it comes to breeding, perfecting phenotypes and passing on the most desirable traits from parent strains to their new hybrids is exceptional and grounded in a firm clarity of the male plant's rightful place in the breeding process (being powerful drivers behind which characteristics are inherited) - which is why they adopt entirely organic production methods.
Hands-On Dedication
The bud brothers behind The Kush Brothers Seeds have always enjoyed getting their hands dirty and remain fully involved and integrated in the daily goings on of this renowned Spanish seed bank. 
They live and produce by a hands-on creed which compels them to personally inspect every seed they produce, select and package in an effort to make sure they only ever put out premium beans of the highest quality.
Essential Strains 
Every seed you'll find among the selection from The Kush Brothers Seeds is 100% feminized for your convenience, making this seed bank especially approachable for the novice cultivators among you. 
Whether you're in the market for some seriously dank strains or the therapeutic variety perfect for those aches and pains, you'd be hard pressed to not find some suitable seeds up to the task of fulfilling your weed needs here. 
We'll explore some of their most popular strains now to help show what you're in store for when you shop for The Kush Brothers Seeds.
The Dark Side 
This devilish hybrid strain comes from the generous genetic lineage of the legendary San Fernando Valley Kush and Haze Brothers.
The Dark Side is a 60% Sativa-dominant marijuana marvel known for being abundantly bountiful come harvest time after a 9 to 10 week flowering cycle. Skilled cultivators are often able to draw out some stunning purple hues near the end of flowering, but even novice growers can achieve some exceptional results with this beauty. 
Caution for those with limited space, however, as crops of The Dark Side can reach some remarkable heights.
Confidential OG
With Confidential OG, the storied genetics of Afghani and OG Kush have come together to bring us an entirely Indica strain capable of providing some deeply narcotic effects. 
Though not the most generous of strains within the Kush Brothers Seeds' lineup, Confidential OG makes up for this with an outstanding potency and sublimely sedative influence which is absolutely perfect for relaxing after a long day. 
Because of this, she's a strain regularly turned to by those in need of some THC therapy, and a favorite among the medical marijuana community for her ability to palliate pain and reduce the symptoms of stress. 
Malibu 
The Malibu hybrid comes through the crossing of The Kush Brothers' own The Dark Side with an industry legend in no need of any introduction - the one and only Amnesia. 
An 80% Sativa-dominant strain famed for some extraordinarily generous yields and, above all else, for her super smooth and energizing effects which lend themselves perfectly to a wake and bake and daytime blazing. 
Malibu is a true testament to the best characteristics of her parents, bringing an aroma highly reminiscent of the pair, blended to sensory perfection.