Pheno Finder Seeds is a seed bank at the forefront of stability and high-quality cannabis seeds.
Famed worldwide for producing some of the strongest strains of a desirably delicious standard that consistently blow the minds of even seasoned daily tokers and connoisseurs, Pheno Finder Seeds are a team of Dutch breeders who know the ingredients for premium quality marijuana, and never fail to deliver. 
They're here to bring you the finest hybrids and most sought-after phenotypes of new and classic strains in feminized and autoflowering varieties, drawing from the best of Amsterdam and American genetics. SeedSupreme are proud to support their full line of award-winning beans.
Origins 
It's unclear exactly when Amsterdam-based Pheno Finder Seeds first hit the marijuana market.
All that's readily known about this team of talented breeders is that their origin story begins somewhere in the smoky haze of the world renowned Coffeeshop Voyagers, one of Holland's premier ganja establishments.
Within their walls, the entrepotneurs best suited to meticulous selection and breeding the best traits into new and exceptional hybrid strains came together, uniting to conquer the supply aspect of the ganja industry. 
Brand Evolution
Mission Statement 
One singular goal binds and drives the Pheno Finder Seeds team in their beloved breeding projects - to provide the world with the finest hybrid strains and most desirable phenotypes of both new and classic strains alike.
Since their earliest offerings to the cannabis seed market, this seed bank has embodied their goal and delivered the epitome of exceptional genetics from their extensive and diverse gene pool, fed by strains originating from all over the world, from Amsterdam to the United States and beyond.
Global Recruitment
Pheno Finder Seeds has never been a seed bank caught up in their own esteem or to be swept up in an arrogant belief that only the Netherlands knew premium marijuana or the artistic tricks to ingenious breeding. 
As the cannabis communities in Spain and the United States developed alongside the modern market, Pheno Finder Seeds evolved beyond their native Holland, adopting remarkable and promising breeders from those distant shores and strengthening the Pheno Finder team immeasurably.
Quality In, Quality Out
Being fed by the finest specimens of cannabis from every corner of the globe, The Pheno Finder Seeds genetic library contains a diverse mix of high-quality seeds and an infinite range of possibility when in comes to the top-shelf hybrids they produce.
These skilled breeders know all to well that to focus on pedigree output, you need to pay close attention to your ingredients, and thanks to the legendary and awe-worthy genetics that go into every breeding project for this seed bank, every seed to make it to market contains nothing but pure high-grade quality.
Beyond the Seed Bank
Pheno Finder Seeds may be renowned as a remarkable and intuitive weed breeder and seed supplier among those deep in the grower's game, but their exquisite cannabis seeds and the influence of their work go far beyond the awareness of the average toker or novice. 
For instance, these Dutch breeders not only got their start within the walls of the Coffeeshop Voyagers, of Amsterdam fame, but have regularly supplied ganja to the coffeeshop's patrons - all likely without most tokers' realization of who actually grew the fantastic weed they were enjoying. 
Pheno Finder also has another sister company - Baba Souvenirs, a reputable head shop on the streets of Dam - who many never realize are connected.
You've probably tried their handiwork and never noticed, but Pheno Finder Seeds are a seed bank deserving every bit of any serious cannabis cultivator's full attention.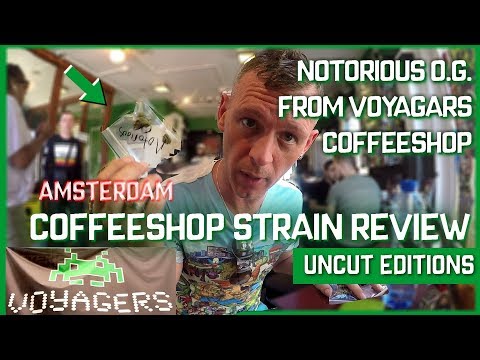 Essential Strains 
Their top-shelf seeds have won them a number of Cannabis Cup awards from prestigious competitions across many countries, from their native Amsterdam to the sunny shores of Spain, Jamaica or the Canary Islands.
It's difficult to go wrong with any of these cannabis seeds, but why not join us for a closer look at some of those award-winning strains?
Notorious OG 
Regularly praised as one of the strongest smokes going - the kind so packed with high THC it can overpower even the hardiest of resiliences cultivated through years of daily toking. 
Notorious OG won 2nd place at the Copa Cannaval in 2014 and 3rd place at the Canary Islands Cup in 2015. She comes from the cherished genetics of a special OG Kush clone known as Christopher Wallace OG, which was bred with a mystery male seed the team discovered while testing at Coffeeshop Voyagers.
She's perfect for fans of a seriously dank Kush and the kind of heavy, couch-locking and long-lasting high you never want to move from.
Lemon Bubble 
An absolute beauty that Pheno Finder Seeds brought to life through breeding Super Lemon Haze with Silver Bubble.
Fans flock to Lemon Bubble for her mouthwatering citrusy lemon flavor and remarkable resin production, but it is the combination of flavor, potency and ease-of-growth which helped this standout strain take home so many awards, including;
2nd place at the Secret Cup Canaria in 2014
3rd place at Expo Grow Run in 2014
3rd place High Times Cannabis Cup in 2014
1st place THC Valencia Copa in 2015
1st place Seed Finder Cup in 2015
Purple Strawberry Bliss 
Winner of the 3rd place award for Best Sativa at the IC 420 Cup in Amsterdam, 2014, Purple Strawberry Bliss owes her stunning floral colors and unbelievable flavors to a lineage consisting of a rare and exclusive phenotype.
The Cheeseberry Freak Pheno S1 was a special gift to the Pheno Finder's team from the south of Holland and brought a truly blissful strawberry scent and taste to Purple Strawberry Bliss. Though she's not known to be the most prodigious producer in the cultivation game, growers gobble up these seeds for their sheer fly-off-the-shelves popularity among lovers of fruity and Haze flavors and highs.