Best known throughout the world as the creators of Juanita la Lagrimosa, one of the first strains truly rich in CBD to hit the market, Reggae Seeds have secured their standing among the weed breeding elite as masters of medicinal marijuana seeds. 
Their CBD-rich strains are the result of decades of extensive experience in genetic selection, in line with their aim of creating the finest new generation of ganja for recreational and medicinal tokers, and have won them a number of Spanish Cannabis Cup awards over the years.
SeedSupreme Seed Bank could not be more excited to bring you these genetically diverse regular and feminized beans of truly unique seed selections - the culmination of decades of breeding in tune with Jah Rastafari.
Origins 
Though Spanish-based Reggae Seeds was only officially born in 2006, the expertise of these talented weed breeders stretches back many years beforehand.
Deciding the time was perfect, this team united with the common goal of helping the cannabis community to maintain and increase the genetic diversity of ganja lost over the years.
These Spaniards saw the dangerous impact persecution and prohibition were having on marijuana and, armed with a generous gene pool filled with strains they had each collected, swapped and selected as exquisite examples of cannabis potential, Reggae Seeds set out on their mission to find, select and breed exceptional ganja, preserving ideal properties for perfect results.
Brand Evolution
Low THC, High CBD
It's tough to say if the mission statement of Reggae Seeds always read along the lines of creating the highest quality CBD-packed cannabis strains, however, what's clear is that this ethos evolved swiftly. 
2006 was a time when the idea of a 1:1 THC to CBD ratio was practically unheard of. The medicinal benefits of cannabis were known then among far fewer of the population (although, we fans of Mary Jane have always known, really!).
Did Reggae Seeds realize that their strict reliance on stable and beloved genetics within the community, from commercial to landrace alike, would yield the supercharged CBD ratios they landed upon? 
Whether this talented team were aiming solely for guaranteed quality or the CBD revolution as well is anyone's guess.
What we know is that the first plants in the Reggae Seeds roster displayed above-average CBD levels from the starting line, and every hybrid strain they've bred since has carefully chosen parent genetics to continue this high CBD trend and secure Reggae Seeds' reputation as purveyors of premium CBD cannabis seeds.
Roots of the Medicinal Marijuana Market
In 2007, Reggae Seeds delivered to the market their Juanita la Lagrimosa seeds - a strain so exceptional to become a cornerstone of the medical industry and CBD revolution.
One of the first commercially available strains of weed to achieve the coveted 1:1 THC to CBD ratio, this remarkable breed of ganja was undeniably a pivotal point in not only Reggae Seeds' direction and home in the industry, but also in the wave of CBD-focused seeds that subsequent years would see the arrival of.
Fast-forward to the present day, and the Reggae Seeds shelves are not only packed with influential strains that helped shape the medicinal marijuana market as we know it, but they are also full of strains which rarely reach above 10% THC, with ratios favoring CBD and primely positioned to serve the medical tokers of the world.
Regular Advocates
Reggae Seeds is a breeding team who infinitely prefer natural and eco-friendly products in all walks of life. They strive to avoid genetic or chemical manipulation wherever possible, both for the sake of their own health and lifestyle choices, as well as eco-conservation. 
With that in mind, it should be no surprise that these weed breeders are outspoken advocates for the rightful place of regular cannabis seeds.
It may seem odd in an age dominated by feminized seed varieties designed to make the life of the grower that much more straightforward, however, Reggae Seeds' reasoning is founded in decades of cultivation experience.
The Reggae squad developed their talent in a time before feminized seeds reigned. They learned their bud botany skills with regular seeds, understanding how to identify males from females and select the most suitable parents for their hybrid strains.
This combination of expertise and belief led the seed bank to a deeply rooted understanding and acceptance of male marijuana plants and the crucial role they play in successful breeding.
But while they prize their regular seeds for the breeding capability they bring them to contribute to the greater genetic diversity of ganja, Reggae Seeds recognize clearly the benefits of feminized seeds. The results, after all, speak for themselves, and for the cultivator who just wants a simple harvest, no-one needs males ruining everything.
So don't worry, you'll find feminized and regular cannabis seeds on these shelves fit for every grower's weed needs.
Essential Strains 
Whether it's regular or feminized cannabis seeds you're after, shopping with Reggae Seeds comes with the assurance of a dependable strain suited as perfectly for indoor setups as outdoor grows. 
The seed bank currently has a total of 10 regular and 5 feminized varieties for you to choose between, each as sumptuous and loaded with CBD as the last. 
Join us below as we take a peek at some of their top-shelf strains.
Juanita la Lagrimosa
An exceptional strain who leans predominantly Sativa and comes from the genetic lineage of Reina Madre (Queen Mother) and Mexican/Afghan lines. She's the award-winning game-changer who helped show the medical masses that 1:1 THC to CBD ratios were possible. 
Beyond remarkable CBD levels, Juanita la Lagrimosa (or Juanita the Tearful, in English - so named for the tear-shaped resin coating her buds) is a super stable hybrid beloved for her prodigious production of dense nugs, a short 70 days until harvest, her robust resilience to pest problems, the alluring aroma of lemon and Haze and clean cerebral high ideal for socializing with.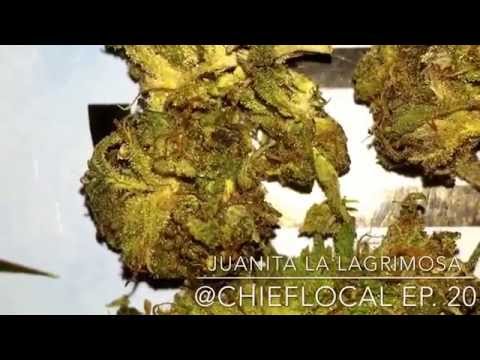 Blackdance
A resilient feminized strain perfect for the grower looking for top-quality and minimal worries. Blackdance comes from breeding an award-winning strain of Black Domina with Reggae Seeds' own Dancehall #20.
Growers can look forward to 2 phenotypes with Blackdance - the Indica, which favors the Black Domina scent and traits, and the Sativa showing her fruity Dancehall #20 lineage. Regardless of phenotype, this beauty is a dream to cultivate, demanding very little in exchange for the treasure trove of delectable buds she delivers come harvest time.
O'Haze Red
A hybrid variety for the lovers of fruity Haze strains. O'Haze Red comes from the generous genetics of Dancehall #24 and Jack the Ripper, and displays all the finest qualities of her parents.
This largely Sativa strain became a fan favorite for her tendency for developing purple hues and unleashing aromas before and after combustion which send the saliva glands into overdrive. The high hits quickly, lasts ages and is one of the most pleasant cerebral influences around.