Sumo Seeds is a world-renowned seed bank known for their exceptionally diverse catalog of high-quality strains, their passion for breeding and cultivation, and their use of unique imagery to offer their consumers the most genuine experience possible. 
If strength, stability and award-winning genetics are your thing then you'd be mad to miss out on the Sumo Seeds collection of exceptional feminized and autoflowering cannabis seeds.
SeedSupreme Seed Bank take great joy in bringing you these premium Dutch beans.
Origins 
It all began for Holland-based Sumo Seeds back in 2001, when a team of passionate breeders and growers united by their shared love set out to combine their years of expertise and provide the global cannabis community with some heavyweights they could get behind. 
With a strong focus on learning and developing from the lessons of marijuana genetics, Sumo Seeds set out on their mission. 
Brand Evolution
What's in a name?
For some seed banks, their name is merely marketing. In the case of Sumo Seeds, however, it's a promise and stamp of quality.
Sumo wrestlers are synonymous with power, stability and, for the victors at least, greatness. Legacy. To succeed, a sumo must plant their feet firmly and give no ground.
To this breakthrough seed bank, nothing more succinctly or artfully embodied the values that they sought to reflect in their seeds, and so, with the goal to heart of developing the finest high-quality cannabis from throughout the world, this small Maastricht-based seed bank in the far south of the Netherlands set out to become the source of European-based global genetics.
Balancing Diversity and Rarity
Two guiding principles (beyond the ethos implied by their name) have helped to drive Sumo Seeds in their quest for cannabis conquest.
First and foremost, the team has embarked on a mission to travel the world, collecting and preserving the most desired, rare and delicate weed seeds they encountered. Sumo Seeds recognize the value of the indigenous strains they've discovered, the legacy of landrace from where we owe all our modern-day seeds, and knew that it is up to each of us to shoulder the responsibility of preserving marijuana's origins.
Beyond their preservation instincts, the Sumo Seeds team knew that to deliver the highest quality weed seeds and remain relevant, diversity would always be critical.
That's why their shelves are stocked with a wide range of feminized and autoflowering strains to cover every desired taste, effect or cultivation experience their consumers might have, so be they an expert, a novice or the choosiest connoisseur imaginable, delights can be found at Sumo Seeds.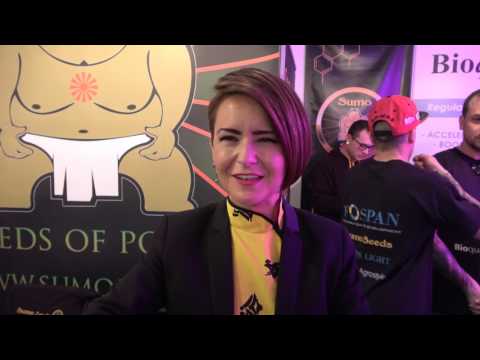 The Hunt for Quality Cannabis Seeds 
In their mission to produce the highest quality ganja seeds and bring the rarest genetics to the market, Sumo Seeds' team of researchers work non-stop, traveling and keeping their ears to the ground to find the next true diamond in the rough. 
It's a continual investment of time through which Sumo Seeds takes great pride as it forms another badge of honor which sets them apart from the average seed bank - their commitment to collecting the rare and the delicate, the fragile or forgotten strains encountered on their travels knows no limits.
Authentic Imagery 
In their drive for premium customer service and to improve the industry standards, raise the bar and deliver the best seeds for every need, Sumo Seeds have taken an interestingly unique approach to their marketing.
When customers browse the offerings of this seed bank, they're met with strains accompanied not by glorious images of perfectly grown varieties blossoming with vibrant colors, but by entertaining cartoon images instead.
Going against the grain like this was a conscious decision from Sumo Seeds in attempt to circumvent the marketing norm and help their customers to make their choices based on the strain information provided rather than a glossy image of perfection.
In addition to this, they ensure that every real life image of their cannabis plants are sourced straight from their cultivators - happy customers who've used their seeds and were willing to shout about it.
This combination leads to one of the most authentic weed seed shopping experiences any consumer could ask for.
Dedication beats Complacency 
For Sumo Seeds, excellence is not enough. 
This seed bank set out to make a mark on the global cannabis community and regularly show themselves not only as having a firm grasp of their customers' needs and how to bring out the best in their plants, but also in innovation.
SS are not a company content to rest easy on their past exploits and successes, and continue their never-ending quest to travel to the marijuana homelands of the world, to research and hunt down the rarest of the rare and the best of the best so that they might always fully serve every one of their ever-expanding customer base.
Today, their extensive collection contains a range of in-house hybrids and innumerable award winners, and the Sumo Seeds customers know that for this breeder, only the best genetics with the highest potencies and most sumptuous flavors and aromas ever make the cut. 
Essential Strains 
Sumo Seeds collection boasts 99% feminized seeds and, whether you're an Indica fanboy or Sativa supporter, if you're looking for the cultivation ease of an autoflower, a CBD-loaded variety or a high THC powerhouse able to knock you senseless, you'll find a strain to delight among their shelves.
Beyond their collection offering some truly mouthwatering strains of spectacular ganja, you can rest assured that, with Sumo Seeds' rigorous quality checks, only healthy plants of the strongest and most desirable genetics and effects can be found here.
With 25 strains to choose from and a laundry list of awards decorating their shelves, the SS selection can seem intimidating, so we're here to break down a few worth your attention. 
Sumo's OG Kush 
Winner of 4 awards in total, including 1st place overall winner at the Highlife Cup in 2015, Sumo's OG Kush is an Indica-dominant hybrid strain coming to us through the breeding of Mystery OG Kush and Cali Kush.
She's known for an old-school aroma and is regularly praised as a very dank and very potent strain. A swift-flowering, generous-yielding beast with an aroma so pungent you might need some odor control. Expect the trademark tastes of diesel and citrus in these THC-packed buds.
Zombie Haze
For a long-lasting, super psychoactive high, Zombie Haze might just be the ticket you need. She comes to us from the generous genetics of a stupidly potent Amnesia Ganja Haze (itself a cross between Amnesia Haze and Silver Buddha Haze) and their White Widow Original.
A Sativa-dominant strain famed and beloved for the insane coating of crystals layering the nugs to deliver that incredible, couchlocking high. You're in for a real treat with this sweet and spicy flavored powerhouse. 
Blue Nitro Haze 
A Sativa-dominant beauty able to thrive in colder environments without any issues. Blue Nitro Haze has a storied genetic lineage comprising Early Moroccan, Purple Haze and Lazy Ice (the product of a legendary cross between Northern Lights and White Widow). 
This is a strain for the outdoor growers only as the sheer size Blue Nitro Haze can reach makes an indoor grow unfeasible for most cultivators. Regardless, she's one of the fastest growing haze strains on the market and delivers a potent cerebral high with her ample THC levels.