Driven by satisfaction and passion, Vision Seeds have been purveyors of premium pot seeds for 2 and a half decades.
At their core, they have always been a company of ganja lovers on a mission to surround themselves with cannabis culture and learn what makes a strain spectacular so that they might deliver the highest of high quality seeds - for themselves as much as for us!
From ambitious dream to one of the best collections of proven, top-shelf fully feminized seeds, classic strains, autoflowering champions, amazing modern hybrids and cup-winning genetics on the marijuana market, Vision Seeds are proof that dreams can come true.
Origins 
Who's to say if the original vision of Vision Seeds' founder Danny B back in 1995 would match up to their present day reality. It's a story which speaks to every stoner who has ever sat back, joint in hand, blowing smoke rings and wondering how to make your passion become your life.
Now, Danny had his feet planted firmly in the Netherlands, living and breathing the cannabis culture and lifestyle, and learning the secrets of masterful marijuana cultivation directly from the proverbial source.
Brand Evolution
Humble Beginnings
It's always a story worth telling when passion supersedes any drive for commercial success, fame or renown. Vision Seeds, the brainchild of Danny B, started in a place not too dissimilar to many novice growers.
As Danny's expertise in cannabis cultivation grew and became as popular among professional growing circles as with recreational growers, so too evolved his vision of what would become Vision Seeds.
The company's very foundation was formed on nothing short of unconditional love for marijuana and the desire to fill as many moments of the day with sweet Mary Jane. Keeping this in mind has helped drive Vision Seeds into the future while ensuring they never forget their past.
One Major Difference
Passion for pot has always been the beating heart of Vision Seeds, and is the trait which helped them define themselves in the mid nineties when the doors of their first Dutch cannabis seed shop opened. Here, connoisseurs found not just another reseller or seed peddler in it for the money; here they discovered their pot peers.
Beyond establishing themselves on the same level as their consumer base, Vision Seeds embodied from the get-go a guiding ethos that they would never sell any seed they had not first tried.
Ensuring top quality and reliability helped Vision Seeds to blossom as they picked up experience, momentum and renown for their services.
Diverse Development
Of course, with the consumer rooted firmly in their mind, Danny and the guys at Vision Seeds made sure never to rush. In the company's earliest days, they largely sold genetics already well established among the cannabis community so as to ensure their customers only ever received top quality.
Amidst the available-anywhere genetics, grow equipment and cultivation products, however, Danny's vision was busy forming in full and, just before the turn of the century, Vision Seeds experienced a moment of pivotal pot success.
Once Vision had attracted and brought legendary cultivator Herbal Harald on board, the company's next phase of development could begin. Under his talented tutelage, not only did Danny and his team develop, experimenting with different strains and techniques, but so did their ambitions to really make a name for themselves and be a positive force in cannabis culture.
The passion and dedication of Vision Seeds' breeders meant that, when feminized and autoflowering seeds, along with other developments in the cannabis world, came to the market, they were some of the first to study, learn and adapt their own strains.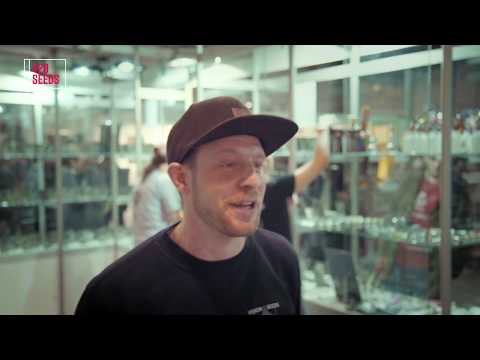 Patience, Passion and Perfection
Despite their successes, Vision Seeds have never been in a rush. Their tinkering with the world's best genetics has been a labor of love and devotion, one they have never been in a hurry to do on anyone else's timescale.
In fact, it was not until Cannafest 2010 that they officially unveiled their 100% feminized seeds - to an overwhelmingly positive response.
Since then, Netherlands-based Vision Seeds has grown at an exponential rate throughout Europe and countries beyond, reaching as far as South America, all the while maintaining a reputation for producing seeds possessing the finest traits of the classic and legendary strains, but with an intriguing touch of originality.
Was it Danny B's initial dream to create genetics capable of standing out in an ever-expanding market and influencing the face of cannabis culture? It's tough to say, but how often do we realize the true scope of a dream until we get stuck in?
Vision Seeds in Numbers 
1995 - founded by Danny B
1999 - joined by Herbal Harald
2010 - the first introduction of the company's own-brand 100% feminized seeds
5 - star standing with every major cannabis publication
>20 unique Vision Seeds strains
Essential Strains 
For Vision Seeds, only the most exceptional strains from across the world have even been sufficient. Their team of talent has honed the art of isolating desirable traits such as yield, taste, smell and resilience to create super strains which not only look the part and talk the talk, but walk the walk, too.
Whether you're hunting a hybrid or a Cup winner, feminized or autoflowering, Vision Seeds' shelves are worth a look.
While each of their strains are quality checked for stability and bred to be as easy to grow as possible, here are a few which stand out among this seed bank's time-tested crowd favorites.
Jack Herer
A strain named after legendary cannabis activist, Jack Herer, and considered widely to be one the finest strains ever cultivated. Jack is a Sativa-dominant cross between Skunk #1, Northern Lights #5 and Haze, and multiple winner of the Cannabis Cup.
If that wasn't enough, she's not a tough one to grow, comes with a delightful Skunk taste and produces prodigious amounts of dense, crystally nugs.
NYC Diesel
A balanced hybrid strain with roots in New York City which has been winning Cannabis Cup awards since the early 2000s.
Known for her fruity aroma and abilities as a social stimulant, NYC Diesel delivers an unforgettably uplifting cerebral high and owes lineage to Afghani and Mexican roots.
CBD+
With CBD on everyone's minds and wagging tongues, Vision Seeds have been hard at work on a medical range of marijuana aimed at cranking up the CBD levels and fine tuning the THC/CBD ratio to provide optimal results for those less inclined towards the psychoactive properties of pot.
High CBD strains are ideal for those hoping to ease pain, nausea, and many more ailments.