ZAMBEZA Seeds
With over 15 years of experience breeding and growing ganja, Zambeza Seeds have become one of the most relevant and respected weed seed suppliers in the world.
These guys have learned from masters across their stomping ground home of Europe, experimenting with a vast range of cannabis strains and developing the skills to skyrocket THC and draw out the elusive and highly craved CBD cannabinoid.
With fully organic farming techniques, a philosophy of natural breeding, and the aim of offering only the finest strains at reasonable prices, Zambeza Seeds deliver an assurance of strain stability and satisfaction.
Origins
Zambeza Seeds have always been about sharing the experiences and joys of growing ganja.
It was behind this driving impulse that Zambeza evolved from individual growers still nurturing their roots in the cannabis breeding grounds of Holland, to the global ganja force they are today. Zambeza recognised early on that innovative cultivators at the start of their growing adventure had their place alongside expert growers - a unity which clearly served them tremendously throughout their 15+ year history!
From Holland to household name did not happen overnight, however, and despite their success, it is a goal they strive to reach with every seed.
Brand Evolution
Committed to Quality
For the guys at Zambeza Seeds, a core ethos of exceptional results became their shining star of growth guidance.
Their teams of expert and developing ganja growers combined their knowledge and experience like the crossbreeding of the finest hybrid strain around, all with the consumer (that's you!) in full focus.
Cannabis cultivation is nothing new, and after decades of selective crossing and breeding, Zambeza recognised the complexity cultivators had created. Stoners don't want confusion. At some point, all the fancy names and strains blur into one giant marijuana mess.
Zambeza knew this intimately as only true weed lovers can, and from day dot aimed to provide potheads of the world with only the very finest, most sublime strains available.
They stock their shelves with Sativas, Indicas and autoflowering strains (which have been crossed with ruderalis genetics to enhance their resilience and guarantee a harvest under even the shakiest of scenarios) all with their customer base firmly in mind, for these cannabis seeds each spring from only the finest genetics available.
An Organic Approach
Alongside the refined variety of their seeds, Zambeza embodies an organic and efficient outlook. Not only are all their seeds guaranteed 100% feminized to ensure a desirable harvest, but their breeders handpick and test these organically grown seeds for quality.
How? With daily tests on every seed they produce, they can guarantee generous germination ratios. With these seeds, you'll never fail the germination process.
Their organic production and hand-selection methods have always embodied the belief that every pot lover deserves full flavor and effect in the most natural way possible.
Since their earliest days, seeds from Zambeza have only ever reached the market in the highest of conditions - seeds protected by packaging able to safeguard your strains from even the harshest misfortunes during transit, with a germination rate guaranteed to overjoy customers.
Ganja Gurus
Ultimately, Zambeza has always known and accepted that there is only so much they can guarantee with their seed offerings alone. In the end, any given harvest relies heavily on the skills of the grower, their equipment, and experience.
To Zambeza, the path was clear, and they set about delivering maximum value to their consumer base with a no-nonsense blog positioned as the trifecta of their triumph. This devoted seed company has maintained a regular informative blog for many years, churning out invaluable cannabis cultivation tips suitable for the ambitious and the novice alike.
But their commitment to excellence goes beyond even that, as these ever-giving ganja gurus offer explanations and advice to all who reach out via phone or email.
Zambeza's dedication to providing pot lovers with the most complete service imaginable has solidified an enticing brand presence for these aficionados and leaves one feeling warm, welcome, and ready to dive into the cultivator's world of weed.
The brand presence they've nurtured stands today as strong as their seed offerings, inspiring confidence through their evident efforts each day to put forward their strongest foot.
Zambeza Seeds in Numbers
100% stock of feminized seeds
> 15 years in business
36 countries delivered to
54 estimated employees
$6.1 million estimated annual revenue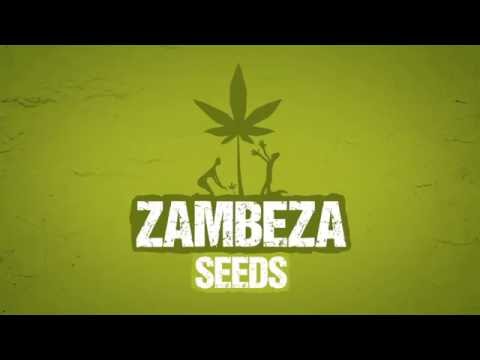 Essential Strains
Zambeza Seeds take pride in stocking a strain for every occasion and every desire.
Whether you're a connoisseur, a collector, or a first-time cultivator, Zambeza's high-quality seeds are ready to serve your needs. From effortless cultivation seeds to flavorful strains, high THC powerhouses, the CBD-packed variety, cannabis cup winners, and old-school classics, you'll be hard-pressed not to find a strain that catches your eye.
Known for their skills crossing cannabis genetics from the likes of White Widow, Blueberry, Jack Herer, Super Silver Haze, Amnesia, Skunk, Northern Lights, and more, this seed bank's stock ranges from award-winning genetics to modern hybrids awaiting their crown.
Misty Gorilla
Their Misty Gorilla strain is an impressive specimen not to miss, crammed with intoxicating scents of chocolate and pine and famed for the euphoria of its relaxation properties.
As you might expect, this bud beast was born from the formidable genetics of the infamous Gorilla Glue - expect sticky, trichome-covered buds and a high chance of being knocked clear off your feet! You can make trichomes even bigger and denser with these tips on increasing trichome production.
Amnesia Haze
If fresh citrus and lemon flavors are your things, if you're hunting a real taste of Amsterdam, Zambeza's efforts with the original Amnesia Haze seeds cannot be extolled enough.
Their Amnesia Haze XL, the self-proclaimed 'Mother of Potent Haze Strains' is mouthwatering, generous and a relative breeze to grow which is capable of indoor yields between 550 and 600 grams per metre squared.