Mephisto Genetics
Mephisto Genetics is a small team of dedicated British breeders with big hearts and unending passion for cannabis. 
Their long history with autoflowering ganja genetics and exceptional genetic library of parent plants has led to their creation of the world's most desirable auto strains from the very finest genetics going.
These fully feminized autoflowering seeds produce some of the tastiest and frostiest fast-flowering marijuana strains the market has ever seen. These are true boutique autos perfect for any novice or commercial cultivator and guaranteed to satisfy even the choosiest connoisseur. 
SeedSupreme Seed Bank delight in bringing you elite genetics, and these autoflowering feminized beans fit that bill to the letter.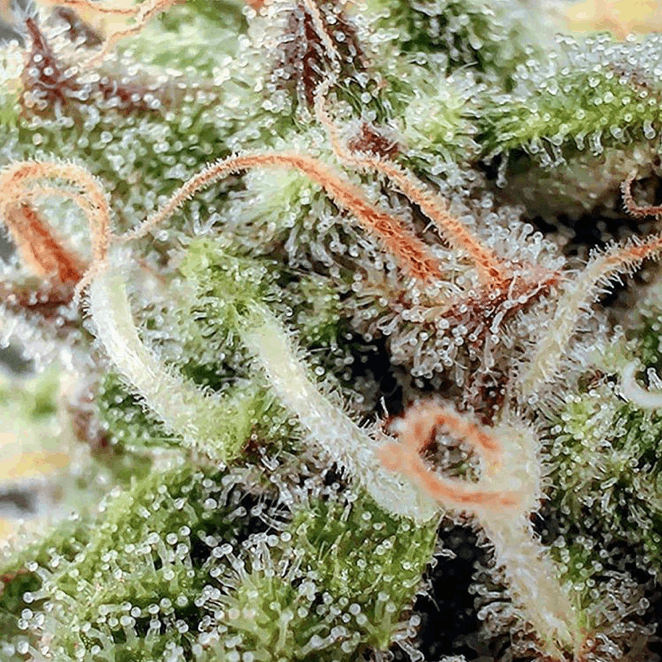 Origins
The origin story of Mephisto Genetics is a real treat, a tale of adventure, passion, and three British cannabis lovers.
Mitch, Tim and Szy had spent years growing personal stashes, hunting and cultivating truly epic parent strains for their individual breeding projects. They'd lived together and worked together, learning the tricks of the trade and engaging in friendly contests.
During one such grow-off competition, the friends set out to see who could produce the best yield in the shortest time in their tiny at-home setups. While they each grew plenty, the quality and potency of the weed didn't tick their boxes, and the dream of Mephisto Genetics was born.
In 2012, these Brits uprooted, leaving the chill of England for the sunny shores of Spain and her weed-friendly environment.
The goal was to ramp up their breeding and create a truly unique line of super potent high-quality autoflowering strains, and after years of toil and hands-on labor to bring their dream to life (including innovating devices to drastically reduce de-seeding time, surviving harsh winters they were unprepared for, eating al fresco over an open fire and setting up the operation in all regards), Mephisto Genetics officially launched in 2014.
Brand Evolution
No Shortcuts
Mephisto Genetics do not believe in taking any shortcuts with their autoflowers. Potency and quality have always been a priority for these guys, and they're entirely unwilling to sacrifice either.
This is why this team of talented breeders never crosses other breeders' autos to create their own. They don't buy others' seeds for their projects and rebrand strains as their own.
No, every autoflowering seed from this pioneering seed bank has been fully and lovingly worked out from A to Z by the three friends behind Mephisto Genetics. It's their own hands-on efforts through generations of breeding the desired traits which have seen the evolution from photoperiod to autoflowering in every one of these strains.
What becomes apparent through such devotion and transparency is that this is no cash-grab operation, but rather a true labor of love - and the customers of Mephisto Genetics both feel and appreciate that every harvest.
Elite Genetics
It's no surprise that the trio behind Mephisto Genetics only has time for the pinnacle of elite genetics as only such specimens could ever be used to raise the bar so significantly on the world's autoflowering cannabis.
These guys use exclusively clone-only strains or rare seed lines that they have collected from the world over, and if any potential parent plants don't meet their rigorous standards then the Mephisto team heads back to the drawing board, restarting the whole selection process in pursuit of perfection.
And it doesn't stop there, being personally involved in every aspect of cultivation, from selection to pollination, de-seeding, sorting and shipping, helps Mephisto Genetics deliver on their quality guarantee every time.
Small Scale, Big Impact
To this day, this seed bank operates as a small-scale enterprise. In fact, it seems likely that it remains the original trio of Mitch, Tim and Szy working tirelessly to bring these exceptional autoflowering genetics to the marijuana masses.
The team prefers it this way so as to allow them to continue honing their processes in their own way and to deliver the same love and attention to their breeding projects as they always have.
They've come a long way from at-home in-closet grows, but their focus and devotion are as strong as it ever was, even though they now operate online stores in Europe, the United States and Canada.
No Smoke and Mirrors
Mephisto Genetics are keen believers in full transparency when it comes to their breeding projects.
Proving themselves masterful marijuana marketers, the trio take the approach of actively documenting their work at all stages of the cultivation process. They release this content to their impressively vast online audience and promote engagement from the cannabis community to bring them into the experience and (if they're lucky) glean some super useful input.
These breeders may run the Mephisto operation themselves, but the wider cultivation community plays a strong role in their success as this is a seed bank that really listens to and values its customers.
One could say that an open and friendly line of communication with their fans is easily as important to these British breeders as the genetics which enter their experiments and the high-quality end-result that hits the shelves.
Community Influence
With remarkably positive reviews flying their way and approaching 90,000 followers on the Mephisto Genetics Instagram page (where they repost photos of many of the exceptional plants grown by their customers), it's clear the community influence of these breeders is massive.
They've even got a number of impressive companies using their premium autoflowering seeds for their commercial grows (such as Raw Garden), and have made some truly legendary friends along the way like Karma from Karma Genetics and ganja guru Jorge Cervantes (whose cultivation handbook is literally nicknamed 'The Bible' - it's that influential).
Essential Strains
Amongst these fully feminized autoflowering beans, you'll find seeds fit for every situation.
Whether you're growing indoors or out, with an abundance of the room or in a closet, or whether you're a total first-time novice or experienced cultivator on the lookout for the fastest growing and highest quality harvest you ever did grow, Mephisto Genetics has weed seeds you simply need to try.
We'll take a look at some of their standout strains now.
Fantasmo Express
Regarded among many as one of Mephisto Genetics' very finest autoflowering strains, Fantasmo Express growing from sativa-dominant seeds coming to us from OG Ghost Train Haze genetic lineage crossed with what they describe as a spicy balanced hybrid.
Known for bringing an energizing and euphoric buzz along with a mouthwatering flavor and aroma of lemony Haze, Fantasmo Express is a seriously delightful specimen of fast-flowering marijuana magic.
Plants start out squat but branch out and develop long colas when the preflower stage hits. Be ready with ample room as from there she can grow pretty huge. This large structure makes Fantasmo Express great for outdoor grows as well as a suitable candidate for training to maximize output.
Walter White
A name like Walter White should evoke some interesting imagery of what to expect with this potent autoflowering plant, which comes to us from the genetic lineage of Korme's 'The White'.
Like this hybrid's namesake, Walter White starts off slow and a little awkward but soon explodes with vigor, displaying her dominance and versatility as the plants mature. This makes this one of the slower autoflowering strains in the Mephisto Genetics lineup, but the generous yields come harvest time are nothing short of top-shelf epic bag appeal.
Known for delivering a powerful heady high and inducing creativity, blending an unforgettably delicious creamy citrus tang to the Haze taste and being downright beautiful to behold growing or in bud form.