House of the Great Gardener, aka HOTGG Seeds, is a seed bank with extensive experience working to provide both weed and seeds for the Compassion Clubs and medical marijuana groups in their native Canada. 
Through their desire to create better therapeutic strains than ever, these Canadian breeders have created a collection of the most effective medical ganja on the market, consistently meeting their goals to enhance the medicinal quality of their plants. 
Their feminized lines contain their all-time favorite genetics and multiple award-winning varieties, and SeedSupreme Seed Bank brings you their full range of therapeutic cannabis seeds.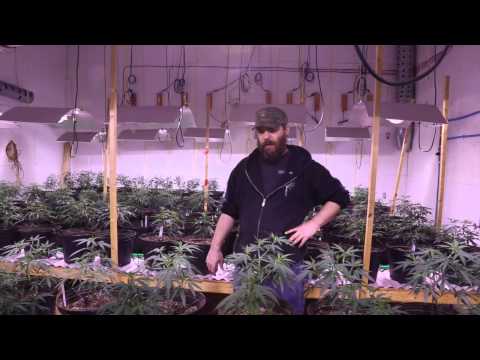 Origins
The origin of House of the Great Gardener is the story of founder Mat Beren. 
A native of Vancouver Island, in British Columbia, Canada, Mat has been growing cannabis in this optimal location for decades. 
Since 2002, Mat has been working closely with dedicated dispensaries, medicinal marijuana groups and British Columbia's Compassion Clubs in an effort to supply the seeds and strains their patients need most. 
Despite his long and integral history with the native medical market, House of the Great Gardener did not form officially until 2014, when they had the best selection of cultivars at their disposal to make sure quality weed seeds were always available for those who rely on them.
Brand Evolution
Road Bumps to Success 
The journey hasn't been easy for Mat and HOTGG Seeds. 
In 2006, after 4 years of active involvement in Canada's medicinal marijuana (MMJ) scene, Mat was charged with trafficking, and a lengthy battle with the law ensued.
At the time, Mat was producing therapeutic cannabis strains for around 600 patients at the Vancouver Island Compassion Society (VICS), and he knew he could not give up without a fight. Thankfully, in 2009, Mat received a full and complete exoneration of the charges laid against him - the judge found him to be a true expert in his field, and ruled that the Canadian medical system was sorely lacking.
Mat's dedication was fuelled by the trials he faced, and the breeder devoted all his energy from then on to producing the very finest medicinal marijuana possible.
Strong Genetic Library 
The genetic library used by House of the Great Gardener is the culmination of decades in collaboration with British Columbia's Compassion Clubs and medicinal patients.
Their gene pool comprises a rich and varied catalog of the highest quality Indica and Sativa strains, all chosen for their exponential therapeutic properties.
Among these lines are so many multiple award-winners that there are simply too many accolades to list. What's clear is that no strain enters their genetic family without being considered the pinnacle of perfection and an essential ingredient in their breeding projects, capable of rich terpene and resin production and perfect for extractions and serving the needs of the medicinal marijuana masses.
Medical Marijuana Focus 
House of the Great Gardener is driven in all their actions by the goal of making sure that they only ever supply top therapeutic quality in every one of their weed seeds and strains.
These Candian marijuana maestros breed every new variety according to various patient needs, backed up by the extensive and compassionate background working hand-in-hand with those needlessly suffering where a little THC or CBD therapy would work wonders.
HOTGG has a vast and dedicated fanbase who adore the strains this seed bank provides, and the breeders behind the scenes will never stop aiming to ensure every seed they produce is of the same pedigree quality their customers have come to love and expect.
They believe wholeheartedly that customers deserve access to the highest quality medicinal cannabis seeds so they have the option to produce their own medicine, and enforce this belief with an unshakable dedication to quality control with every bean they produce.
Critical Acclaim 
Founder Mat's fame among medical cannabis circles long predates the forming of House of the Great Gardener.
His feminized lines were the definition of instant hits the moment they met the market, and the Canadian breeder saw that acclaim skyrocket on the introduction of his own genetic lines including the likes of Digweed, GG1 and Haoma. 
Haoma, in particular, earned a coveted reputation when she scooped up a great number of awards, starting in 2011 with a prestigious win at the High Times Cannabis Cup - an accolade which significantly raised Mat's reputation and brought his work fully into the limelight.
Despite all the success both Mat and HOTGG has earned and enjoyed, this is a seed bank never content to quit their search for new and original strains. They are constantly experimenting with new and unique genetic combinations in their never-ending research and development to find rare and quality genetics. 
Essential Strains
With over 50 awards won and counting, it's fair to say that you're in safe hands no matter which seeds take your fancy from the House of the Great Gardener shelves. 
Here, we'll take a closer look at some of the standout specimens from this world renowned producer of medicinal pot seeds and strains.
Barbara Bud 
Referenced by Mat and the HOTGG brand as a strain which ticks all the boxes, Barbara Bud is a hybrid of Shishkaberry and Afghani strains and the recipient of over 20 prestigious awards. 
This beauty is fast to flower and renowned as being a remarkably easy strain to cultivate. Her parents were chosen with extreme care for their flavor, aroma, medicinal properties, ideal growth structure and abundant resin production - all of which contributes immeasurably to the success of Barbara Bud (who HOTGG lovingly nicknamed The Barb). 
Among tokers, Barbara Bud is beloved for her mouthwateringly fruity terpene profile, said to remind some of peaches, and the uplifting and sociable influence delivered through her 23% THC content. Growers can expect around 7 weeks for her flowering cycle, and while the yields are not ridiculously enormous, the quality of these buds more than makes up for that in spades.
Highlo 
Highlo is a pure medical strain famed for being a tremendously effective painkiller and an easy enough specimen for even novice cultivators to see huge success with.
That said, Highlo's main claim to fame is without a doubt her high CBD and low THC balance, making this hybrid a perfect companion to those in need of some CBD therapy without any psychoactive influence getting in the way. Whether your pain is physical or mental, Highlo is a true super strain able to induce complete states of relaxation. 
She comes to us from the generous genetics of Cannatonic IBL and boasts over 11% CBD levels, with THC regularly testing at under 1% concentration - a 20:1 ratio! Growers should expect 8 to 9 weeks for her flowering time and a tantalizingly fruity aroma to develop as she nears maturity.