Dinafem Seed Bank
One of the most instantly recognizable seed banks in the world right now, Dinafem is known for combining the highest quality genetics with consistent value for money. Along with their own extensive and exclusive collection of seeds, the company also sells seeds from a variety of other seed banks.
According to these innovative breeders, the key to their success lies in its relentless commitment to seed quality and customer satisfaction. Dinafem's cannabis seeds are available worldwide, though have earned particular popularity in major European markets.
They have spent years developing and improving a wide range of premium strains so that they can now offer a huge collection of highly stable and high-yielding feminized and autoflowering marijuana seeds. If you're looking for multiple award-winning strains such as Moby Dick, Critical+ or Blue Widow then look no further than Dinafem here at SeedSupreme Seed Bank.
Origins
After accumulating years of experience growing and breeding marijuana in Spain, Dinafem started researching the genetics of their plants in order to produce better beans - one result of which was the creation of their first feminized seed line.
Dinafem launched themselves as one of the first professional seed breeders dedicated to producing feminized seeds and demonstrating that the quality of feminized seeds could be as good, or better, than regular seeds from Dutch seed banks.
Brand Evolution
Dinafem At a Glance:
Company in the making since 1999
Established in 2005 in Spain
First company of its kind in Spain
World leader in cannabis genetics
Specialized in breeding medical properties
Using Gas Cromatography for breeding since 2012
Owning a private lab with GC since 2014
Focused on high-CBD strains for medical use
Operating in more than 20 countries
Over 5 million annual visits at the website
The History of Dinafem
Dinafem has a history spanning almost two decades, with the company having been officially created in 2005. Founded by a pair of experienced enthusiasts with a penchant for premier pot engineering, this seed bank was built from scratch upon the following two promises:
Never launch anything they wouldn't be delighted to consume.
Make sure all their customers are treated as they would have liked when they were anonymous growers.
"With these values as our guiding principles, we work in what we most like, creating, experimenting and innovating with cannabis strains and genetics, and having fun while doing so. We were the first to produce feminized seeds in Spain.
"We have grown to become market leaders in Spain in sales, in online positioning and in the creation of a solid international sales network, operating in over 20 countries all over Europe, America, Asia and Africa." - (Dinafem)
Far from a simple money-making venture, this seed bank was established to provide its two founders with the opportunity to pursue their passion and indulge in non-stop experimentation. However, it didn't take long for Dinafem to attract the attention of critics and cannabis connoisseurs – both in their native Spain and internationally.
The company is perhaps most famous for being the first to introduce feminized cannabis seeds for the Spanish market, an evolution that would immediately and permanently revolutionize cultivation for commercial growers and DIYers alike. The introduction of feminized seeds quickly saw Dinafem become Spain's undisputed market leader.
Today, they operate in no less than 20 countries worldwide, offering a dynamic collection of seeds across a number of popular categories.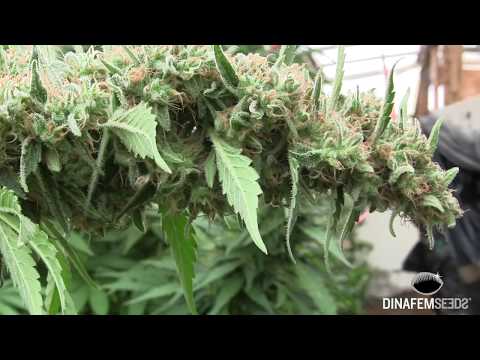 Excellence in Autoflowering
Along with the introduction of feminized seeds to the Spanish market, Dinafem is also famed for creating some of the most memorable autos of all time. Products of countless years of research and development, these breeders have unleashed an unrivaled collection of autos including Critical + Auto, Moby Dick Auto, Amnesia Auto, OG Kush Auto, Bubba Kush Auto and Cheese Auto.
Perhaps more importantly, Dinafem is the original creator of several all-time classics the cannabis community simply wouldn't be the same without. Examples of which include Critical +, Moby Dick, Original Amnesia, Cheese, Industrial Plant, Dinachem and Critical Jack.
"As front runners in the improvement of autoflowerings overall quality, we have the best catalogue of autos on the market, after 8 years of breeding and working with up to 16 generations." - (Dinafem)
CBD Research and Development
Mirroring the growing interest in CBD products among consumers and healthcare professionals worldwide, Dinafem continues to step up their research and development in the field of CBD strains. The company's commitment to the production of pharmaceutical quality CBD-heavy cannabis has led to several prestigious collaborations being formed with major producers worldwide.
"After a thorough selection process carried out in our lab, we have developed the largest catalogue of CBD-rich strains on the market comprising the best CBD-pure seeds ever to be made. We recently established a strategic alliance with a Canadian company devoted to industrial farming and provide them with genetics for their immense greenhouse facilities." - (Dinafem)
Ultimately, this is a company that believes the benefits of marijuana extend far beyond everyday recreational use, working hard to both explore and maximize the therapeutic properties of the plant.
Personal Approach to Customers
Despite having seen enormous growth and expansion over the years, Dinafem remains comprehensively committed to customer satisfaction. Even today, the company's two founders promise the kind of personal and empathic approach they would have expected themselves prior to going into business commercially.
"Developing a top-quality product is not the only thing that matters. In fact, a close, personal approach is essential to making our customers feel at ease. This can be achieved by establishing a relationship of trust among people, and, since we do not forget where we come from, Dinafem Seeds always answers to its customers on a case-by-case basis." - (Dinafem)
The company is still famed for their outstanding feminized seeds and ultra-reliable autos, but today their catalog is also populated by countless CBD strains, fast strains and experimental hybrid strains. All backed by the brand's guarantee of consistent quality and value for money.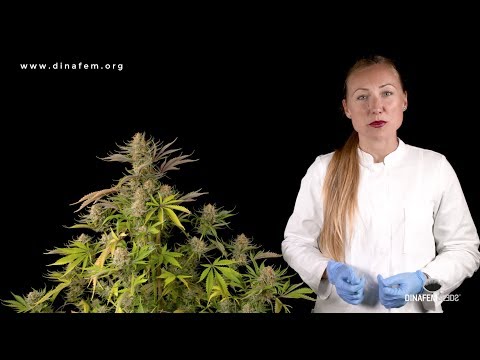 Essential Strains
It's hard to pick a front-runner from Dinafem's extensive catalog, with such a huge range of standout strains to choose form. However, the following five rank among these skilled Spanish breeders' top-selling strains of all time:
Amnesia Kush
Characterised by its irresistible citrus fragrance, Amnesia Kush is synonymous for delivering the true multi-sensory experience.
Engineered by combining the genetics of Amnesia Haze and OG Kush, this potent hybrid with 70% Sativa lineage can be incapacitating in the best possible way. Not that this is surprising, with a high THC content that often surpasses 20%. Amnesia Kush is a heavy yielder, with a relatively short flowering time of approximately 60 days.
Amnesia CBD
Popular among recreational and medicinal cannabis audiences alike, Amnesia CBD boasts a near-perfect THC to CBD 50/50 ratio. Both THC and CBD levels come in at around the 9% mark, adding up to a beautifully balanced high that's perfect as a sessions smoke. Particularly when considering her fragrance and flavor profile, which is dominated by sweet citrus notes and a mouthwatering tropical fruit aftertaste.
A single Amnesia CBD plant is often enough to produce more than 1kg of usable cannabis, of which a little goes a surprisingly long way.
Blue Cheese
Iconic and infamous in equal measures, Blue Cheese is a dank and funky crowd-splitter of epic proportions. Created by combining the supremely dank genetics of Cheese and Blueberry, Blue Cheese is a slightly Indica-leaning hybrid you can identify from a mile away.
While her pungent fragrance and flavor profiles aren't to everyone's tastes, the relaxing properties of Blue Cheese are practically irresistible. This stinky madame is also a great choice for culinary experimentation, with a THC of approximately 20% to ensure the results pack a punch.
Gorilla
With its Chem family lineage, Gorilla is an equally pungent hybrid with a kick that keeps on kicking. Despite technically being a 60/40 Indica/Sativa hybrid, Gorilla's effects are almost 100% Indica influence.
In terms of both bag appeal, this is the kind of strain you crave the moment you lay eyes on her. All of which is intensified when the sugar-sticks buds are broken, releasing the kind of fragrance that's near impossible to keep under wraps.
Dinamed CBD
The very first non-psychoactive strain to come from this groundbreaking seed bank, Dinamed CBD pairs a CBD content of approximately 14% with no more than around 0.5% THC.
Designed exclusively for therapeutic applications, Dinamed CBD nonetheless boasts all the fabulous fragrance and flavor of a classic THC-heavy cannabis strain. All the enjoyment and ceremony of ultra-flavorful weed, with none of the associated psychoactive properties.