One of the oldest seed banks from the Netherlands, SPLIFF Seeds have remained a prominent force in the marijuana industry since the mid-nineties, consistently cultivating the highest quality weed seeds on the market.
With a keen eye for quality, SPLIFF Seeds ensures only the most premium of stable and potent plants find a home in their hefty collection of sweet cannabis.
SeedSupreme Seed Bank are thrilled to supply their full range of regular, feminized and autoflowering strains, bringing you everything from the classic flavors of coffeeshop weed to vigorous modern hybrid strains - all examples of the strongest ganja genetics going.
Origins
Founded in the nexus of the Netherlands cannabis community, Amsterdam-based SPLIFF Seeds owes its origin story to committed Dutch tokers and breeders Marcel and Erik.
Years of contributing to and consuming with the community led the determined duo to a deeper understanding of marijuana and the physiology of the plant, and the desire to create something special through their experience took hold.
The goal was a simple one - to make the highest quality cannabis seeds available to everyone everywhere, be they a grower, a collector or someone seeking therapeutic remedies. To create strains which stand the test of time.
And so through Marcel and Erik's combined knowledge and expertise, the seeds of SPLIFF Seeds were sown.
Brand Evolution
Nomadic Beginnings 
In the beginning, Marcel and Erik traveled the world in search of the widest variety of seeds they could get their hands on. Through this vast and natural crowd-sourcing, the pair collected an understandably diverse range of seeds to get started with their breeding project.
One assumes a grander dream at hand, the one which played out in reality, however, who's to say if either of these devoted breeders knew they waves they would make when the unique strains they released obliterated the other offerings on the market.
That is just what happened, though, and soon the dynamic duo established SPLIFF Seeds. The seed bank was born, the passion became profitable and SPLIFF Seeds rapidly became a household name.
High Standards
Since day dot, SPLIFF Seeds have prized the stability, potency and viability of their strains above all else.
Each and every one of the parent strains of ganja chosen for their gene pool have always been thoroughly vetted by hand to ensure the contribution of its genetics is a worthy one. Only the likes of classic landraces or the top-shelf trimmings make the cut, joining such parent strains as Northern Lights, Skunk, Haze and Afghan.
It won't do for SPLIFF Seeds if a strain shows poor potency or weak resilience to mold or diseases any more than they can accept cases of hermaphrodite seeds.
What's more, when it comes to their own weed strains, this seed bank places monumental value on extensive quality assurance tests so that they can stand confident by their guarantee of strong genetics and viable growth with every seed.
Of course, all that hard work pays off when you cement a solid reputation for a catalog of vigorous and productive strains which are, most crucially, reliable to a fault.
Cannabis Community 
SPLIFF Seeds has known since their birth that the cannabis community is an invaluable resource. It's where they got started and it's where the seed bank turns to for feedback. 
These are breeders who listen to their customers with the goal of serving their every weed need. It was the crowd's voices which pushed SPLIFF Seeds to start adding autoflowering and semi-autoflowering seeds to their collection, and it is those same voices which extol the seed bank's exceptional end results year after year.
A Wider Purpose
Beyond their world-renowned status as suppliers of one of the fullest ranges of high-quality recreational weed, from coffeeshop classics to off-the-charts modern hybrid strains, SPLIFF Seeds has been integral in creating some ground-breaking medicinal marijuana, too. 
This seed bank also takes it as a personal responsibility to play a part in the education of the masses, helping to dispel negative pot propaganda and share the truth.
They voice continued, active and avid support of legalization campaigns throughout the world and even take a noted stand against faceless large-scale production (which tends to rely on the use of strong and unnatural fertilizers, pesticides and other harsh chemicals, adversely affecting both the plant and the environment in the process) by encouraging their customers to cultivate for personal use wherever possible and legal to do so.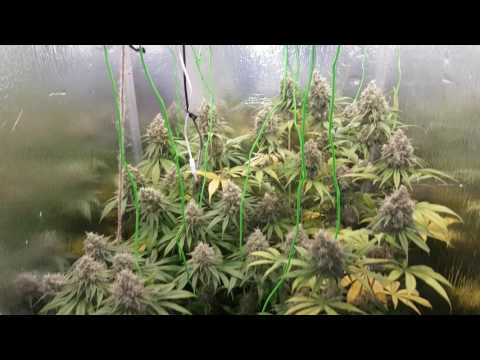 Essential Strains
As you might expect, no stone goes unturned when it comes to SPLIFF Seeds making sure you receive the best possible cannabis seeds guaranteed to be viable, potent and stable. 
But once they've passed the rigorous lab tests, been inspected by hand and released to market, you're then faced with the whopping choice of 51 different strains to choose between. 
With twists on perennial favorites like Super Skunk, Power Plant and White Widow stacked against the fresh faces of Northern Special, Blue Berry or Gold Rush Outdoor, we thought we'd lend a helping hand so you know where to start.
Blue Berry 
An Indica-dominant cross between DJ Short's Blueberry (Chocolate Thai x Afghani #1 x Highland Oaxaca) and Northern Lights Special, this strain won the Tenerife Cup in 2013 and is famed for her superbly fruity flavor.
Blue Berry delivers an intensely pleasing high courtesy of a delectable terpene profile and generous coating of crystals. She's known to be quite easy to cultivate, requiring very little from growers, and has a super short vegetative period. Also a fantastic choice for those hunting down quality medicinal marijuana. 
Moon Walker Kush 
Another Indica-dominant hybrid, this time coming from Skywalker OG and Blue Medi Kush gene pools, Moon Walker Kush packs one hell of a punch, hitting users like a narcotic freight train. 
She's got a reputation for generous yields, fast flowering, and remaining nice and compact, making her fairly effortless to manage. This is an absolute must-smoke strain for lovers of Kush, who regularly praise the dank, lemony taste and potent way the high makes its way through the body. 
Gold Rush 
One for the outdoor cultivators among you, Gold Rush comes from the potent genetics of Polm Gold, Purple Power and Afghan strains. She's a strong and sturdy plant known for one of the shortest flowering times in the SPLIFF Seeds catalog. 
Patience is key with this one to develop the maximum output of trichomes and draw out the full THC potential of this aromatic bud. Get ready for an artfully blended high which frees the mind and relaxes the body every time.