Reserva Privada is a seed bank specializing in the most exquisitely sumptuous and rare cannabis genetics on the market.
An offshoot of DNA Genetics, one of the world's oldest and most established weed brands (and the creators of icons like the super flavorful Sativa Tangie), the Reserva Privada subdivision share the knowledge, breeding techniques and quality assurance of DNA Genetics, and have become synonymous among cannabis connoisseurs with exclusivity, innovation and originality.
SeedSupreme Seed Bank holds the best stock of Reserva Privada beans for those wishing to sample the finest US marijuana from the most discerning US collectors!
Origins 
DNA Genetics established themselves back in 2004 as supremely dedicated cannabis enthusiasts with a deeply rooted passion for the plant and creating exceptional new hybrid strains.
During the Dutch seed company's journey to global sensation, they did more than merely get a foot in the door of the American market, they planted roots there, too.
Their acclaim on the Californian weed scene attracted many talented West Coast breeders to their team, and Reserva Privada was born to bring both their skills and rare heirloom strains to the marijuana masses.
Brand Evolution
The Height of Privacy 
Though based in the sunny state of California, where laws permit their efforts, the team of breeders behind Reserva Privada choose to maintain their privacy at all angles, believing this is part of what enables them to do what they do best - create exceptional cannabis strains. 
Between this, and the closely guarded secrets that comprise their elite collection of super strains that lend their incredible properties to the stunning seeds produced by Reserva Privada, the sheer sense of tantalizing exclusivity is palpable with these guys from the get-go. 
Committed to Connoisseurs
There was only ever one cannabis clientele in mind for Reserva Privada - the ever-demanding tough-to-please connoisseur. 
This group of breeders united to offer the absolute finest American genetics, from the likes of OG Kush to Sour Diesel, in seed form, to the community's most discerning members. 
It all stems really from the rarity of the genetic pool these talented breeders are working with. Surely they would produce such pristine nugs of pot perfection on a mass-market basis if they were able (come on, share the wealth, guys!), however, this is not the case.
Reserva Privada stock can be notoriously challenging to get hold of due to the nature of what the team are working with, and when their new seeds drop you can be assured it's the eager connoisseurs hunting the rarest of the rare ganja gems who tend to scoop up most of these unique treasures.
Was the niche planned or did they fall into it? Either way, it works wonders for these West Coast breeders!
Limited Runs
The exclusivity of these incredible strains really cannot be overstated. 
It stands as a strong testament to the quality of weed seeds that the Reserva Privada team put out, though it does mean that your average grower or breeder has to work doubly quickly to bag a handful of regular or feminized seeds from this exceptional reserve. 
But when seeds continually surpass all expectations of even the choosiest cannabis connoisseur normally willing to gripe about even the slightest imperfection, it only makes sense. 
Treat the arrival of new seeds from Reserva Privada like an announcement from your favorite artists advertising a one off reunion show after a ten year hiatus. Hopefully that will help get your mind into gear to grab these exquisite weed seeds while you can… unless you're happy missing the hype? 
Untouchable Reputation 
OK, no-one has an 'untouchable' reputation, but after years in the business, Reserva Privada remain unscathed by negativity.
Cannabis seeds from this seed bank are of consistently high quality, produce prodigious bounties of plentiful and dank nugs and are utterly uncompromising in their high standards. 
So much so that most strains you'll find in the Reserva Privada line of premium weed seeds have been crowned award-winning by at least one of the countless cannabis competitions throughout the world.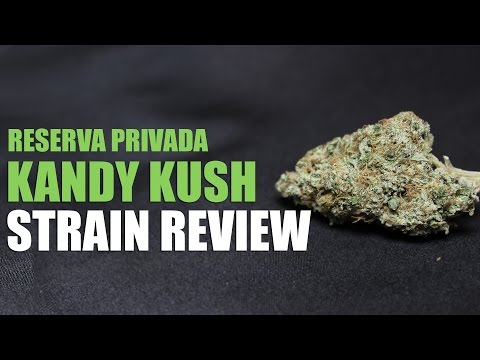 Essential Strains
Of the 17 different premium strains currently available from Reserva Privada, it's quite easy to glance at their catalog and feel a strong sense come to mind of "I'll have one of everything on the menu, please."
Regardless of which Reserva Privada weed seeds you grab for your next harvest, you can rest assured these have been rigorously batch tested to meet those unshakably high standards of quality and productivity. 
But where to begin? Well, if you're wondering that then join us as we explore some of the standout seeds on these shelves.
Kandy Kush 
A stunningly beautiful plant who leans 60% Indica and comes to us from an elegant blend of 2 Californian classics; OG Kush and Trainwreck. 
Named for her scent and flavor profile which overflows with strong lemon candy and Kush textures, Kandy Kush is a favorite among commercial cultivators for her mighty yields and beloved by connoisseurs worldwide for her frosty nugs and moreishness. She's reported as one of the most resinous plants on the Reserva Privada menu and a true example of Cali weed. So put that in your pipe and smoke it! 
Tangie 
A personal favorite. Tangie is an exquisite and delicious example of what is possible through talented terpene management. 
She comes from the generous genetics of Californian Orange and a Skunk hybrid, and is famed for an abundantly tangerine aroma and taste. Known amongst cultivators for growing tall, working wonderfully in a SCROG or Sea of Green setup, reacting well to topping techniques and producing some seriously stonking yields of buds packed with mouthwatering allure.
Multiple cup-winning genetics don't come much better, in this writer's opinion.
Skywalker Kush
A THC powerhouse crossing the formidable genetics of OG Kush and Skywalker, this astounding hybrid strain is one of the most sought-after strains in the United States, and for damn good reason! 
Beloved for a tantalizing and complex flavor profile, dense buds, crazy coatings of crystal trichomes, short 9 week flowering times and bountiful yields, it's easy to see why fans flock for a taste of Skywalker Kush.