"Bomb Seeds" seed bank
Bomb Seeds is famed worldwide for producing quality cannabis seeds that prioritize generous yields in record time, and has made an explosive impact on the green scene in recent years with their fresh new genetics and rave reviews across the board.
A firm favorite among new and established growers alike, these breeders take the best traits from established, award-winning strains and add their own special Bomb Seed genetics to expertly breed in the characteristics we all want - quality, quantity, strength, speed and vigor.
Medical-grade THC (check out the THC Bomb!), connoisseur flavors and fantastic yields can be found throughout their collection - and we've yet to read a negative grow/smoke report!
Having produced several epic strains that can yield as much as 900g for every square meter of grow space, this is your quintessential 'bigger is better' seed producer, bringing the biggest bang for your buck with their range of dank weed seeds, here at SeedSupreme Seed Bank.
Origins
Established in the late 1990s, Bomb Seeds is on a continuous mission to create the highest-yielding and most explosive varieties of marijuana the commercial cannabis market has ever seen.
These Dutch breeders have been producing pot seeds in the Netherlands ever since, developing breeding techniques which maximize the most desirable traits in their plants, including heavy yields, high quality, premium potency, flowering speed, vigor and viability.
Given their choice of a company name, it seems clear these guys have always had these goals in mind, and always intended to go off with a bang in the breeders' world.
Brand Evolution
A Unique Take on Cannabis Seed Engineering
Bomb Seeds credit their unique range of beans to the careful selecting of classic strains, which they then refine with the benefit of their decades of hands-on experience. From there, it's a simple case of crossing these improved perennial favorites with their own potent and unique 'bomb' seeds - that's where the magic really happens.
These experts turn their attention to breeding the best and most desirable traits in every new bomb hybrid they create, focusing on strength, speed, vigor, and quality over quantity - all of which results in the production of some seriously high-quality ganja genetics, every strain being elevated to its full potential, boasting high THC, generous yields and fast-flowering traits, alongside explosive growth potential.
It doesn't matter if you're into your Indica or Sativa, autoflowering or medicinal strains, or even if you're the choosiest connoisseur in canna-land, the Bomb Seeds team have got you covered.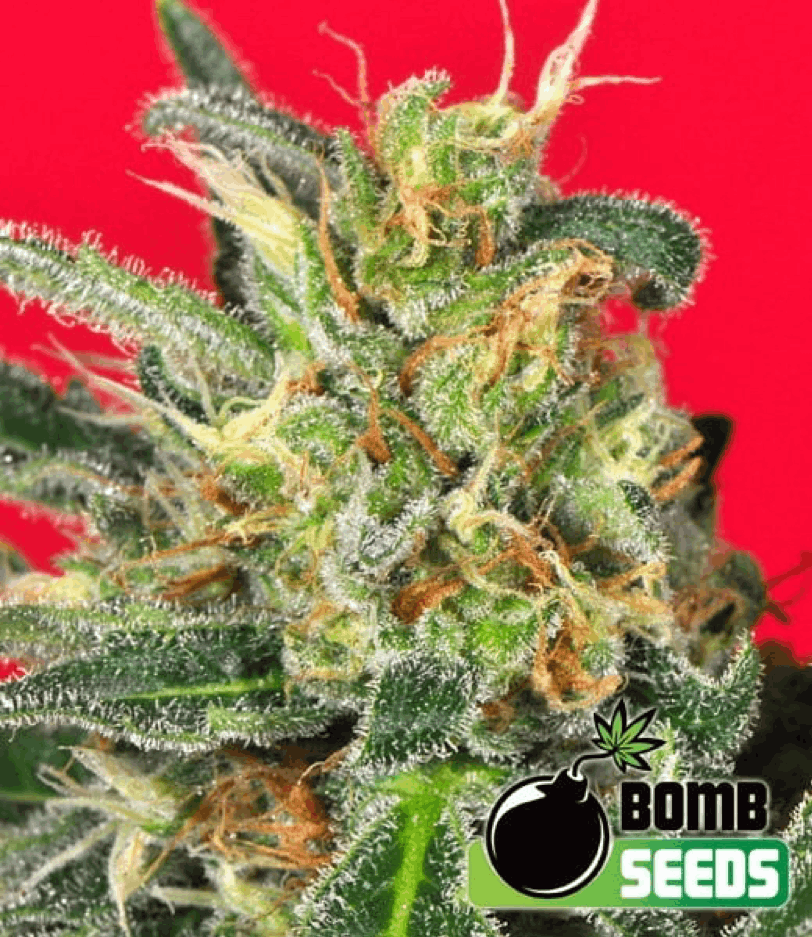 Quality over Quantity
With Bomb Seeds, quality never takes a backseat to quantity. By focusing relentlessly on the quality and consistency of every seed produced, these Dutch breeders boast an impressive 95%+ germination rate for their beans - after which, the vast majority of strains from the current catalog are exceptionally durable and easy to grow, indoors or out.
This quality-first ethos has led this seed bank to produce a number of impressive products over the years which have found their way into almost every high-end seed bank worldwide.
Ideal for anyone looking to produce vast bounties of bud in the shortest time and with limited space to play with, Bomb Seeds has established themselves as a forward-thinking seed bank that's well worth checking out.
Meticulous Quality Control
The breeders behind Bomb Seeds do a great job by demonstrating how you don't have to spend a fortune to produce premium pot at home. Nor do you need to be an experienced grower to produce exceptional yields of potent and fragrant nuts, even with limited available space.
By offering an extensive range of regular, feminized and autoflowering strains, Bomb Seeds produces varieties to suit all tastes and preferences. With each and every bean being meticulously inspected as part of an extensive quality control process, no seed bank offers the same consistent quality and value for money with every purchase.
"Quite simply, if you are looking for the best combination of Strength, Power, Quality and Yield; Bomb Seeds genetics are the best available. Our selection process of the best traits from already world beating strains, combined with our explosive Bomb genetics delivers time after time.
"Bomb Seeds are organically grown in the Netherlands under strictly controlled conditions. All batches are regularly tested for optimum quality and consistency. All Bomb Seeds are then hand selected to ensure maturity and viability. Bomb Seeds genetics are fully stabilised and bred for complete genetic consistency ensuring all strains and traits breed true in every plant." - (Bomb Seeds)
Essential Strains
Straight from their explosive product catalog, the following top-selling strains are among this dynamic producer's most popular and iconic of all time:
Cluster Bomb
One of the newer additions to the Bomb Seeds collection, Cluster Bomb was engineered by combining the genetics of the original Sensi Skunk #1, Cinderella 99 and Bomb #1. The result of which is a fast-flowering, heavy-yielding specimen with a short and dense structure - perfect for smaller indoor grow spaces. Boasting a THC content of up to 20%, Cluster Bomb is capable of producing a whopping 800g of glistening nugs for every square meter of grow space.
Expect a beautifully rich and quintessentially funky fragrance, with distinct notes of strawberries and citrus in the background. The high is predominantly cerebral, though complimented by a deeply relaxing body stone that quickly reaches the very tips of the extremities.
Big Bomb
One of the heaviest yielding strains to have come out of Bomb Seeds to date, Big Bomb excels with an extraordinary 900g maximum production for every square meter of grow space. Which is particularly impressive, when you consider the elevated 18% THC content and the fact that flowering times have been reduced to around nine weeks. A classic in every sense of the word, Big Bomb is a funky and skunky hybrid that's exceptionally easy to work with indoors and out.
The high is beautifully balanced, combining a euphoric cerebral uplift with just the right amount of physical relaxation. There's nothing particularly complex about the fragrance and flavor profile - it's all about the old school Skunk experience that's enjoyable any time of day.
Cherry Bomb
True to her name, Cherry Bomb is a delightfully compact specimen which nonetheless produces on the scale of something significantly larger. Cherry Bomb plants rarely reach more than around 100cm in height, but this is still more than enough to produce in excess of 600g of delectable ganja for every square meter of grow space. Again, with a flowering time of approximately nine weeks.
This Indica-dominant hybrid is considered the ultimate mind-opener - perfect for getting those creative juices flowing and inspiring you to do something amazing. The predominantly skunky fragrance is underpinned by plenty of summer fruits and a distinct note of sour cherry, making for a marvelous multi-sensory experience that'll have you coming back for more.
Kush Bomb
An absolute breeze to grow indoors or outside, Kush Bomb nonetheless delivers the most remarkable results with a SCROG setup. Get it right and you'll be looking at approximately 700g of usable cannabis for every square meter of grow space, with a THC content that often goes as high as 25%. A little of this stuff goes an extremely long way, meaning growers often end up with far more than they know what to do with.
Enormously popular in recreational and therapeutic cannabis circles alike, Kush Bomb delivers a beautifully balanced high and is also perfect for making hash and other extracts. If you're planning on planting Kush Bomb outdoors, it's worth noting that these towering specimens often reach more than 250cm in height, making them tricky to keep under wraps.
Bubble Bomb
As you've probably guessed, Bubble Bomb was created by combining the genetics of Bubblegum with THC Bomb. Also as you'd expect, the result of this cross-breeding experiment is a fantastically fragrant and flavorful strain, which can deliver up to 750g of potent buds for every square meter of grow space. THC levels hover around the 20% mark, while Bubble Bomb plants rarely grow taller than around 75cm.
Expect the typical narcotic Indica buzz that lingers for hours, complemented by a sweet and candy-like fragrance that permeates everything in the vicinity. Like most of her counterparts above, Bubble Bomb is also exceptionally easy to grow and suitable for even the smallest indoor and outdoor spaces alike.