A leading supplier for some of the most prestigious dispensaries in the Bay Area, Burning Bush Nurseries burst onto the scene in 2011. Since then, this dynamic and innovative company has invested heavily in the development and distribution of some of the most sought-after strains of recent years. None more iconic than Key Lime Pie, which simply has to be experienced to be believed.
SeedSupreme Seed Bank is committed to working exclusively with the most outstanding pot seed producers in the world - which is why we're proud to offer an extensive collection of strains from the folks at Burning Bush Nurseries, for those looking for truly superior genetics and the kinds of strains you simply can't get enough of.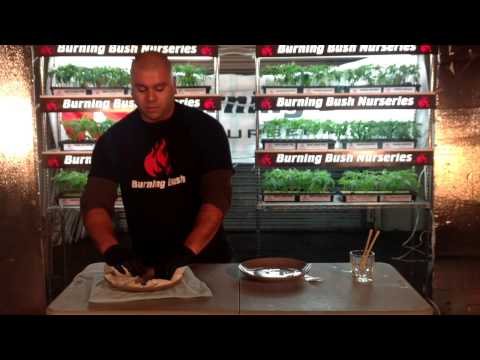 Origins
The legacy of Burning Bush dates back to 2009, when a Washington DC journalist by the name of Mitchell Stern decided he wasn't exactly fulfilled with his line of work.
He decided that a brighter future could no doubt be found in California, so he hit the road with one single goal – to do whatever it would take to get himself a CA medical marijuana permit!
Mitchell landed a few jobs after arriving, but found that his DIY grow room and dispensary ventures really weren't bringing in the kind of green he needed. Pulling off a bold career-shift, the founder decided to get into cloning and was met with immediate and ever-intensifying success.
His genetics soon became legend across California's competitive market, and by 2011, Burning Bush Nurseries was officially formed.
Brand Evolution
Quality Commitment
The beans from Burning Bush Nurseries were instant hits able to stand out from the crowded commercial cannabis market through a simple philosophy prioritizing quality over quantity.
Rather than putting out an extensive catalog of hundreds of 'decent' strains, Burning Bush instead puts their name to a compact collection of sought-after superstars.
Their commitment to quality has seen their most impressive seeds and clones make their way swiftly into dispensaries across the San Francisco Bay Area and the wider weed world beyond. Despite the fact that San Francisco's marijuana market was already overcrowded, these breeders stood out as champions of innovation, quality and commitment to consistently superior results.
World-Famous Genetics
The efforts of the team behind Burning Bush have resulted in some of the most legendary strains ever to make it into circulation.
Just a few examples of the kinds of products being put out by these guys include Sour Diesel, Fire OG, CookieFam, Key Lime Pie, Sunset Sherbert, Infinite Euphoria and Suzy-Q.
Massive demand often sees stocks exhausted the moment they come in, though, so keep checking back regularly if the strain you're interested in is currently sold out.
Strains from Burning Bush Nurseries have also earned a global reputation for being relatively easy to grow – ideally suited to novice growers and those with limited space to play with. Medium yields can be expected in as little as 8 weeks and every strain delivers an almost entirely unique experience. So whatever your priorities and preferences, you'll find something to suit among the Burning Bush ranks!
"Welcome to Burning Bush Nurseries, home to some of the finest genetics in the world. Our clones come from clean, healthy mother plants that have been selected for their vigour and outstanding growth characteristics.
"We proudly carry some of today's hottest strains and we are constantly searching for new ones. Look for our clones and seeds at your local dispensary and never settle for anything less than perfection." - (Burning Bush Seeds)
Essential Strains
Bringing something completely new to the table, Burning Bush offers a compact collection of extraordinary specimens to suit all tastes and preferences.  From mind-blowing recreational strains to some of the most CBD-rich therapeutic strains on the market, Burning Bush caters to a broad and diverse market.
Of all the strains created and introduced by these breeders to date, the following remain the most popular and celebrated by a significant margin:
Fire OG Kush
Engineered by combining the genetics of OG Kush with SFV OG F3, Fire OG Kush is a noted superstar on the commercial cannabis scene in the United States.
Particularly popular among actors, musicians and creative types, this beauty delivers the kind of motivation and creative energy that makes you feel like you can accomplish anything. She's also a fantastically fragrant specimen with a beautiful flavor profile, guaranteed to have you coming back for more.
Though a comparatively challenging strain to grow, Fire OG Kush promises rich rewards for those who invest the necessary time and effort.
Key Lime Pie
Considered by many to be the company's flagship strain, Key Lime Pie is a daring three-way combination of Durban Poison x OG Kush x Cherry Kush.  The result of which is a true connoisseur's classic of a strain, with exceptionally potent Indica properties and a fragrance/flavor profile that has to be experienced to be believed. Think juicy citrus with hints of chocolate and candy floss, courtesy of delightfully abundant buds with gorgeous purple hues and a generous resin production.
Relatively easy to grow and with impressive yields guaranteed, Key Lime Pie is a heavy-hitting strain that's not for the uninitiated. A little of this stuff goes a seriously long way to say the least.
Girl Scout Cookies
Boasting very similar genetics to her counterpart above - Durban Poison x OG Kush x Cherry Kush - Girl Scout Cookies is one of the most popular and famous strains in the history of commercial cannabis.
Along with her decadent flavour profile bursting with bubble gum and chocolate, Girl Scout Cookies is also infamous for knocking even seasoned stoners clean off their feet with just a few generous hits. Outstanding for a wiping out chronic pain and everyday aches, bringing on the kind of head to toe relaxation few other strains come close to.
She may seem sweet and innocent on the surface, but Girl Scout Cookies is not recommended for newcomers or anyone prone to anxiety or panic attacks.  When this stuff hits, it hits like a sledgehammer.
Sour Diesel
Another superstar on the scene that needs no introduction, Sour Diesel was concocted as a three-way mix of Chem Dawg x Northern Lights x Skunk #1.  Famed for producing the most extraordinary yields of ultra-potent nugs with a stink that won't quit, Sour Diesel is as uplifting as she is complex on the palate.  The almost acrid fragrance of gasoline lingers behind a super-skunky smell that makes discretion borderline impossible.
Flowering times come in at around 10 weeks, after which you'll be left with an enormous haul of chunky flowers with ridiculous quantities of resin.
Blue Dream
Having spent a fair amount of time as the single best-selling strain in the United States, Blue Dream is the dictionary definition of iconic. Created by combining the genetics of Blueberry and Haze, Blue Dream is by far one of the best daytime smokes you'll ever lay your hands on. Intellectually stimulating, motivating and with just the right amount of euphoria, this hybrid is perfect for a much-needed pick up at any time of day. She's also just the thing for blasting anxiety and upset clean into kingdom come.
Particularly where depression and everyday stress are concerned, Blue Dream really is about as good as it gets. And if all this wasn't enough, she's also an absolute breeze to grow indoors or out.
Gorilla Glue #4
Another example of an extremely high-yielding specimen that needs little to no specialist care, Gorilla Glue #4 is a three-way concoction of Sour Dubb x Chem Sis x Chocolate Diesel. The fragrance and flavor profile is best described as challenging, with plenty of funky Skunk and a heavy hit of fuel in the background. All of which translates to a thick and satisfying smoke, with epic amounts of earth and lemony spice on the exhale.
Yields are always great with this stuff, but can nonetheless be taken to extremes by trying your hand with the Sea-of-Green technique.
Romulan
Last in our list comes an intergalactic specimen with properties that reflect her alien moniker. Created by combining the genetics of a North American landrace strain with White Rhino, Romulan is an absolute joy to grow in compact and confined spaces. Expect fantastically short plants with beautifully dense flowers, along with an old-school skunky fragrance and flavor you can't help but love.
A superstar among therapeutic tokers for the treatment of stress, insomnia, migraines and muscle pains, Romulan is a hard-hitting Indica with the power to take even seasoned smokers by surprise.