Famed for creating some of the heaviest-yielding cannabis strains ever to hit the commercial market, Critical Mass Collective has built an incredible success story on the basis of one revolutionary strain. Today, Critical Mass Collective is renowned for engineering, refining and releasing the kinds of cash-crop strains few other seed producers are capable of competing with.
Best of all, this dedicated and passionate collective aren't done, so watch this space, right here at SeedSupreme Seed Bank, for an increasing variety of explosive Critical Mass hybrids, guaranteed to blow you away.
Origins
Critical Mass Collective is exactly what they sound like - a collection of breeders dedicated to reworking and re-imagining that famous cannabis strain, the growers' favorite, Critical Mass.
Well loved for her strong growth, huge yields and high potency, Critical Mass seemed to be a perfect starting point for a new line being worked on by chief breeder, Critical Lee. He found much to work with in the old school Afghan Skunk genetics of the Mass and his work joyfully led him to his first great success, the Monster Mass!
Critical Lee's work soon took on new legs as he gathered a collective of like-minded breeders who began assembling a new range of super powered Monster Mass-based hybrids. Now these strains showcase the ultimate in Critical Mass genetics, keeping every inch of growth and gram of yield while introducing fresh new flavors and effects.
Brand Evolution
Experience, Prestige and Pedigree
Everything about the Critical Mass Collective simply screams pedigree and prestige. But what's most impressive about Critical Mass Collective is the way in which the company's entire success story has been built upon the remarkable properties of just one legendary cannabis strain.
Working tirelessly to enhance and improve everything that makes Critical Mass an all-time classic of epic proportions, Critical Mass Collective has come up with a dynamic catalog of high-yielding strains that are as much about quality as they are quantity.
Having established a flawless reputation among casual growers and commercial cultivators alike, Critical Mass Collective has well and truly earned their place in 21st century cannabis history books.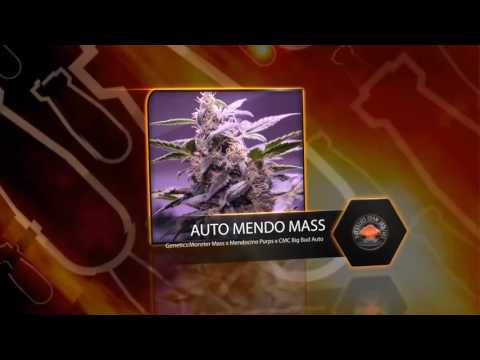 "Critical Mass is a strain famed for its massive yields, huge power and vigorous growth and firmly cemented in history by the late, great Howard Marks, Aka Mr. Nice, and legendary breeders Nevil & Shantibaba. In 2002 a young man from Arizona with a passion for Cannabis, Super Cropping and many years of experience forged his own superior Mass hybrid, one of enhanced yield, power and vigor...he named it Monster Mass.
"Soon after, he began sharing his genetics between a collaboration of unified minds met on his travels and through the Internet. Together they set about creating the very best reworked versions of Critical Mass the world has ever seen." - (Critical Mass Collective)
In Pursuit of Perfection
With combined breeding experience of more than 100 years, Critical Mass Collective is by far one of the most accomplished and capable seed produces on the market right now.
By combining the revered genetics of Critical Mass with some of the most celebrated strains of all time, Critical Mass Collective has come up with a collection of hybrids unlike anything else the market has seen to date.
"Using the revered Monster Mass strain within their breeding programs drove our efforts into pursuing the production of the ultimate Mass genetics, all of which undergo the CMC's strict grading regime before being considered for endorsement as a Critical Lee acclaimed strain. To date, the collective is the fastest growing network of Mass enthusiasts on the planet and boasts well over 100 years of breeding experience between them, resulting in a selection of the biggest, baddest Mass hybrids of modern times." - (Critical Mass Collective)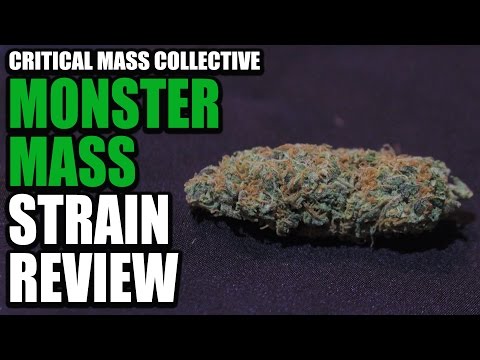 Essential Strains
Across the board, each and every strain from Critical Mass Collective guarantees super-generous yields with little to no effort required. It's simply a case of finding your perfect fragrance and flavor profile, along with your preferred level of potency.
Top-selling strains from Critical Mass Collective as of early 2020 include the following heavy-yielding marijuana monsters:
Monster Mass
True to her name, this exceptional strain is a monster in every sense of the word.  Mature Monster Mass flowers are known for releasing the most extraordinary fruity skunk fragrance, with a distinct note of blackberry in the background. It's a powerful funk that permeates everything in the vicinity, translated into an intensely fruity and sugary-sweet flavor with a note of sharp citrus.
Equally monstrous in her effects, Monster Mass brings on a heavy and incapacitating body stone that often lingers in excess of 4 hours. Expect your entire body and mind to melt into a puddle of pure contentment for the duration, accompanied by the most insatiable munchies you've ever experienced. Even if you know what you're doing, the 22% THC content of a decent batch of Monster Mass is guaranteed to knock you clearly off your feet.
Moonshine Mass
Think of the fragrance of overripe fruit mixed with a curious hint of bergamot and you're on your way to understanding what Moonshine Mass is all about. She's a strain that's difficult to compare to anything else out there, for the simple reason that there's nothing quite like her. Expect a flavor with notes of gin and citrus fruits, with a fair amount of grapefruit and even sandalwood on the exhale.
Ideal as a daytime smoke, Moonshine Mass hits hard with an energizing and euphoric cerebral high that just keeps on going indefinitely. Perfect for injecting a little energy into your afternoons, though edging very closely to overwhelming for the uninitiated. Unless you have a developed THC tolerance, mind-race is almost inevitable with this stuff.
Super Mutant Mass
Bringing that quintessentially classic sour-skunky fragrance to the table by the boatload, Super Mutant Mass is also characterized by a distinct hint of tropical mango floating lazily in the background.  The result of which is a fantastic sweet and sour smoke, which begins with an exotic inhale and leaves you with a spicy aftertaste for the duration.
Like her counterpart above, Super Mutant Mass is synonymous with the kind of lifting and energizing high that's perfect for daytime use. She's also a notorious strain for bringing on the munchies, so you'll want to keep plenty of snacks within easy reach. Though hard-hitting, Super Mutant Mass isn't nearly as overwhelming as Moonshine Mass and is therefore great for less experienced smokers.
Psychotropic Mass
Spicy and fruity with plenty of pine notes in the background, Psychotropic Mass is exceptionally refreshing and uplifting on the nose. Set light to the stuff and you're treated to a veritable bouquet of sweet citrus flavors with an interesting hint of caramel on the exhale, making for a sophisticated and complex experience you can't help but love.
Psychotropic Mass is one of a handful of strains from these guys to feature an elevated content of CBD, making for a potent yet relaxing Indica strain that's beautifully balanced and easy to enjoy. By far, one of the best medicinal strains to come out of Critical Mass Collective's labs so far.
Purple Skunk Mass
Also well worth checking out and bursting with bag appeal, Purple Skunk Mass has an exceptionally exotic fragrance with tones of hash and a strong hit of licorice in the background. On the inhale, Purple Skunk Mass is a surprisingly sweet and fruity strain with prominent passion fruit flavors, leaving behind a sweet and hashy aftertaste that's deeply satisfying.
Expect a sense of immediate and soaring euphoria after just one or two hits, which gradually gives way to a feeling of creative energy that lingers for hours on end. Purple Skunk Mass is simply superb when you've mundane tasks you want to inject a little enjoyment into, or you're heading out and about to do pretty much anything at all.