"Gage Green Seeds" seed bank
Dedicated to the development and distribution of world-class cannabis seeds, Gage Green Group demonstrates particularly heavy commitment to medical marijuana research. All of which has helped the seed bank establish an enviable reputation among casual growers and commercial cultivators on a global basis.
Gage Green Genetics is the breeding arm of a group of ganja growers, activists and medical cannabis community servants.
Their goal is to improve on already legendary pot genetics from around the world by enhancing the cannabinoid profiles and medicinal properties of established strains. They work with rare clone-only plants, heirloom landrace breeds and private collections to create high quality, high yielding hybrids which don't lose out on the aesthetics front. All breeding programs are carried out completely organically, every seed is hand selected and only limited quantities of each strain are produced to keep standards incredibly high.
A Pursuit of Pure Passion
To call the folks at Gage Green Group 'obsessed' with quality cannabis production would be something of an understatement. Dedicated to the research and development of ultra-premium weed (with a strong focus on medicinal markets), Gage Green Group is on a mission to revolutionize the entire industry.
Uncompromising in their approach to experimental cannabis cross-breeding, Gage Green Group outperforms comparable seed producers by creating 100% unique works of art. The Gage Green Group seed catalog comprises nothing but unique and exclusive strains you will not find from any other producer.
Many of which have been released as strictly limited-edition outings over the years, so it's worth grabbing what's available while you can!
"Established 2008. Inspired by Louis Armstrong. Jazz and Art. Bringing forth the Unseen. Flowers and seeds crafted in the World's Most Technologically-Advanced, Fully-Regenerative, Natural Farming Ecosystem known to Humanity. Created by a team of natural farmers, scientists, artists and healers, the GGG BIODOME is a manifestation of centuries of combined experience and hardworking to bring forth Heaven on Earth." - (Gage Green Group)
No Shortcuts, No Compromises, No Nonsense
Gage Green Group isn't exactly shy or retiring when it comes to their claims to fame. These guys are fully convinced they really are the best in the business, going to extreme lengths to ensure that each and every seed produced is incomparable in its quality and consistency.
The difference with Gage Green Group being that the customer consensus confirms all of the above. If you're unwilling to compromise on quality or performance, Gage Green Group should be your first port of call.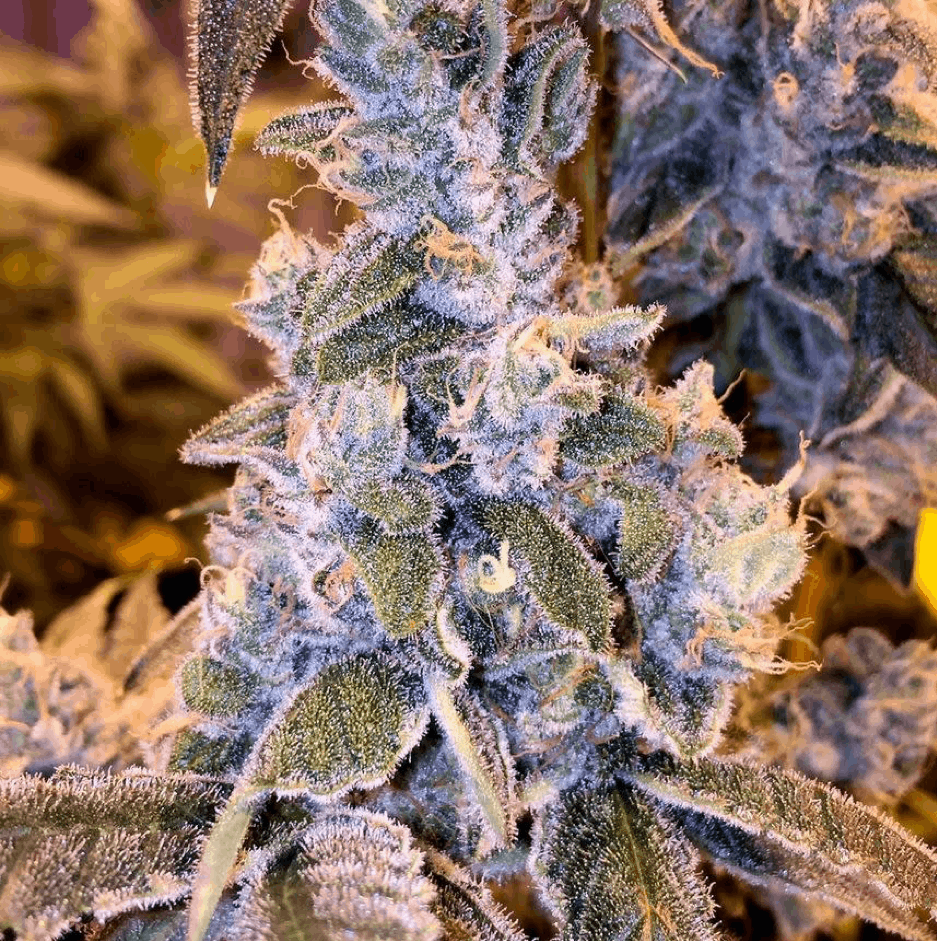 "Our Gardens comprise of the world's most Preeminent Growers in Natural Farming and Cannabis. Our Team works diligently, day and night, to produce the finest Herb in existence. We can never achieve Perfection, yet We shall continue to strive for Perfection. A boutique & organic growing process to serve connoisseurs with the finest tastes & sensitivities. Proprietary methodologies & inputs. No shortcuts or compromises. Crystal Technology. Grounding. Magnetics. Full Organic Practices & Inputs." - (Gage Green Group)
Essential Strains
Just a few top-selling strains that perfectly illustrate what these guys are all about include the following:
All Blue
If you're all about the classic characteristics of blue weed at their absolute finest, All Blue is the strain for you. In terms of bag appeal, this stuff is truly mind blowing. On the nose, the fragrance is best described as a combination of blueberry jam and freshly buttered toast, with a creamy and almost yogurt-like aftertaste on the exhale.
If all this wasn't enough, All Blue is also an absolute superstar for making top-shelf hash and cannabis concentrates, which further intensify her extraordinary fragrance and flavor profile.
Apogee
True to her name, Apogee was engineered primarily for the purpose of taking 'high' to an altogether higher level. Not to such an extent as to become unpleasant, but the perfect option for those with a somewhat advanced THC tolerance.
Meditative and tranquilizing in all the right ways, Apogee has a fruity and skunky fragrance that harks of all-things old-school. She's also surprisingly simple to grow, with no real knowledge or experience required.
Baby Breath
Don't let the name fool you - Baby Breath is the quintessential wolf in sheep's clothing. The fragrance is often described as a combination of sweet caramel and fragrant rose petals, translating to an interesting floral flavor that lingers on the palate for some time.
Baby Breath was created by combining the genetics of Grateful Breath and Freedom Baby, resulting in a CBD-heavy strain that's enormously popular among therapeutic tokers worldwide.
Breakout
Anyone who gets a kick out of classic Diesel strains will be in their element with this one, which combines that unmistakable fuel-heavy fragrance with a gorgeous note of sweet blueberry pie in the background.
By far one of the most aromatic strains to have come from GGG to date, Breakout is a surprisingly easy specimen to grow and will have your entire house smelling like a Diesel-spiked fruit salad for the duration. Which may sound a little weird on the surface, but is actually appealing on a level you have to experience to believe.
CareGiver
Firmly on the therapeutic side of the scale, CareGiver impresses with an elevated CBD content and an alluring fragrance dominated by fresh cherries and sour lemons. CareGiver has just enough psychoactive properties to be of widespread appeal for recreational use, though is primarily designed with medical mariijuana patients in mind. An exceptionally enjoyable experience and a generous dose of CBD with every hit.
Journeyman
Another immensely fruity outing from the folks at GGG, Journeyman has a fragrance not dissimilar to freshly made waffles and blueberry syrup. Exceptionally sweet with plenty of pungent skunk in the background, Journeyman immediately blasts the mind to an entirely different dimension and holds it beyond the stratosphere for hours on end.
If you're looking to take an enjoyable and intoxicating journey you won't forget, make a beeline for Journeyman.
High Flyer
Speaking of a higher state of mind, High Flyer is the kind of strain that has you seeing the world from perspectives you never knew existed. Energizing and uplifting without ever crossing the line, High Flyer melts away the cares of the day and replaces them with a feeling of all-round serenity. All of which makes High Flyer an absolutely fantastic daytime smoke, or the perfect ingredient for an invigorating wake and bake.