"Garden of Green" seed bank
Committed near-exclusively to the production of superior quality medical marijuana seeds for therapeutic tokers worldwide, Garden of Green is also noted for their responsible and ethical approach to cannabis crossbreeding.
At Garden of Green there is one mission - bringing you the best medical marijuana seeds available. Right down to the insecticides and fertilizers, the whole process is strictly all organic and also clearly one of care and precision, with the goal of taking the best selections of the highest quality strains around and max out their potential in terms of both THC and CBD.
Offering a varied range of feminized Sativa and Indica strains as well as their very popular feminized autoflowering varieties. Garden of Green is beyond proud of their products and they're committed to bring you the finest strains at the fairest price. Now you too can have your very own garden of green with the whole range available today, here at SeedSupreme Seed Bank.
Masters of Medical Marijuana
Since first opening their doors several years ago, Garden of Green has proved to be true masters of medical marijuana. Demonstrating total commitment to the development, distribution and optimization of superior medicinal strains, Garden of Green has produced an impressive catalog of quality cannabis seeds for all therapeutic purposes.
While focusing heavily on striking the perfect balance between THC and CBD for maximum effectiveness, Garden of Green also hasn't lost sight of the importance of fragrance and flavor.  In fact, some of GoG's most celebrated and successful strains to date pack the kind of fragrance and flavor profile that goes beyond almost anything available elsewhere.
"Garden of Green is focused on bringing you medical Cannabis seeds of the highest quality. Our aim is to obtain and breed superior selections with the highest medical qualities of THC and CBD. We offer top quality feminized Sativa and Indica strains as well as very popular feminized Autoflowering varieties." - (Garden of Green)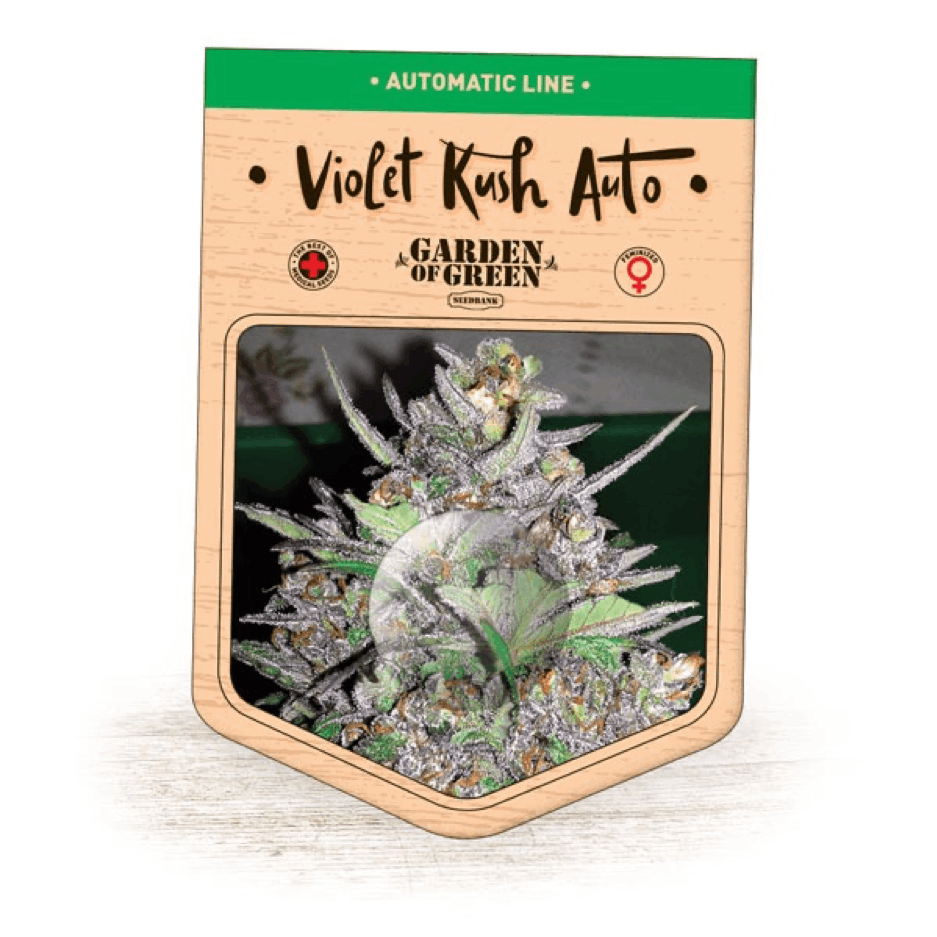 Quality Seeds for Consistent Results
Across the board, each and every seed produced by Garden of Green is a product of meticulous quality control and refinement. Produced exclusively by way of 100% organic and ethical means, every seed shipped is also as green as it gets.
Though premium medical pot is the order of the day at Garden of Green, many of their strains contain exceptionally high levels of THC for a truly mind-blowing effect. All of which has made GoG equally popular among discerning recreational users as with their legions of medical marijuana fans worldwide.
"As our seeds are produced for Medical purposes, we strictly use only organic methods of farming. This includes both our fertilizers and insecticides. We strive for the best genetics and are extremely confident in our products which are available to you at very reasonable prices. You too can have your very own Garden of Green." - (Garden of Green)
Essential Strains
Just a few of the most popular strains currently up for grabs from Garden of Green include the following:
GDP Auto x Gumberry Auto
She may not have the most creative name, but GDP Auto x Gumberry Auto nonetheless impresses with her fantastically pretty purple buds and super-sticky resin production.
A predominantly Indica hybrid that's good for huge yields after just eight weeks of flowering, GDP Auto x Gumberry Auto often tests for a THC content of around 19% and approximately 1% CBD. The fragrance and flavor profile is dominated by sugary candy and tropical fruits, leaving behind a fresh and enjoyable aftertaste on the exhale. The high is energizing and motivating in the extreme, making GDP Auto x Gumberry Auto great for all types of indoor and outdoor activities.
Blueberry Cookies
Created by combining the genetics of Blueberry Auto and Girl Scout Cookies Auto, Blueberry Cookies Auto is an absolute dream to grow and yields like nobody's business. Despite rarely reaching heights of more than 90 centimeters, a decent Blueberry Cookies Auto crop can still produce more than 500g of pungent weed for every square meter of grow space.
Every bit as sweet and fruity as her counterpart above, Blueberry Cookies Auto measures in at around 17% THC and 1% CBD. Blueberry Cookies Auto is highly rated among medical cannabis users for the alleviation of insomnia, headaches, chronic fatigue, anxiety and poor appetite.
Cookies 'n' Cream Auto Feminized
This stuff came about as the result of a crossbreeding experiment involving Girl Scout Cookies and Cream Caramel Auto, resulting in a fast-growing hybrid with an 8-week flowering time and a maximum height of around 70 centimeters.
An outstanding choice for more compact grow spaces, with yields often exceeding 500g for every spare meter. THC and CBD levels are pretty much identical to those of her sibling above, providing an equally invigorating and energizing high that's perfect for daytime use. Cookies 'n' Cream Auto Feminized is a particularly superb specimen for a motivating wake and bake.
Critical XXL
Her name may be a little on the deceptive side, given her small stature and relatively modest average yield of 350g for every square meter of grow space.  Nevertheless, the fact that Critical XXL flowers in as little as 45 days and practically takes care of herself speaks volumes for this strain's appeal. As does her production of fantastically fragrant and hugely resinous buds, with an average THC content of 19% and CBD in the region of 1%.
Unlike either of her counterparts above, Critical XXL is the strain to turn to if you've nothing to do at all, as a prolonged bout of comfortable and enjoyable couch-lock is practically inevitable.
Sweet Russian
Domina and White Russian were brought together to create Sweet Russian, which leans heavily towards the Indica side of the scale. Come harvest, Sweet Russian never fails to delight with her fruity and earthy flowers, which explode with exotic spice when lit. Physically relaxing and borderline incapacitating, one or two tokes of Sweet Russian is usually enough to get both barrels square in the face.