Kiwi Seeds exists as an effort to collect and preserve the finest genetics bred and enjoyed for decades in the region of the South Pacific.
As you can likely expect, given their chosen name, this seed bank focuses on the most premium specimens from New Zealand, which fill their delectable catalog with famed tropical Sativa strains and some truly remarkable hybrids.
These unique and award-winning regular and feminized weed seeds represent the best from down under by way of the 'Dam, and are perennially popular among both recreational and medicinal marijuana communities. SeedSupreme Seed Bank is proud to bring you their best varieties, including a perfectly formed selection of autoflowering strains.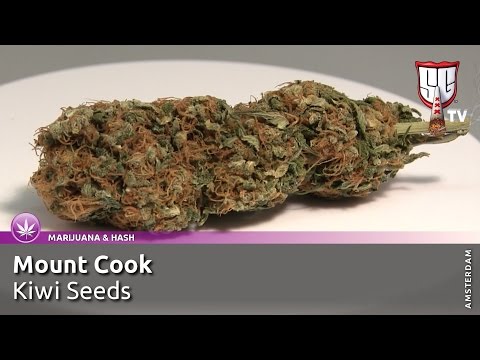 Origins
The journey began for Amsterdam-based Kiwi Seeds little after the at the turn of the century. 
The year was 2002, and a group of professional horticulture experts with a passion for pot noticed something truly troubling - the old school genetics of the South Pacific, chiefly legendary strains from New Zealand (where cannabis had been one of the country's most prodigious crops until the 90s), were in serious danger.
These exemplary specimens of ganja greatness had been swiftly disappearing for a number of years, and the Kiwi Seeds team decided to shoulder the responsibility of preserving these exciting strains and introducing them to the global marijuana market.
Brand Evolution
New Zealand and Marijuana
The cannabis industry of New Zealand had been bursting with vibrant life since the 70s, when travelers visiting from such lands as Mexico, Cambodia, Thailand, India, Burma, Vietnam, South Africa and Afghanistan began to fill the optimal Kiwi lands with the magnificent marijuana strains they had collected.
This resulted in a varied mix of genetics, largely of Sativa and Haze leanings. These tall and fast-growing Sativas were swift to both acclimatize and thrive in their new New Zealand homes, where an ideal combination of climate and terrain suitability led to locals creating some seriously standout specimens. 
This breed of memorable next-generation ganja would become a massive motivator in the Kiwi Seeds mission statement in the years to come.
Saving the Next Generation of Ganja
For decades, this next generation of New Zealand ganja would help keep the Kiwi marijuana market alive and innovative, however, the industry saw a sad and steady decline during the 90s.
Beloved strains which were once commonplace, such as Tepuke Thunder and Coramandel Gold - each in their own right tested as containing some of the highest THC levels found in any outdoor plants in the world - were growing rarer by the year.
And it is here that the Kiwi Seeds mission formed, a noble quest to bring the best of New Zealand's once-prime pot industry to the global market in the highest quality imaginable.
Commitment to Quality
In their approaching 2 decades of dedicated service, the team of talented breeders behind the Kiwi Seeds operation has garnered for themselves a well-earned reputation for their commitment to quality above all else.
It's one thing to boast consistently premium beans, but to actually back it up is where the real test lies - and it's a test that Kiwi Seeds pass with flying colors time and again.
Their quality is so on-point that these breeders have a close affiliation with Dampkring - one of Amsterdam's renowned coffeeshop chains, and an association anyone who has visited the legendary Dam will know brings assurances of pedigree quality.
Essential Strains 
Whether it's Kiwishunk or Daddy's Girl, when shopping for Kiwi Seeds beans, it's tough to go wrong. 
Each and every strain from this premium purveyor comes regularly tested for cannabinoid content to ensure desirable THC and CBD levels - no seed makes it to market without passing their rigorous standards, which include testing for flowering times, vigor and freshness.
Kiwi Seeds cannabis seeds are guaranteed of the highest quality, health and viability. In fact, you're looking at over 90% germination rates in optimal conditions with these beauties.
With so many popular and award-winning strains to choose from, we'll take a closer look at some of their all-time best-sellers now to help get you started.
Mako Haze
Often regarded as the pride and joy of the Kiwi Seeds lineup, their flagship strain Mako Haze is a truly iconic legend among tokers and growers worldwide.
At 70% Sativa, this sumptuous green queen is the proud winner of the 2006 High Times Cannabis Cup in the Best Sativa category. She's one any fans of quality Haze strains should fall fairly instantly in love with, offering tokers a delightful and smooth smoke bursting with that quintessential Haze flavor profile.
Mako Haze is famed for her super sedative qualities, making her a favored strain among the medicinal marijuana masses, however, she's also a rather energizing and creatively stimulating specimen in the right doses. Mako Haze is packed with both THC and CBD and known for being well worth the 60 to 70 days flowering for her bountiful yields come harvest time. 
Milky Way
The award-winning Milky Way is the result of the Kiwi Seeds breeders combining specimens of the very finest Indica strains at their disposal, resulting in an 80% Indica-dominant hybrid with a glistening white coat of crystalline trichomes whose sparkle more than lives up to the strain's galactic name. 
Even though official growing guidelines suggest Milky Way has a flowering time of 50 to 60 days, it's advisable (if you know what you're doing!) to give these plants as long as possible to really draw out her full and awesome potential. 
Experts suggest harvesting when roughly ⅓ of the crystals turn amber if you want the pinnacle of perfect results from your Milky Way crop, but whether you manage this or harvest earlier, you're in for a treat in the form of plentiful yields of dense and fabulously frosted nugs simply perfect for any cannabis connoisseur's discerning palate.
2 Pounder 
2 Pounder is an example of New Zealand genetics at their absolute finest, delivering soaring highs and sumptuously fruity flavor profiles in both epic and generous proportions.
She's a 70% Sativa, 30% Indica powerhouse packed with a sky-high THC content, however, delivers a remarkably clear high. Despite the delightfulness of her high, it is perhaps more likely down to her absurdly generous yields which have seen 2 Pounder rise to such popular and in-demand heights.
When over 600 grams of sumptuous Sativa nugs is your reward after 60 to 70 days of flowering (during which her explosive growth and robust resilience make the cultivation a breeze even for novice growers), it's tough to imagine turning down this exceptional Sativa specimen - prepare to be speechless and salivating.