Marimberos seed bank has decades of experience breeding with the highest levels of pedigree ganja genetics, and has become a well respected authority on breeding marijuana over the years. 
They have built themselves a swift and superb reputation for producing some of the best cannabis strains on the market using their incredible genetics to their fullest and extracting maximum potential from their pot. 
Dedicated weed lovers in general, the Marimberos team have planted deep roots in the industry and lasting friendships with legendary breeders like DNA Genetics, who they have even collaborated on strains with. SeedSupreme Seed Bank are proud to present their full range of phenomenal strains. 
Origins
The origin story of Uruguay-based Marimberos takes us back to 1993.
Colombian breeder Alejandro Londono has been working with ganja genetics for over 25 years, and got his start in cannabis cultivation on his home turf in Colombia's underground growers scene.
As Marimberos began to take form, Alejandro branched out, moving the cultivation operation further into South America, all the while becoming a respected authority in breeding desirable new hybrid strains. 
His vast reservoir of knowledge and undiminishing passion for pot have been driving forces behind this pioneering seed bank since the beginning, and they aim each day to do their part to breed the best possible strains and fight for the freedom and legalization of marijuana. 
Brand Evolution
All in the Name 
Marimberos takes its name from a slang term used in Alejandro's native Colombia back in the 70s and 80s.
This era was colloquially referred to as 'Bonanza Marimbera', and the term Marimberos was actively used to describe anyone involved in the local illegal weed industry. From breeders to planters, shopkeepers, laborers, pilots and smugglers, this term was a badge of honor for them all. They knew they served the greater ganja cause. 
Today, the public's perceptions of cannabis are shifting at a steady rate, and Marimberos believes a new era of 'Bonanza Marimbera' is upon us. Their name represents doing what is necessary to bring bounties of bud to the world.
Government Consultants
The Marimberos breeders, Alejandro specifically, have been passionate fighters for the legalization of marijuana for many years.
With every action, they hope to raise awareness and dispel the myths many years of misinformed pot propaganda have instilled throughout the world.
One of their crowning achievements in this regard is undoubtedly becoming consultants to the Uruguay government. Given that Uruguay was one of the very first countries in the world to make weed 100% legal, it's fair to say they can talk the talk and walk the walk. 
Being based in a home such as this affords the Marimberos breeders all the opportunities in the world, with complete freedom to explore what makes marijuana special and continue to cultivate the very finest genetics for the global cannabis community.
A Wider Reach
Marimberos also has a breeding establishment set up in sunny Spain.
This cultivation outlet in Barcelona allows the premium seeds from Marimberos' skilled breeders to reach an even wider market than their native United States.
With the European consumer base in their distribution range, the sky is truly the limit for these South American masters of marijuana breeding.
Collaboration 
The talented Marimberos breeders' passion for pot has been instrumental in the roots they've established in the ganja growing game.
It's this passion which has led them to befriend a number of exceptionally talented breeders from all over the world and made Marimberos themselves a highly respected name in the biz.
One of the strongest relationships seems without question - a brotherly bond with industry legends DNA Genetics. In fact, it was in collaboration with their friends Don and Aaron at DNA which saw the creation of Marimberos' first major leagues hybrid strain - the unforgettable Nicole Kush.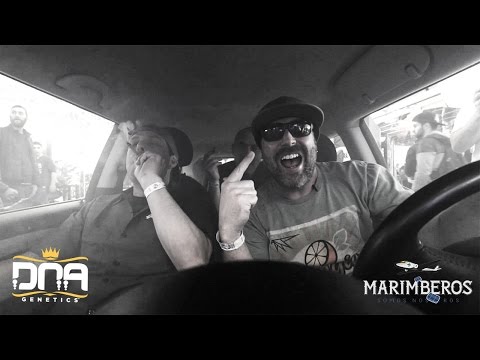 Essential Strains 
One thing worth keeping in mind when it comes to beans from Marimberos is that this seed bank likes to take the time to breed them right. They're not happy with great - only tremendous quality will do. 
For this reason, the premium seeds they put out tend to be in remarkably high demand and of somewhat limited availability. This makes it super worth taking the time to get to know which strains are most suitable for you ahead of time, that way when these remarkable rarities hit the shelves you are ready to act fast.
Nicole Kush 
A largely Sativa-dominant hybrid created in collaboration with legendary DNA Genetics and known for exceptional flavor, aroma and potency.
She comes to us through the breeding of Kosher Kush from DNA fame and the beloved Indica Nicole, from the Marimberos selection. Described as delivering a dynamic variety of berries, grapes and fruity wine flavors, as well as inducing a deep and blissful relaxation ideal for introspection, Nicole Kush has been winning over the most discerning connoisseurs since she hit the scene. 
A breeze for novice growers to cultivate and famed for some extraordinary yields and off the charts resin production, these frosted nugs are a delight every cultivator and toker should enjoy. 
Super Lekker 
A creatively cerebral cannabis marvel coming from the Orange County inspired lineage of Californian Orange and Orange Crush on the mother side and Creme de la Creme and Mr Nice on the paternal end.
Super Lekker is an absolute must for anyone who has fallen for the mouthwatering citrusy flavors of marijuana and is on the lookout for the next hybrid strain to tantalize those tastebuds. Marimberos created this beauty in honor of the pioneers of pot from Holland, who helped distribute so many outstanding genetics throughout the global market.
A 70% Indica-dominant strain, Super Lekker is highly approachable for novice cultivators, stays small enough to be easy to manage, flowers in 58 to 60 days and is a prodigious producer of orange-flavored crystal-coated nugs.
Pinko Kush 
Created back in 2009 through the ingenious blending of industry legend DJ Short's Blue Moonshine and a Chem x OG father strain. 
Pinko Kush was named after Alejandro's father (himself a pioneer pot breeder back in the day) who taught the Marimberos founder most everything he knows about the art of cultivation. 
A potent 80% Indica strain with the kind of gasoline scent synonymous with some of the market's dankest strains mixed alongside a notably fruity, peach-like aroma inherited through her Caribbean lineage. Pinko Kush has a strong resilience to mold and pest problems, flowers fast and develops seriously dense nugs.