Mosca Seeds may only be a relatively new seed bank in the grand scheme of things, but their constantly growing popularity and impeccable seed quality are already putting them on the marijuana map. 
A particular fan favorite among the world's cannabis connoisseurs, these high-quality hybrids exemplify the very finest in American genetics and regular weed seeds. 
SeedSupreme Seed Bank offers a terrific selection of the finest regular beans of these high-quality hybrids.
Origins
Mosca Seeds was founded over a decade ago by award-winning breeder and industry legend Mosca Negra.
Based in Denver, Colorado, this seed bank came to market with a strong selection of the best genetics that the United States had to offer, collected dutifully by Mosca along with community favorites which had stood the test of time. 
Armed with an impressive genetic library, Mosca Seeds set out to put new twists on classic, perennially popular strains, preserve legendary specimens and progress the marijuana industry through their honest work.
Brand Evolution
Quality In, Quality Out 
Mosca Seeds has never been a seed bank to mess around with inferior genetics. 
They established themselves as a trusted purveyor of premium quality seeds by basing much of their initial breeding projects on Indica and Skunk strains coming from only the very finest of West Coast genetics available. 
As the company has evolved, they have maintained and broadened this quality approach, working to preserve iconic fan favorites such as Cinderella 99 and Old Time Moonshine, doing their part to ensure these exceptional genes remain a regular and integral part of pot seed production.
In order to ensure the absolute optimal output for their cannabis seeds, Mosca Seeds only breed with regular seeds. 
This way, they can guarantee the strongest and most desirable traits make it from their carefully selected parent strains into their game-changing new hybrids, which include legends like Raspberry Boogie, Moonshine Cookies, Blueberry Gelato, Double Zero and Legend OGK. 
Attention to Detail 
For these Colorado-based weed breeders, a keen attention to detail is the key ingredient to their success.
Mosca Seeds believe that cannabis genetics is a true science deserving and demanding of study, and they approach it accordingly. Their research and development is aimed at honing their abilities to produce quality seed genetics and ensuring they always use the best growing practices possible.
The top-shelf status of their premium seeds and the regular praise these specimens receive in grow reviews shows that the path of learning and understanding adopted by Mosca Seeds is clearly doing the trick!
Breeding Evolution 
In every project dreamed up by the talented Mosca Seeds team, there is a core understanding present that weed breeding is an ongoing evolution. The aim of producing better strains is neverending, because once perfection is achieved it is also redefined. 
Their keen desire to produce plants with a wide variety of different effects, from mong-worthy Indicas to energizing help-me-work Sativas, and exhilarating new hybrids which change the entire weed world, has led Mosca Seeds to a present-day genetic library generously stocked with an abundance of exceptional strains - each boasting truly mouthwatering smells and epic levels of THC. 
Global Acclaim 
It stands to reason, given their unwavering devotion, that Mosca Seeds has scooped up a number of awards and worldwide acclaim in their years on the green scene.
The seed bank has taken home many wins at various Cannabis Cup awards in Europe and America, alongside a number of IC Mag 420 first place wins in Amsterdam, and earned the rightful respect of cannabis connoisseurs worldwide for their tireless and remarkable efforts.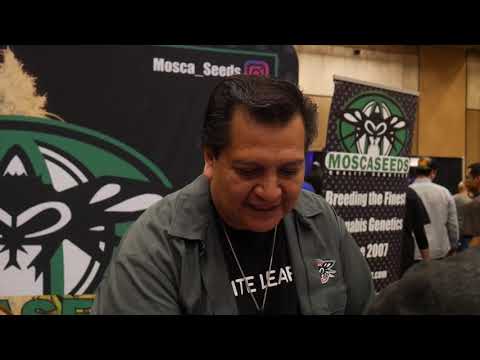 Essential Strains 
These are some seriously exceptional beans, each designed to demonstrate the absolute finest characteristics of their ancestral lineage while simultaneously evolving with every generation.
As per their breeding ethos, every seed you'll find in the Mosca Seeds shelves is a regular variety, meaning novices should brush up on how to spot a crop-ruining male plant before diving into a Mosca harvest.
We'll explore some of their most famed strains now.
Cinderella 99 BX 
Mosca Seeds took the already phenomenally popular Cinderella 99 BX (herself of legendary Jack Herer lineage) and combined two distinctly different lines of the strain, backcrossing numerous generations to bring us this pineapple-flavored beauty. 
Cinderella 99 BX is a 65% Sativa-dominant hybrid who, while bred to be an indoor strain, seems just as at home in outdoor growth environments, capable of consistently making cultivators some seriously bountiful yields of crystal-coated nugs come harvest time. 
The high is reportedly very Haze influenced, promoting a clear and energizing stone, but also not without a strong psychoactive presence.
Old Time Moonshine
A strain we can enjoy today thanks to the preservation efforts of Mosca Seeds, Old Time Moonshine is a truly unique creation of industry legend DJ Short.
She's largely an Indica hybrid strain and famed for an extraordinarily musky and fruit-laced hit on the senses, with blueberry tones when cured properly. Old Time Moonshine is even referred to in cultivation circles by the nickname "Blueberry Muffin Tops" because of her distinctive and delicious aroma. 
A true taste of a genuine classic, it's tough to go wrong with this beauty.
Raspberry Boogie 
Raspberry Boogie is a largely Indica-dominant hybrid coming to us from the sublime blend of Sour Raspberry and Pink 2.0 genetics. 
One for the medicinal tokers who don't mind a powerful psychoactive influence, this remarkable hybrid often reaches little over 25% THC alongside her impressive CBD levels. Raspberry Boogie is known to grow well in most environments provided she gets ample exposure to sunlight or equivalent. 
The plants rarely reach much taller than 90cm, but cultivators will need to accomodate for a wide berth as Raspberry Boogie can get pretty bushy. Watch out for the purple hues which can develop late in flowering under the right conditions.