Purple Caper Seeds have made a name for themselves as more than merely a seed bank selling some of the finest ganja genetics around, but also as breeders with a truly unique approach.
The meticulous breeding methods and guiding principles of this seed bank mean a few things every cannabis cultivator should consider; you'll only find regular weed seeds here, many of award-winning status and all guaranteed to delight the breeders and tokers who crave stronger clones, bigger yields and amplified vigor, potency and aroma.
SeedSupreme Seed Bank bring you the best of these high-yielding designer strains from the Bay Area and Central Valley in California, where the abundance of landrace and heirloom strains meet the specialist collections of the most prestigious pedigree producers.
Origins
For the Californian Purple Caper Seeds, their prestigious pot seed enterprise began back in 1993.
All that's well-known about these American breeders is that their experience in developing regular seeds has deep roots, and that through their clearly detailed understanding of bud biology and the intricacies of parental selection and geneology, they developed an early-on approach which went against the grain of most seed banks out there.
These specialists in designer strains not only have access to the best elite clones around, but they have the best father strains in the business, and they sure know their cannabis. 
Brand Evolution
Male-Oriented Breeding 
Of course, we all know female marijuana plants are the ones which deliver the end results the cannabis community craves, but Purple Caper Seeds learned early on that there was more to achieving the most desirable cannabis come harvest time than focusing, as so many do, on feminized seeds only.
Though female weed plants are responsible for growing those bodacious buds, it is through the males that some of the most crucial genetics are passed on, often having the strongest influence on the offspring seeds produced.
Purple Caper Seeds recognized, in an age being swept up in the feminized seed revolution, that honoring the place of males in the cannabis reproductive cycle was the only way to produce the most exceptional ganja going.
Their connections have brought them an unending source of quality female genetics, and when these are crossed with their carefully chosen selection of pedigree males, true marijuana magic happens.
The Right Man for the Job
Selecting the optimal male is often the first step in any of Purple Caper Seeds' breeding projects, and when their results are backcrossed with the original mother, thereby securing the coveted core characteristics of each strain, the results are impeccable. 
Only through scrupulous selection can this team of talented breeders hope to enhance the beloved qualities of the mothers - and when you consider the worldwide popularity of some of these mother strains they work with, the pressure to perform becomes practically palpable.
And yet, through decades of experience, Purple Caper Seeds manages to succeed round after round, attracting a growing fanbase to them who flock for a Purple Caper version of their favorites, blown away by the vigor, yield, potency, aroma and flavors.
Californian Connoisseurs 
Purple Caper Seeds take innovative advantage of their fortunate location, drawing on the abundance of landrace, heirloom and designer strains readily available for their breeding projects. 
They have established strong ties within the local connoisseur community, collecting many of their genetics from the region's most prestigious clubs and growers.
All of this has helped feed their genetic library and, alongside their male-oriented breeding focus, has resulted in their global acclaim as having the best father strains in the Bay Area, Central Valley, and indeed, perhaps the entire world.
It's no wonder why even the choosiest connoisseur with a discerning taste for flavor, potency, yield or resin production considers Purple Caper Seeds a worthy addition to their crop.
High-Quality Regular Cannabis Seeds 
Given that this seed bank clearly values an organic ethos when it comes to breeding their strains, it should come as no surprise that Purple Caper Seeds' collection is crammed with high-quality regular seeds.
This makes Purple Caper the seed bank of choice for breeders, in particular, who can use these seeds just as the PC team do, to create the next generation of exquisite, exceptional and unique strains.
Of course, regular weed seeds do come with added risk for the casual cultivator, especially one unaware of how to identify a crop-ruining male plant. Novice growers should take heed and make sure to brush up on how to spot a male marijuana plant from a female. 
Don't let the idea scare you into buying lower quality feminized seeds, though, because when it comes to harvests of the highest quality and biggest yields, Purple Caper Seeds are tough to beat.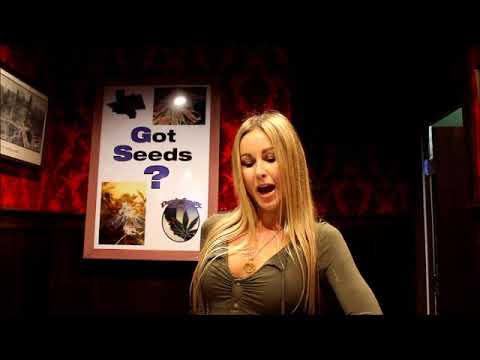 Essential Strains 
Purple Caper Seeds have been rather prolific over their decades in the breeding business, which can make knowing where to start and which cannabis seeds are right for you a bit tricky.
Whether you opt for their earliest successes like #1K or Chocolope Cheese (both legends in the Californian outdoor cultivation scene since their first release) or one of their newer hybrid strains like Chocolate Tonic or Gorilla Glue BX, you can be confident you're in store for some premium pot seeds with these guys, alright.
Purple Caper 
Purple Caper Seeds' eponymous strain is one of their most famous releases and most sought-after genetics. She comes to us from the liberal lines of Granddaddy Purple, Diesel, White Widow and a pure Indica, and has been used in a number of instant-hit hybrid strains since. 
Purple Caper is a 60% Indica-dominant beauty known to develop hues of purple while she's flowering, along with an unforgettably sweet fruity fragrance. An effortless cultivar prone to reward growers with bountiful yields come harvest time, it's easy to see why this is the strain that bears their name.
Wedding Cake
One of the Purple Caper strain's descendants, Wedding Cake also brings us the delightful crossing of the delicious genetics from Cherry Pie and the infamous Girl Scout Cookies.
Wedding Cake is beloved as an exceptional and moreish treat with astoundingly pleasant THC levels. She's an easy one to grow, rewards cultivators with a substantial yield and is known to deliver an incredibly relaxing and euphoric high that will make every day feel like a celebration and the happiest of your life.
Gelato BX
Another of the Purple Caper strain lineage, this instant classic comes from the generous genetics of Gelato #45 and Girl Scout Cookies, arguably some of California's most prized and favored specimens of premium quality marijuana.
Gelato BX is capable of some absolutely huge THC levels, regularly testing at 25% content. Beyond being a powerhouse knockout, she's got a sweet sorbet-like flavor profile which pops with zesty orange and fruity blueberry twists. Though Indica-dominant and loaded with THC, Gelato BX delivers a surprisingly head-heavy high, rather than the couch-lock sedated syndrome one expects.