From humble beginnings in an information center for cannabis on the streets of Amsterdam (the C.I.A) to one of the oldest, most revered and beloved weed seed companies throughout the world, T.H. Seeds are far more than your average seed bank.
Considered by some as the first to introduce 'new school genetics' to Dutch cannabis culture, and one of the first to produce the Bubblegum strain to Europe, their cup-winning feminized strains have become some of Holland's most desired seeds.
They're one of the very first seed companies ever honored with induction into the High Times Seed Bank Hall of Fame, and renowned worldwide as purveyors of strains which raise the bar of the entire industry - you're dealing with only the very finest here and at the SeedSupreme Seed Bank, friends. 
Origins 
It all began for Amsterdam's own T.H. Seeds back in 1993, a time when more or less every strain on the market was some sort of variant of Northern Lights, Skunk or Shiva.
That year, founders Adam 'Sagemasta' Dunn and Doug set out on a mission that would change the ganja game forever - a quest to bring the best American genetics to the wider weed market, to unify cannabis culture and drive a new era of cultivation.
Brand Evolution
Not the C.I.A you're thinking
When T.H. Seeds started life, it was actually just a small facet of Adam and Doug's Cannabis In Amsterdam operation - a ganja information center intent on serving the weed lovers of the world, from locals to far-traveled visitors.
The C.I.A would swiftly get flying on its path to eventually becoming a world famous seed shop, home to Hemp Works (Europe's inaugural hemp store), and birthplace of HoodLamb, a hemp clothes brand. 
Of course, T.H. Seeds was still a baby back then, however, it's fair to say that growing in what author Robert C. Clarke would come to label the "epicenter of the cannabis universe" was the equivalent of your favorite strain in optimal conditions for cultivation.
It was at the C.I.A that countless individuals throughout the world found their introduction to marijuana and its endless benefits, and T.H. Seeds were primed slap in the centre of it all. 
Changing the Ganja Growing Game 
As we've mentioned, back in the early to mid nineties, Amsterdam was far less known for her variety of strains. T.H. Seeds saw the vision of the modern marijuana market long before it manifested.
In fact, this innovative seed bank is considered as the first to introduce 'New School Genetics' into their native cannabis culture and herald the changing times we now know as history.
The move was simple, Adam and Doug brought the very first Bubblegum strain, imported all the way from the United States, to the European market. This simple act in 1994 helped revolutionize the industry and players in the game.
Soon, thanks to their efforts, Dutch growers were experimenting more, local coffeeshops were winning the High Times Cannabis Cup (and would continue to do so far many years to come), breeders were upping their standards and T.H. Seeds were no different. 
A Reputation Well-earned
Though their reputation was certainly established on old school genetics, T.H. Seeds became equally well-known and beloved worldwide for their wide range of new strains which consistently raised the bar for high quality. 
Their success for the almost 3 decades of adulation they've received has come by their adherence to one guiding philosophy - a slogan to find a home within their logo and a beautiful play on the American fuzz's creed - 'To Protect Genetics and Serve Mankind'. 
Yes, rather than scare crowds of cannabis lovers away, T.H. Seeds have secured themselves as defenders of us all, gurus of ganja and the cornerstone of the community (with whom they maintain an exceptional relationship with, nurturing their following of experienced and novice growers alike). 
Committed to Community
Owing to their quality and consistency, T.H. Seeds have not only developed a veritable army of devoted breeders, growers, recreational and medicinal users, they've not only secured innumerable awards for their strains, but they've been an integral part of the cannabis community for decades.
You don't have to be a daily toker, a weekend blazer or even a once in a blue moon goon to have heard of the High Times Cannabis Cup.
Well, the guys at T.H. Seeds have been involved in it since pretty much the very beginning. This Weed Woodstock has drawn ganja lovers from all over the world for over 20 years, connecting the community in an end-of-year celebration of our beloved Mary Jane.
Whether participating alongside fellow growers, supplying or selling samples to smokers, medical patients or for brownies, or even hosting events, T.H. Seeds have been there every step, every year. 
Sagemasta Dunn has always been heavily involved in some wild crowd-pleasing moments, with such hits as the Trichome Bong Hit Challenge, the Darkstar Rocket, a paradise-worthy selection of massive spliffs, hemp fashion shows and the Fly Smoke High bus tour of the city. 
Perhaps their prime achievement, however, was the infamous LeafBlower of 2005. Warning - watching this video will make you long for time travel options to relive or take part.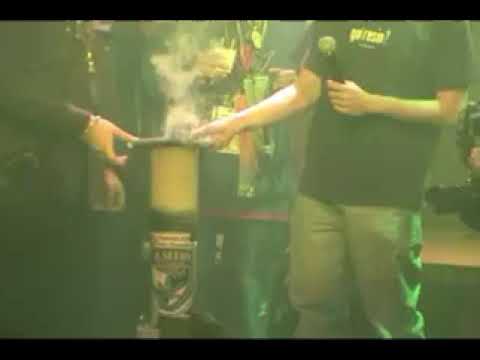 As if that wasn't enough, they've even been at the tip of the spear in developing positively mythical medicinal strains of cannabis through a focus on quality, flavor and potency, and even played a key role in the public awakening to the benefits of weed for medical needs and shift away from the indoctrinated counter-culture.
For all the voiceless potheads across the world, we thank you, T.H. Seeds.
Celebrity Patrons 
Is it a wonder, with such a shining reputation, to see photos of the countless celebrities who've partaken in T.H. Seeds offerings?
Their website has plenty of quality pics snapped at those perfect moments where you can feel the authenticity that, fame or no, weed brings us all together.
Oh, you want to know who exactly? 
Well there's Snoop Dogg, Eminem, Willy Nelson, Woody Harrelson, Redman, Puff Daddy, B-Real and Raekwon, to name a few, and the guys in Fun Lovin' Criminals, Jane's Addiction, UB-40 and Pendulum (to name a few more). 
Essential Strains
With award-winning strains coming out the wazoo and a bulletproof reputation for the highest quality cannabis seeds packed with power and flavor, it's easy to see how one could feel bamboozled on where to start.
I mean, these guys pretty much win at least an award a year, and if not them then growers using their seeds win - seriously, way to go, T.H. Seeds!
Do you go for their famed FIRE strains or their industry changing medicinal seeds, or a classic like Bubblegum? 
It's a lot, I know, but we'll try to help you get started by exploring some of their most favored strains. 
Cup Winners 
Sometimes, knowing a strain is award-winning is enough. So here's some info for y'all to chew on.
If you're keen on growing your own High Times Cannabis Cup winner, try your hand at Bubblegum, S.A.G.E, The HOG, MK-Ultra, Sage 'n Sour, Kushage or Darkstar. 
If a Spannabis winner is more to your liking, Underdawg is T.H. Seeds' sole winner that I didn't already just mention.
As for Expogrow Cups, aka the Rams, the only winner we haven't mentioned yet is MOB.
Now let's dig deeper into the strains to win at all three Cups.
S.A.G.E 
A potent strain hailing from the high mountains of central California. The acronym supposedly stands for Sativa Afghani Genetic Equilibrium, which sparks the tantalising thought of perfection.
She's known for carrying the distinctive spicy scent and taste of Haze but with far superior yields to pure Haze strains thanks to her Afghanigenes. Despite this, the balance is perfect and no flavor is lost in this hardy hybrid.
This strain scored 3rd in 1998 and 2nd in '99 for highest THC content, clocking in over 20% and beating the results of any other coffeeshop or seed bank.
Bubblegum
A tried and tested classic through the ages and as popular now as when she first arrived in Europe back in the nineties. Bubblegum's fame comes from more than winning each of the aforementioned Cups - her yield is spectacular, her flowering time only a short 9 weeks, her tastes of sweet berries are second to none of the euphoric high she brings is unquestionably uplifting.