The Joint Doctor is the originator of the autoflowering revolution and undisputed champion of cannabis ruderalis hybrids.
This breeder brought the legendary Lowryder strain to market at the turn of the century - the culmination of many years hands-on experience working on his father's cannabis farm, traveling the world and experimenting with rare and exotic strains.
Lowryder was the first commercially available dwarf-sized auto strain to hit the market, and the Joint Doctor has been refining autoflowering genes ever since. Innumerable hybrid strains have benefited from these generous genetics over the years, hybridizing many popular and successful strains to enhance their flowering speed with powerful autoflower properties, all without reducing their other desirable traits. 
SeedSupreme Seed Bank is proud to present their full catalog of easy growing autos, perfect for any novice or commercial cultivator. 
Origins 
The origin story for the UK-based Joint Doctor seed bank takes us back to the early childhood of founder the Joint Doctor's life.
JD, as we'll call him, grew up on a farm, tending to his dad's weed garden, developing an eye for the unusual and both a talent and passion for pot in all its forms. Under his father's tutelage as well as his own steam, this intrepid breeder developed a wide range of skills which he was quick to put to use in tracking down and tinkering with rare and exotic marijuana strains.
Through a mix of determination, skill and luck, the Joint Doctor eventually created the Lowryder strain - the world's first commercially available autoflowering strain - sparking the auto revolution and changing the ganja growing game forever.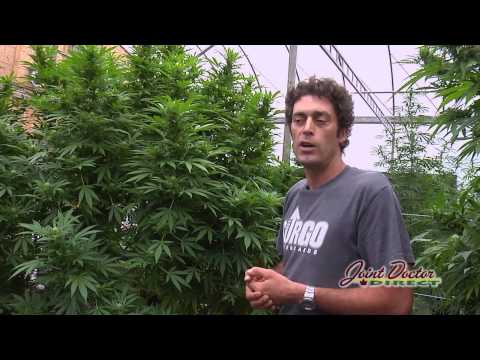 Brand Evolution
Discovering Lowryder
From his early farm days to cultivating cannabis in his dorm room at college and in an adjacent wooded lot, the Joint Doctor's love of growing ganja led him to worldly travels which revealed a variety of different methods and the science behind the diversity of marijuana.
Our dear JD soon recognized all that was needed for new and better strains was high-quality genes, an eye for observation, time, patience, dedication and a bunch of good fortune.
Observing the cramped conditions many cultivators endured for the love of growing ganja, the innovative breeder determined he would find a solution. That answer came in the unexpected form of a strain called Mexican Rudy - which the Joint Doctor acquired from a Mexican native friend named Antonio (who had collected unusual strains for over 30 years). 
It's believed that Mexican Rudy was an experimental cross between Russian ruderalis genetics (famed for swift and guaranteed flowering in Siberia even without access to much sunlight) and a Mexican strain - either way, the plants from Mexican Rudy were swift, but neither autoflowering nor remarkably potent. 
The Joint Doctor knew he was onto something with this unusual strain, however, and persisted. First, he crossed Mexican Rudy with Northern Lights #2 - still no autoflowering variety, though he succeeded in upping the potency. 
Turns out, the auto gene was recessive, but through additional crosses with a clone of William's Wonder, the Joint Doctor was able to draw the autoflowering traits back into business.
The resulting plants flowered when they were basically still seedlings, receiving minimal light in a cramped room. Dubbed as Willy's Automatic, this strain became the basis for the legendary Lowryder - though a great deal of stabilizing lay between Willy's Automatic and the Lowryder known by the cannabis community today.
Divisive Ruderalis 
Few entrants into the marijuana market have been met with such polarized opinions as to the crowd-splitting ruderalis genetics.
For those unaware, ruderalis cannabis genes are native to Central and Eastern Europe and Russia. Even in these locations, the mighty marijuana plant proves capable of miracles, evolving to thrive and flower in these less than optimal conditions, regardless of how much light they receive on a daily basis. 
The ruderalis autoflowering traits mean seeds of their lineage require no trigger to flower, making them some of the easiest crops to grow as no matter what you do, flowering is guaranteed. It also makes for some remarkably resilient specimens, too! 
While this sounds like a win-win on the surface, many cultivators believe that (due to the inferior traits of these ruderalis plants when it comes to potency, THC content, flavor, aroma and effect) any ruderalis hybrid can only ever be inferior to photoperiod strains.
For years, this was the sole belief. Then along came the Joint Doctor's Lowryder - the first strain to convince masses of the cannabis cultivation community of the potency, power and potential of autoflowering hybrids.
Backed up by tremendous research and experimentation from the Joint Doctor himself, many of these naysayers were faced with proof that it was indeed possible to breed autoflowering dwarf plants with high THC, unforgettable flavors and rewarding yields, and thus the auto revolution was born.
No Strain Sacrifice
Thanks to Lowryder, Joint Doctor seeds have been used by breeders and cultivators for decades now to gift the highly desirable fast-flowering auto traits to innumerable successful and perennially popular hybrid strains over the years.
No longer does lightning-fast flowering come with a compromise on genetic integrity, lowering the overall quality of the output. Thanks to this innovative strain and breeder, the global ganja growers can enjoy an easier breeding and cultivation process while still pumping out pot seeds full of all the expected epic tastes, scents, effects and yields - all in record times. 
Broader Goals 
For the Joint Doctor himself, the dedication to ganja is a full-time commitment. 
This is a breeder whose goals go beyond improving his stock through active engagement with the medicinal growers and consumer feedback.
The Joint Doctor is also on a personal mission to preserve cannabis culture and do his part in the fight for legal reform and the move from counterculture to global acceptance, dispelling outdated pot prohibition with an honest and open window to the truth of marijuana.
Essential Strains
As you might expect, you'll find nothing but high-quality autoflowering cannabis seeds among the Joint Doctor offerings.
Here, we'll take a closer look at some standout specimens well worth your time and attention.
Lowryder
The legend herself, coming to us from the genetic union of Mexican Rudy, Northern Lights #2 and a William's Wonder clone.
The significance of this original and hardy autoflowering strain cannot be overstated. This is the quintessential fast-flowering marijuana strain for those to whom time and space are of paramount concern.
Though famed for her short 5-week flowering period and the ability to harvest within 2 months of planting, Lowryder is also well known for delivering a taste and high easily capable of holding its own against the 'finer' weed varieties, backed by 10 to 12% THC content.
Ogre 
This Sativa-dominant beast takes autoflowering marijuana to a monstrous new level.
Created by combining the genetics of Short Term Amnesia (itself a cross between Soma's Amnesia Haze and Lowryder) with Durban Skunk, Ogre comes with more than mere accelerated growth patterns - she is one of a select handful of autoflowering strains capable of growing exceptionally large.
Cultivators should expect an average height of over 1 meter tall and wide, with plants developing a great many branches filled with chunky and aromatic buds.
Make no mistake, Ogre is one of the fastest and highest yielding plants you could dream of laying your hands on. Joint Doctor advises 1 gallon pots to start with, then upgrading to 3 to 5 gallons once the sex shows and until harvest time.