True Canna Genetics are pretty new to the scene as a seed producer, but don't let that put you off.
From passion and intrigue to Cannabis Cup award-winning seed bank - it's been quite the journey for Brit-based True Canna Genetics. 
They may be relative new kids on the block compared to some weed seed companies, but this evolving enterprise shows itself at every turn to be based on a rock solid bedrock of bud knowledge and devotion. You don't take home the win at multiple cups or get to work with industry leaders like Reservoir Seeds or Connoisseur Genetics any other way.
A truly remarkable range of special cannabis seeds and awesome genetics with that personal breeding touch.
Buy any True Canna Reg pack and get 4 Free Chocolate Thainapple Reg
Buy any True Canna Fem pack and get 2 Free Sticky Nicky Fem
Origins
For this UK-based purveyor of premium genetics, it all began with the birth of the online forum scene back at the turn of the century. Whether you remember the days of the World Wide Web back then or not, let me fill you in - it was an untamed jungle and far from as easy as today to learn what you needed to know.
The marijuana masterminds behind True Canna Genetics spent many formative years of the web forging their path through that jungle, collecting nugs of cannabis knowhow, seeking out the most exceptional genetics and, in time, digging into the art of breeding.
Brand Evolution
Hands-on Approach 
Who's to say if becoming one of the finest producers of regular and feminized weed seeds throughout the world was an early goal or not, but since the days when True Canna Genetics was a mere twinkle in the eye of desire, they've embraced an authentic drive for real breeding and clear aims. 
Rather than be another to jump on the bandwagon, crash the latest hype and claim all the glory owed to other growers, True Canna opted for hands-on experience working for, and collaborating with, some of the strongest seed companies in the world.
The experience which shaped this boutique bud company was first moulded by this inaugural work with Reservoir Seeds, H3ad Seeds and, more recently, with Connoisseur Genetics.
Ready for the Weed World 
It was over 10 years since that early flicker of interest ignited a passion in True Canna's founder to learn and feel truly ready to offer the weedy world something special.
In 2013, True Canna Genetics officially launched as an outlet for breeding projects which called upon every Sativa-soaked scrap of experience and knowledge harvested over the past decade plus.
Certainly since the birth of this seed bank, one mission for Mary Jane has always been clear - the aim to make waves of their own using unique genetics of only the most outstanding quality.
Critical Acclaim 
True Canna Genetics prove beyond any doubt that you don't need to have roots embedded deep in the long history of the ganja industry in order to make some noise and earn some respect.
In fact, in 2014, just 1 year after the seed bank officially formed, True Canna took home 2nd place in the Best Indica category at the High Times Cannabis Cup for an all original strain named The Truth (more on that soon!).
By 2016, their Chemvalley Cooks took home the gold at Spannabis - another prestigious award in their collection including one from ICmay.
Making a name for themselves as a purveyor of premium strains has evolved for True Canna like the most natural flourishing of your own favorite strain. Their devotion to marijuana has always come first and their intrigue and rigorous standards have elevated their ganja game to the next level. 
A Solid Reputation 
As you'd expect from a multiple cup winning company, True Canna Genetics provides exquisitely unique strains with a wide spectrum of terpenes and cannabinoids to guarantee satisfaction for every recreational or medicinal marijuana enthusiast.
For True Canna, strains are only released to the public after passing their rigorous tests with flying colors to ensure stability of their phenotypes and unbeatable quality.
It's taken nothing short of their devotion to dope and determination to absorb knowledge as a plant does its nutrients for this seed bank to establish themselves in such swift timing as a genetics company for true connoisseurs. And in the wide weedy world, it doesn't get more prestigious than that.
True Canna Genetics in Numbers 
2000 - started making waves online
2013 - company launched
2014 - took home 2nd place at the High Times Cannabis Cup for The Truth strain
2016 - won at Spannabis with Chemvalley Cooks
4 distinct original strains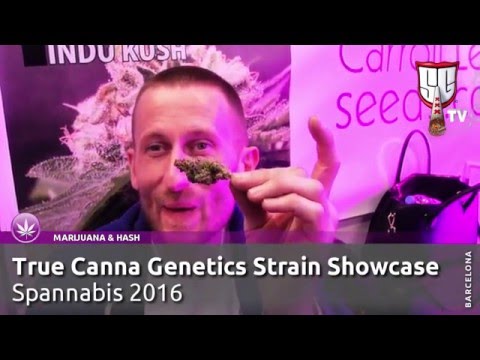 Essential Strains
Though the range available from True Canna Genetics may be somewhat limited, it should entice any true ganja lover to consider these are all personal breeding projects driven by love and devotion - not desire for a quick buck.
Through collaboration with other seed banks, True Canna have their hands on choice cuts and genetics which make their way into the breeding pot for their own unique strains.
If you're ready to try any of their enduringly popular range of mouthwatering, high quality medical and recreational remedies, take a peek below.
The Truth 
A mighty hybrid strain born through breeding Triangle Kush, SPV OG Kush and Chemdawg D to create a marijuana monster with enormous buds, off the charts resin production and enough sheer potency and flavor to delight any enthusiast.
Lovers of Kush and Skunk strains will be in their element, as will those hunting a medical high. A high yielder and swift flowerer, the only drawback of The Truth is how it smells - and that's only a problem when discretion is in demand.
Chemvalley Cooks 
An elite hybrid strain combining Forum Girl Scout Cookies, SFV OG Kush and ChemD BX genetics. This largely Indica strain is more than a beauty to behold, she's full of potent aromas, unforgettable tastes and an incredible trichome covering, making Chemvalley Cooks not only a heavy hitter but also a strain suitable for making extracts. 
Terperella 
Terperella is a swift flowering heavily Sativa-dominant strain born through breeding the world-renowned Chocolope with the tried, tested and beloved Super Silver Haze. This strain is a great start for anyone hunting a sweet hit and taste that lingers alongside their high.
What's more, she's a generous yielder come harvest time, too. Nice work, True Canna!