Loud Seeds bring over 20 years experience in breeding and improving the very best of Californian genetics to bear on their mission to create beautiful strains which redefine greatness. 
With decades of expertise and backgrounds in managing medical dispensaries throughout California, these talented breeders have an ingrained and intuitive understanding of both marijuana and the needs of those who partake. 
SeedSupreme Seed Bank is proud to bring you the full range of feminized and regular beans from this multiple award-winning seed bank.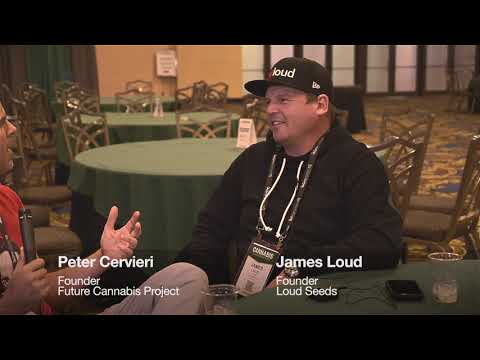 Origins 
This seed bank's story begins in the early 2000s, long before Barcelona-based Loud Seeds hit the sunny shores of northern Spain. 
Back then, they were a tight collection of breeders operating in Northern California, united through the ambitions of two close and complementary friends - and an entirely accidental pollination which resulted in an exceptional new strain that served as a Eureka moment for the pair. 
Driven by the goal of creating original Californian genetics for the European market - bringing their brand of top-shelf feminized and regular designer beans to the palates of Europe's elite connoisseurs - Loud Seeds took shape.
By 2007, the seed bank found its name, though it was not until early 2013 when Loud Seeds became officially registered as seed sellers and their journey found its firm footing. 
Brand Evolution
Complementary Expertise 
To this day, Loud Seeds remains driven by the bond of the two originating members, united by their focus, motivation, complementary abilities and their shared dreams for the company.
James Loud has always been the driving force behind the breeding side of the operation, having worked with some of the finest cultivators in his native Northern California, as well as in Washington State and across the entire United States and parts of Europe. 
He has spent over 2 decades collaborating with industry legends on innovative growing techniques and new and exciting breeding projects, developing his expertise while acquiring a vast collection of some truly rare genetic specimens.
Mike Seeds is James' business partner, a Central Valley native who acts as the entrepreneurial spirit and energy behind Loud Seeds, though he is not without his own extensive cultivation experience, too.
For over 10 years, Mike's focus has been on specializing in medical dispensaries, and since day dot, his talents and James' have combined into something undeniably special. 
It is likely through this partnership that Loud Seeds draws their considerable strength as seed breeders and has been able to capitalize on the cannabis connoisseur community's deepest desires.
California's Finest Strains
It's not news to anyone who has ever sampled any genuine Californian strains that these are some astonishingly incredible specimens which succeed in drawing out previously unimaginable potential in the marijuana species.
Being local boys, the Loud Seeds team had experienced the rise of these exceptional strains first-hand - likely a large motivator behind their desire to share their native genetics with the wider European market.
James and Mike knew all too well that Europe contains some discerning connoisseurs who they had every confidence would lose their minds over the beans they could bring to the table. 
Loud Seeds' focus on stabilizing and breeding these top-shelf strains helped give Europe reliable access to West Coast legends such as OG Kush, Jack Herer, Girl Scout Cookies, Grand Daddy Purple and Chemdawg (and the masterminds behind the breeding operation were right - Europe's connoisseurs lapped them up!). 
Multiple Award-Winners 
Loud Seeds' first real accolades came in 2012 and took the form of an unexpected victory at the legendary Cannabis Cup awards. 
This came in the year before the seed bank officially registered, and was likely an enormous motivator for their subsequent full launch. Backed up by the loudest of praise from the cannabis community and raving reviews flying across the weedy wide web (not to mention a number of High Times articles featuring the seed bank or their premium beans), Loud Seeds' reputation has soared over the years.
Today, they are fully entrenched on the scene, with deep roots in the European cultivation community as well as back home in California.
Loud Seeds' efforts in creating and redefining their Californian genetics has made them a true superstar sensation among cultivators, connoisseurs and enthusiasts alike - and they're sure not slowing down yet! 
Essential Strains 
Given that a large background in managing medical dispensaries throughout California and breeding with the region's pedigree genetics is behind every single seed from the Loud Seeds' selection, you're in reliable hands regardless of your choice with these beans. 
These breeders understand the needs of we consumers just as intimately as they understand the stains themselves. Every seed from these shelves reaches the market only after full testing for stability and uniqueness of qualities, meeting the breeders' rigorous standards.
From Headband to Loud Dreams and beyond, it's hard to go wrong with any of these premium quality weed seeds.
Original Loud
Loud Seeds created this hybrid strain through the artful crossing of Californian legends Sour Diesel and Spicy Jack, which captures the full essence of both parent strains, exemplifying their very finest qualities. 
Famed for a lemon zesty kick alongside the highly distinguishable Diesel fuel-like tones, Original Loud also boasts an impressively high THC count making her perfect for those who crave a citrusy tang alongside knockout potency. 
This largely Indica-dominant strain is known to double in size when she starts flowering, and can reach some absolutely insane tree-like heights when grown outdoors under optimal conditions. 
8 Mile 
This exceptional hybrid comes to us through the crossing of Michigan Skunk and a Purple Kush. This genetic lineage results in a dominant force capable of seriously generous yields and super swift flowering times.
8 Mile is a largely Indica-dominant beauty famed for being reliable, robust and remarkably easy to grow, making her a fine choice for novice cultivators. 
THC content is pretty astounding on this Indica, as is to be expected with such a layered coating of frosty resin covering the large and dense nugs. 8 Mile is perhaps most beloved for the intensity of her citrus aroma and her hard-to-beat relaxation properties.