Nirvana Seeds
SeedSupreme Seed Bank is proud to offer the most extensive collection of premium quality seeds from the world's most legendary seed banks.
We're firm believers in quality above all else, which is why we only ever stock seeds from the kinds of producers that have become no less than legendary on the modern marijuana scene. Precisely why we are happy to give our full backing and recommendation to Nirvana Seeds, having proven their rightful place as a market leader time and time again.
Born in Amsterdam and supplying customers on a global basis, Nirvana Seeds is a true veteran of the cannabis cultivation community. Known for delivering the ultimate in quality and value for money, these breeders bring decades of experience to their extensive in-house collection of formidable ganja strains - many of which are exclusive to this legendary grower alone, which has an established reputation among seasoned breeders and cultivators worldwide.
Origins
This Dutch seed bank owes its origins to one plucky pioneer by the name of Mau. Now retired, Mau officially founded the Nirvana Seeds shop in 1995, following an extensive voyage of discovery to find the most outstanding strains in the world.
Nirvana Seeds' history, however, dates all the way back to the late 1980s, when Mau was working at one of the most famous grow shops in Amsterdam - Positronics Seeds.
During his stint with the store, Mau picked up an extensive range of skills, talents, and knowledge - not to mention the motivation to go into business for himself. Soon enough, he decided the time had come to set up his own pot seed production company, which inspired him to devote extensive periods of time to traveling the world and collecting the most incredible beans in existence.
Equipped with epic seeds and backed by years of experimenting with various breeding and cultivation techniques, Nirvana Seeds was formed to provide the masses with the best genetics on the market.
Brand Evolution
True to their Roots
What started as a simple weed seed retail venture swiftly expanded through their successes to become an all-encompassing business concept selling a wide variety of original hemp products and unique cannabis creations, including homemade hemp wine and hemp beer, alongside cutting-edge cultivation equipment - the likes of which have solidified the reputation of the brand worldwide.
Nevertheless, it remains the seeds themselves that have made Nirvana Seeds no less than a household name among cultivation connoisseurs on a global basis.
Today, these Dutch marijuana masters remain 100% true to their origins and founding values.
Each and every one of the brand's original signature strains is still available, alongside an extensive contingency of expertly-engineered newcomers of epic proportions.
Quality, Choice, and Value
One of the things that have made Nirvana Seeds so successful is the way in which the company delivers the perfect combination of unbeatable quality, extensive choice, and exceptional value for money.
Nirvana Seeds has proven time and time again that it isn't necessary to charge an arm and a leg for the most spectacular seeds on the market. And when it comes to variety, these guys have something to suit every discerning taste and preference across the board.
Their selection contains instantly recognizable legends from OG Kush to AK-48, Raspberry Cough, Girl Scout Cookies, Sour Diesel, Super Skunk, Urban Poison, White Widow, and Northern Lights, but, of course, the collection is being continually expanded and diversified all the time, so it's worth keeping a weather eye on what's new and fresh from Nirvana Seeds.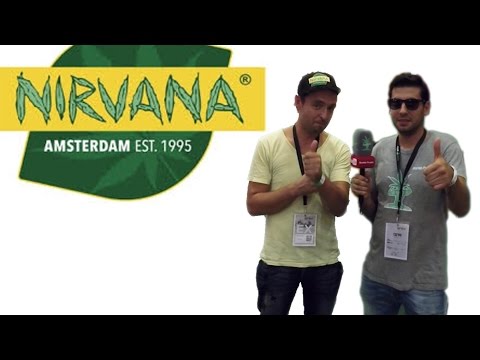 An Established and Reputable Seed Supplier
Nirvana Seeds has always been the go-to for amateurs and experts alike - anyone on the lookout for seeds that guarantee stellar results. Sitting somewhere between the market's low-cost seed banks and luxury sellers, Nirvana Seeds guarantees the perfect balance of quality and value for money.
Over the years, the seed bank has expanded their strain library dozens of times with an array of innovative and interesting newcomers like Aurora Indica, Jock Horror, papaya, Somango XXL and Ice - all sitting alongside an extensive collection of cultivation hardware and associated paraphernalia, along with some fantastic all-in-one grow kits for novice growers.
Coupled with stealth shipping and a relentless commitment to customer satisfaction, Nirvana Seeds continues to operate as one of the most reliable and reputable seed banks in the business. Consistently excellent customer feedback confirms their status as a seed producer of distinction, catering to all requirements and budgets on a global basis.
"Our webshop, which sells solely top-notch cannabis seeds and nutrients, is run by a small but dedicated team of developers, programmers, and packers. We pride ourselves on our excellent customer service, which has long been one of the many reasons why customers love to shop with us again and again."
Essential Strains
With such a huge range to choose from, singling out the very best strains at Nirvana Seeds isn't easy. However, there's a compact list of high-end strains that almost always sell in the highest volumes from these Dutch marijuana maestros, including but not limited to the following:
Swiss Cheese
A global favorite that guarantees an unforgettable experience, Swiss Cheese is just about as dank and pungent as it gets. Simple to grow and capable of delivering yields of up to 600g per square meter, this stuff is almost impossible to keep under wraps when the plants reach maturity.
There's something unmistakable about the almost overwhelming fragrance of Swiss Cheese, which is considered more for cannabis connoisseurs than newcomers. Nevertheless, set yourself up with a good enough carbon filter and you'll be rewarded with more buds than you know what to do with - all dripping with sweet and sticky cheesy goodness for guaranteed good times.
Snow White
Significantly sweeter though with plenty of dankness on the nose, Snow White has the kind of bag appeal that's practically irresistible. Not to mention, the fact that her relatively fast-growing plants can also deliver an unstoppable yield of more than 700g for every square meter.
Engineered by combining the genetics of White Widow and Northern Lights, this stuff really does bring together the best of both worlds. Pungent, potent, and practically invincible to the usual plant problems, Snow White asks almost nothing and yet offers so much. Give things eight weeks or so and you'll be looking at more quality bud than you'll know what to do with.
Sativa Sour Diesel
Combine the genetics of New York Power Diesel with Sour Diesel and you're looking at a strain that's more like rocket fuel than conventional cannabis. At least, in terms of its powerful diesel fragrance and borderline acrid flavor profile.
There's also a subtle hint of citrusy grapefruit in the background, which makes for a fabulous multi-sensory experience. As you'd expect with this kind of linage, Sativa Sour Diesel packs the kind of punch that is not for the faint hearted. Uplifting, energizing, and borderline psychedelic, this stuff is guaranteed to propel you directly to another planet and hold you there indefinitely.
Supreme CBD Durban Poison
One of the most beautifully balanced strains you'll ever lay your hands on, with a pretty much perfect 50/50 split of CBD and THC. Supreme Durban Poison not only delivers a beautifully enjoyable high, but all the therapeutic benefits of CBD as an added bonus.
This stuff has attained legendary status in recreational and medicinal circles alike, used to combat everything from mild anxiety to insomnia to IBS. It's not going to get you well and truly baked but nonetheless makes for a great session smoke when looking to stay grounded.
Blue Mystic Auto
Last up, we have Blue Mystic Auto, which is an absolute superstar of a strain from Nirvana Seeds. Combining the genetics of three of the most iconic strains in commercial cannabis history - Blueberry x Skunk x Northern Lights - this stuff has the kind of fragrance and flavor profile that has to be experienced to be believed.
She's not a particularly heavy yielder, but the quality of the final result is beyond compare. As an added bonus, she's also one of the most beautiful-looking specimens on the market, with truly incomparable bag appeal.