Serious Seeds
Serious Seeds is one of Holland's oldest established seed banks, with a focus on the highest quality cannabis and stable, consistent strains.
With over 100 awards to their name for their strains across a variety of competitions worldwide, and being home to such award-winning genetics as AK-47, Kali Mist, White Russian, Motavation, Bubble Gum, and Serious Kush, this is truly a seed bank for those ready to get serious.
SeedSupreme Seed Bank has the best selection of these super strong, high THC award-winning feminized seeds, all lab-tested to guarantee optimum quality and freshness.
Origins
Though Serious Seeds was founded back in 1995, the full story takes us back almost a decade further.
Dutch founder Simon was a biology student in one of Amsterdam's universities who, despite an affinity with plants and living in the growing heart of cannabis culture, was a firm non-smoker. Cannabis only entered Simon's life when he found himself travelling Africa in '86 and discovered pure ways to consume cannabis.
Simon was hooked, and started collecting seeds for his own genetic library. Once back in Holland, the biology student-turned-teacher set about first growing his own crops, then breeding his favorite plants.
Word spread of Simon's incredible seeds as new contacts in the cultivation community allowed him access to a wider range of choice genetics, and soon enough, industry legends Sensi Seeds hired him to work in their original seed shop.
A year of experience later, in collaboration with 2 Americans, Simon's AK-47 and Chronic strains won awards at the 1994 High Times Cannabis Cup, and by '95, Serious Seeds was born.
Brand Evolution
Purveyors of Quality
Since the beginning, Serious Seeds' guiding ethos has been to develop strains that are easy to grow for any grower, stable and with homogeneous genetics, for every medicinal and recreational toker.
Given the strength of founder Simon's start, before Serious Seeds was born, it's no surprise the seed bank had 2 Cannabis Cups under its belt after one short year in business.
The Greenhouse, one of Amsterdam's premier coffee shops, carried Serious Seeds products from the very first round, and took home the cup in '95 for Kali Mist, as grown by Serious Seeds. Then there's De Dampkring, a lesser-known gem of a coffeeshop, who won the Overall Cup that year for Simon's latest - White Russian.
Of course, for this dedicated seed bank, those awards never weighed their ego. Simon and his small team work diligently in their labs to this day trying to top the best in high-quality, stable varieties of weed seeds.
Strengthening the Genetic Library
In 2012, Simon and Serious Seeds absorbed Magus Genetics, a highly reputable, though not commercially viable, venture (due to a myriad of varied reasons).
Gerrit, the founder of Magus, was a lifelong friend of Simon's and could think of no better home for his prized genetics than with his friend's seed bank - one which shared guiding philosophies around quality with his own.
Thanks to their shared ethos, 4 of the 6 strains from Magus fit like a glove in their new home at Serious Seeds, however, sadly, the remaining 2 were lost before the transition. Thanks to Simon's quick acting, though, Magus' Warlock, Biddy Early, Double Dutch, and Motavation still have a home to this day.
A Quality Philosophy
Only the highest quality cannabis seeds are acceptable to the Serious Seeds team.
Most seed banks assure the quality of their seeds and many hand check them before releasing them to market. Serious Seeds does this, too, but they also openly admit that it is impossible to know the end product's quality by merely looking at a weed seed.
The seed bank places this admission up front, alongside a rock-solid reputation bolstered by over 25 awards from judges at High Times Cannabis Cups. Not to mention the 100+ total awards the breeders' strains have earned in various other worldwide competitions.
They're also quick to point out that many of these awards were won by their customers, using the exact seeds they sell.
But standing by reputation isn't enough, either. This is why Serious Seeds offers a replacement guarantee on every seed their customers buy from them. They encourage customers to keep hold of the unique, individually numbered packages their seeds are delivered in, and report any problems which arise.
And when those rare cases crop up, Serious Seeds goes right ahead and sends a free replacement pack, displaying a genuinely admirable confidence in the quality of seeds.
Exclusive and Honest
One of the pet peeves of the Serious Seeds team is the insistence of so many breeders and seed banks on releasing something 'new' every year.
Rather than focus on releasing new strains for the sake of the market or competition, Simon's crew are content to take their time. To Serious Seeds, if it's not truly serious and worthy of medicinal users, growers, or tokers, then it doesn't get released.
Their methods do mean that it takes longer to produce a new strain that meets their rigorous standards, thereby giving them a total of only 16 unique strains, however, unlike many other breeders, when these guys improve on an existing strain (something they're often doing), they release the new version under the same name, rather than a new name to dazzle the masses.
Serious Seeds aren't interested in having 50 variants of 5 plants. This is a seed bank focused on new strains, not new names.
Serious Seeds in Numbers
1986 - founder Simon's cannabis fixation begins
1993 - Simon gains experience working with Sensi Seeds
1994 - Simon's strains win their first awards
1995 - Serious Seeds is formed
>100 - total awards won by Serious Seeds strains
2012 - Serious Seeds absorbs legendary Magus Genetics into their collection
16 - different strains available
18-22 - average THC percentage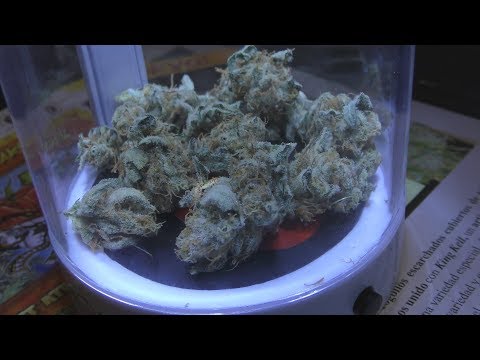 Essential Strains
Independent lab tests with decades of experience behind them report the average THC content of Serious Seeds' offerings hits around 18-22%, and all those tests are carried out with the same plants which produce the seeds you're buying.
So beyond being heavy hitting hybrids of the highest quality and freshness, what more can you expect? Well, let's take a peek at some of their finest selection.
Kali Mist
She's been winning awards regularly since '95 and is often nicknamed the Queen of Sativas. This hybrid is almost entirely Sativa and is still regarded as one of the best Sativas on the market to this day.
Growers can expect exceptional resin production and monumental yields reaching up to 500 grams per meter squared! Kali Mist seeds provide a delightfully spicy scent, it's easy to see why they are still so popular - especially when the breeders are still busy making tactical improvements.
Warlock
The once-flagship of the Magus genetic library, Warlock is a hybrid coming to us from Skunk and Afghani lineage and is the proud winner of 7 different awards.
She's an Indica-dominant strain that fits into the elusive gap of ganja which displays the best of both Indica and Sativa traits. You can expect plants to develop massive dense buds with very little leaf coverage when she starts to flower, along with a sweet and sour fruit-like aroma, and an intense head high at the end of the day.
White Russian
Another winner of 7 awards, White Russian is an Indica-dominant hybrid strain. She comes from the genetic lineage of Serious Seeds' mighty AK-47 and the famous award-winning clone of White Widow from the 90s.
Growers can expect a medium-height but not too tall cannabis plant which develops some monstrously dense and remarkably resinous buds, and a bountiful yield of those strong-smelling nugs. To smoke, she's perfect for anyone craving a potent cerebral high, and a fantastic choice for pain relief.