Cannabis seeds for sale in Idaho
All types of cannabis are illegal in Idaho, with no allowances whatsoever for medical patients with the usual qualifying conditions. Possession of even a small quantity of cannabis in Idaho strictly for personal possession is a misdemeanor crime.
Idaho's cannabis policy is pretty much legendary, though for all the wrong reasons. Across the board, Idaho has a zero-tolerance policy to all types of marijuana and doesn't hesitate to throw the book at offenders caught in the act.
Even when patients are diagnosed with debilitating conditions and living with horrific symptoms, absolutely no medical marijuana (MMJ) is permitted whatsoever. The state's cannabis policy is perhaps best illustrated in a failed 2015 CBD oil legalization bill, which despite passing both houses of Idaho Legislature was blocked outright by the painfully conservative governor Butch Otter.
Recreational Marijuana in Idaho
In 2020, Idaho's stance on recreational cannabis is just about as strict as it gets. Individuals caught in possession of no more than 3oz (strictly for personal use) will be charged with a misdemeanor, which can mean a maximum penalty of $1000 and up to a year behind bars.
Possession of more than 3oz is deemed intent to supply, which in the state of Idaho is a felony – one that carries a maximum fine of $10,000 and a prison sentence of up to five years.
Likewise, anyone caught selling or distributing even the tiniest quantities of cannabis will be subject to a jail sentence of up to five years and a fine of up to $10,000. Jail time can usually be avoided for first-time offenders, on the condition that they plead guilty to their crime and complete a standard spell of 100 hours' community service. Suffice to say, Idaho is a state not to push your luck with the law.
Medical Marijuana in Idaho
Idaho continues to lag painfully behind the rest of the United States, with an entirely non-existent medical cannabis framework. As things stand in 2020, all forms of MMJ are completely illegal in Idaho. More shockingly still, medical marijuana patients caught carrying or using weed purely for therapeutic purposes are subject to the same penalties and punishments as recreational users.
As touched upon above, medical marijuana restrictions in Idaho are so severe that lawmakers even blocked the legalization of non-psychoactive CBD oil. Despite growing support among residents, the state has ensured every attempt to relax medical cannabis legalization has been shot down at a relatively early stage.
Things could be set for a turnaround in 2020 or 2021, with a medical marijuana petition having been cleared by the Secretary of State and subsequently making its way to the ballot box. Unfortunately, it will always be the state that has the final say in such matters – history having painted a painful picture of how Idaho handles pot policy in general.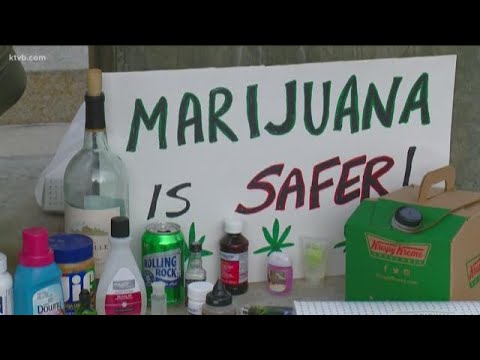 Who Qualifies for Medicinal Marijuana in Idaho?
Right now, nobody qualifies for medical marijuana in Idaho, as the state doesn't have an MMJ policy of any kind. In the event that medicinal use is approved when put to the vote in 2020 or 2021, the state will predominantly follow the same basic standards as those of neighboring states.
This will mean that in order to qualify for a medical cannabis card, the applicant must be at least 18 years of age, must be able to provide proof of residency within the state of Idaho and have a certificate of recommendation from a licensed doctor. It will also be necessary for the physician to clearly state that medical cannabis is recommended due to other conventional treatments proving ineffective or inappropriate.
In addition, the patient in question must first have been diagnosed with one of the following conditions, which may be adjusted, shortened or lengthened prior to the policy being implemented:
Seizure disorder, including Epilepsy
Intractable Skeletal Muscular Spasticity
Severe nausea or vomiting
Cachexia
Wasting Syndrome
Severe and persistent muscle spasms
Amyotrophic Lateral Sclerosis
Terminal cancer
Muscular Dystrophy
Inflammatory Bowel Disease
Crohn's Disease
Terminal illness, if the physician has determined a prognosis of less than twelve (12) months of life
For the time being, the details of Idaho's potential medical pot policy are speculative at best, given that nothing has yet been confirmed.
Medical and Recreational Cultivation of Cannabis in Idaho
Unsurprisingly, the state of Idaho doesn't hesitate to throw the book at anyone brave (or stupid) enough to attempt to cultivate cannabis without a license. Irrespective of whether it's grown for recreational or medical purposes, growing so much as a single plant could land you in jail for five years, alongside a maximum fine of $15,000.
The above applies to the illegal cultivation of fewer than 25 plants – anything more than this and you could be liable for a $50,000 penalty and the next 15 years of your life behind bars.
Resistance to Marijuana Legalization
Will Idaho ever legalize recreational cannabis use? While the state itself seems to have no immediate intention to relax their recreational pot policy, many experts and observers see the whole thing as inevitable. The reason being that despite the conservative views of the state in general, Idaho is surrounded on all sides by states that are benefitting from legalization.
Perhaps the most notable example of which being Oregon, where the legal marijuana market is booming and society is thriving from fair and sensible pot policy. As the United States as a whole (and the rest of the world) pays close attention to what happens where weed has been legalized, common sense suggests that others will follow suit at some point in the future.
It's unlikely Idaho will introduce blanket legalization of weed anytime soon, but following the example set by its neighbors it is something that could happen, given enough time.