Girl Scout Cookies Seeds
As is the theme with so many legends, the exact origins of the Girl Scout Cookies strain are unknown. All that's known for sure is that it was originally cooked up in San Francisco and is a relatively new addition to the global market – first having appeared in 2011.
We also know it was the work of a group of cannabis engineers known locally as the 'Cookie Family' and that it didn't take long for it to gain fame and notoriety across the west coast.
You'll find thousands of weird and wonderful theories as to how the GSC strain first came about, but the simple truth of the matter is that nobody really knows! And let's face it - a little mystery can be half the fun! The experience GSC provides consistently takes inexperienced newcomers by surprise, who, due to its name alone, assume it to be a relatively innocent treat to try out.
*The content on this page is provided strictly for educational purposes only. Please abide by and follow the laws in your country.
Girl Scout Cookies Weed - Taste With Caution
While 'innocent' could be a suitable label for Girl Scout Weed, with high THC levels that vary from 18% right up to 28%, it's the kind of treat that needs to be approached with caution.
Slightly Indica dominant seeds and with looks to die for, get your hands on a single sweet n' sticky scrap of this stuff and you'll be coming back for more. It's impossible to compare the high of GSC with other strains as it's nothing like you've experienced before.
It's the most extraordinary combination of a comprehensive body stone with a seriously cerebral uplift the likes of which makes you want to do nothing and everything at the same time. The GSC strain provides a hit that combines the best of all worlds, which if nothing else can be a little on the confusing side for newcomers. Though potentially overpowering if you take things too far, the great thing about the cookies strain is that it can be relied on to do whatever it is you want it to do, no matter what this happens to be!
GSC Seeds Medical Uses
Worshipped all over the world for its unique high and mouth-watering flavour, Girl Scout Cookies weed has also proved extraordinary in medical applications. GSC is routinely prescribed and recommended for the treatment of chronic stress and anxiety, relief from migraines and the symptoms of PTSD. What's more, those who suffer from chronic nausea, poor appetite and a wide variety of psychological conditions such as bipolar disorder and ADHD have likewise found Girl Scout weed seeds to be uniquely effective. With its ability to deliver a huge hit of relaxation while at the same time delivering an instant mood-boost, GSC is the stuff of legends among medical cannabis users worldwide.
Fragrance and Flavour
Of course, it's the fragrance and flavour of the cookies strain for which it is perhaps most famous all over the world. Just a look at a quality batch of Girl Scout Cookies seeds is to know you're onto something special – its colourful flowers highlighted further by spiralling orange pistils and those irresistible purple hues. All covered with the most generous layer of crystal-white trichomes for a final finish that's almost fairy-tale in its elegance.
Sticky enough to be difficult to break up by hand, the fragrance for GSC seeds is one of enormous citrus sweetness with a strong undertone of a rich musky earth. Break or burn the buds and that quintessential hit of baked (or slightly burned) biscuits leads to the surface, along with an unmistakable note of minty-sweetness that lingers on the palate for hours. Plenty of strains can boast a pleasant flavour profile - the buds from GSC seeds are one of few that is downright delicious in every way.
Cookies Weed Seeds Overview
A perennial favourite across the American West Coast which has more recently become no less than a global superstar, the weed provided by cookies seeds is the kind of sweet treat we all enjoy.
Boasting a quintessentially comfortable high that beautifully combines a cerebral uplift with a complete body melt, product gained from Girl Scout Cookies seeds leads more towards the Indica side of the equation. And despite being famed for its mellow and surprisingly controllable characteristics, certain examples of the strains of cookies cannabis seeds have shown THC concentrations as high as 28% and can be consireded as seeds with very high levels of THC. Meaning that if you do find yourself in the presence of a batch of cookies weed, you might not want to take it for granted!
Origins of the Cookies Seeds
Sometimes, the names given to cannabis strains just don't deliver on their promises. In others, they exceed every expectation and then some. As for Girls Scout Cookies seeds, you're looking at a textbook example from the latter camp – a seriously satisfying strain that's a guaranteed hit for anyone with a sweet tooth. Across the world – most notably in Colorado and Washington State – the GSC strain has become less a popular option and more a must-have staple on the high-end marijuana scene.
Often referred to as GSC, the Girl Scout Cookies seeds have been exploding in popularity over recent years. Cooked up by the Cookie Family in San Francisco, GSC boasts OG Kush and F1 Durban genetics to produce a seriously powerful and impressive hybrid. It didn't take long for it to become a massive hit up and down the West Coast, before quickly making its way across the US and on to international fame.
Here at SeedSupreme, we carry only the most outstanding GSC strain seeds on the market – hand-selected and verified for unrivaled quality!
Sweet and Innocent?
The aroma of good GSC is the stuff of legends and never disappoints. With a strong likeness to OG Kush and a distinctive citrus undertone, there's also an unmistakable whiff of fresh-baked cookies in there. With a slightly minty menthol note, the resulting package is one that's simply irresistible in every way.
In terms of appearance, GSC really is as appealing as a batch of premium cookies. Flecked with orange, purple and green, the dense buds form powdery crystal clusters that promise to deliver the goods when smoked. It all looks relatively similar to OG Kush cannabis seeds, only with fewer orange accents. As for the flavor; well, it's here that the complexity of good cookies really comes into its own. Earthy, rich and with a distinct chocolatey aftertaste, it's the kind of cannabis seeds you could happily order up as a dessert in its own right!
Cookie Concoctions
Unsurprisingly, weed as epic as GSC has found its way into a fair few hybrid weed seeds and new creations over the years. Though of course, some would argue there's no improving on perfection. Here at SeedSupreme, our range of GSC seeds includes Girl Scout Cookies Autoflower seeds, along with Cookies Kush, Animal Cookies and a huge range of cookie crosses. Cultivation specifics and effects vary, so we'd highly recommend checking the individual listings by clicking the strain you're interested in.
In a nutshell, GSC seeds are the kind of strain where if you're not already indulging, you're missing out on something truly epic. Even if sweet strains aren't usually your thing, there's so much complexity and deep enjoyment to be taken from GSC that you'd be hard-pressed to find anyone not completely in love with it!
Growing Cookies Marijuana Seeds
Those lucky enough to live in areas where cannabis cultivation has been legalised will find the Girl Scout weed flourishes indoors in sea of green (SOG) environments. You'll achieve pretty impressive things with more conventional growing methods too, but SOG is where it's at with Girl Scout Cookies strain. That said, it's not what you'd call a particularly forgiving strain – especially when it comes to generosity. While GSC isn't dangerously susceptible to disease and pest infestation, it does demand meticulously controlled conditions to deliver the best possible yields.
The plants themselves come in at around 5 feet in height, meaning you'll need a relatively big growing environment to play with. Flowering times of around 75 days can be expected with consistent TLC along the way. Give it what it needs and you'll be rewarded to the tune of approximately 300g for every square metre of grow space. Definitely not the most generous strain in terms of output, but it's worth remembering that with Girl Scout Cookies weed – quality counts for so much more than quantity!
Hungry For More?
Check out this great video from our friends at Herb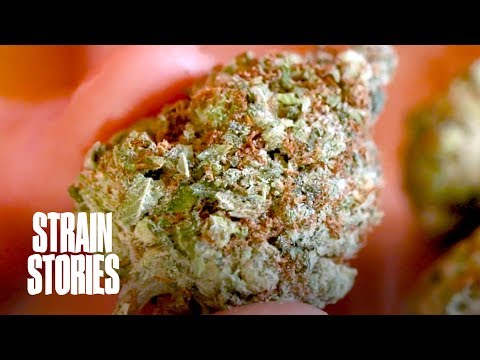 SeedSupreme Suggestions
Truthfully, we love every GSC strain on the market. It's no boast that cookies seeds yield some marvellous marijuana guaranteed never to disappoint. For a wild and zesty start, you could try our Orange Cookies or Animal Cookies seeds to grow perfect buds. Or, to satisfy the more traditional tastebuds, why not savour the unrivalled combination of Cookies and Cream?