Cannabis seeds in Alabama
Alabama is notorious for having one of the strictest and most relentless cannabis policies in the whole of North America, with punishments of up to 20 years in jail on the cards for simple possession of marijuana alone.
Alabama is one of several North American States where getting caught with any amount of cannabis on your person could land you in serious trouble. Irrespective of how much you're holding and whether it's for recreational or medicinal purposes, you're likely to have the book thrown at you.
Various efforts to relax pot policy in the state have so far been turned down flat by the Alabama State Government, despite strong evidence highlighting growing support for improved medical cannabis policies at very least. While Alabama has introduced a relatively remedial medical marijuana program, it lags behind those of neighboring states in terms of accessibility and effectiveness.
Recreational Marijuana in Alabama
In 2020, all types of recreational cannabis are prohibited in Alabama and penalties for breaking the law are extreme. If you are caught carrying or using any type of cannabis products in any quantity, you could find yourself facing jail time.
In most instances, first-time offences are charged as misdemeanors, with a maximum fine of $6,000 and a possible prison sentence of 12 years. Mercifully, it's comparatively rare for a first-time offender caught with a small amount of weed to be sent to the slammer.
Repeat offenders are shown absolutely no mercy – you'll be looking at a Class C felony if you're busted more than once, which means a maximum fine of up to $15,000 and an astonishing 10 years in jail. Make the mistake of attempting to sell or distribute cannabis illegally in Alabama and you could be spending the next 20 years in prison (or life if selling to minors).
Alabama's Penalties for Pot
Irrespective of whether the state of Alabama is headed for a turning point with its medical marijuana policy, recreational weed remains 100% illegal in all its forms as of 2020. What's more, the state imposes some of the severest penalties in the whole of North America for all types of cannabis-related crimes.
As previously touched upon, those caught in possession of recreational cannabis face anything from 1 to 10 years in jail, along with a fine of up to $15,000. Anyone caught selling, distributing or delivering cannabis will be slapped with a Class B felony, which again means up to a decade in jail and a maximum fine of $30,000.
Selling or distributing cannabis or cannabis products to an individual under the age of 18 is considered a Class A felony in Alabama. This means a fine of up to $60,000 and a prison sentence of anything from 10 to 99 years behind bars. Likewise, if you're caught selling or distributing weed to anyone (adults included) within 3 miles of an educational institution, an additional five years of jail time will be added to your sentence – probation being out of the question.
Alabama Marijuana Laws for Drug Paraphernalia
Incredibly, Alabama even takes a heavy-handed approach to the punishment of those caught holding, selling or distributing pot paraphernalia. This means that simply for being caught in possession of a bong or pipe, you could be looking at a $6000 fine and a year in jail!
First-time offenders caught selling or distributing drug paraphernalia are subject to the same penalties, though repeat offenders could be handed up to 20 years in jail and a $30,000 fine.
Local Decriminalization of Marijuana
Individual jurisdictions in Alabama are technically permitted to decriminalize the possession and use of small quantities of cannabis. Nevertheless, only one city to date has actually gone ahead and done so - the city of Birmingham in Jefferson County.
As of 2020, this is the only area in Alabama where getting caught with a small quantity of marijuana will result in a simple citation.
However, repeat offenders face the same heavy-handed treatment as anywhere else in the state – as do those who attempt to sell or distribute cannabis illegally. No other localities in Alabama have indicated their intent to decriminalize small quantities of cannabis anytime soon.
Medical Marijuana in Alabama
While the state of Alabama technically has a medical cannabis policy, 'full strength' medical marijuana is still forbidden in its entirety.
Governor Robert Bentley signed Senate Bill 174 back in 2014, which brought about an exception in the state's intolerant cannabis policy for seizure patients with a prescription from a licensed physician. Known as Carly's Law, this would enable qualifying patients to access certain marijuana extracts, though in limited quantities and with a low THC content.
A year later, the Medical Marijuana Patient Safe Access Act was proposed by state Senator Bobby Singleton, which (if brought into effect) would have extended legal access to medical cannabis for individuals with around 25 recognized conditions. Despite receiving almost unanimous initial approval, Senator Jabo Waggoner personally blocked the bill and labeled it "bad legislation".
By contrast, an article in High Times heralded it as "the most impressive piece of legislation the South has seen in regards to establishing a statewide medical marijuana program".
How to Become a Medical Marijuana Patient in Alabama
As it stands, it is only possible to qualify for low-THC medical cannabis products in Alabama if you suffer from seizures and receive a recommendation from a licensed physician.
The typical 'cannabis card' framework that exists across much of the U.S. doesn't really apply in Alabama, where only a handful of people have so far been deemed eligible for medical cannabis.
The situation is further complicated by the fact that marijuana prescriptions are still technically illegal at a Federal level. This means that doctors are prohibited by law from prescribing pot to patients, irrespective of their requirements. Instead, it's a case of providing a 'recommendation' for medical marijuana, which must then be approved by the state itself.
The sale and distribution of medical cannabis in Alabama remains illegal, though qualifying patients are permitted to grow a maximum of six plants at home, with no more than three producing usable buds at any one time.
Progress Towards Legalization of Medical Cannabis
A vote that took place in the Alabama senate in March 2020 laid the foundation for an enhanced medical cannabis framework for the state, which will subsequently need to be approved by the state House of Representatives. The issue was still technically on hold as of May 2020, as complications from the COVID-19 pandemic derailed the Alabama medical cannabis bill.
However, the fact that the initial bill passed by a majority of 22-11 suggests that unless it is once again blocked outright, it will be approved and implemented later this year. This would make Alabama the 34th North American State to legalize therapeutic cannabis, though the specifics of the policy (including exemptions and exclusions) remain to be seen.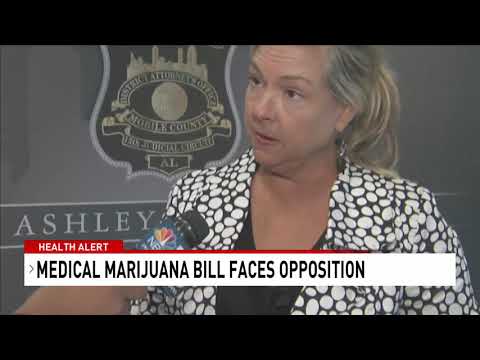 Resistance to Marijuana Legalization
The likelihood of Alabama relaxing its recreational marijuana policy anytime soon is practically non-existent.
The fact that only one city in the entire state has so far decriminalized small quantities of cannabis sends a powerful message about its overall attitude to recreational use.
For the time being, therefore, the best the people of Alabama can hope for is the introduction of a reasonable medical cannabis framework, which could happen by the end of 2020.