Cannabis seeds for sale in Louisiana
Bottom Line:
Louisiana was one of the first North American states to formally legalize medical cannabis. However, all forms of recreational cannabis remain strictly prohibited state-wide.
Cannabis policy in Louisiana is complex and somewhat contradictory. Despite the fact that the state has permitted the use of medical marijuana for almost 40 years, recreational cannabis use is still heavily penalised. Even when the state rolled out its own form of decriminalisation, recreational cannabis users continue to face heavy punishments for flouting the rules. First offences being punishable by up to 15 days in jail and/or a fine of $300.
How Did Decriminalisation Affect Cannabis Law in Louisiana?
Louisiana has always had some of the harshest recreational cannabis laws in the United States. However, Governor Bobby Jindal signed a bill in June 2015 that would effectively decriminalise cannabis use and possession in small quantities. Nevertheless, it would still be possible for first time offenders caught with small amounts of pot to face 15 days in jail and a fine of up to $1,000. Second, third and fourth offenses under the apparent 'decriminalisation' policy could lead to six months, two years and eight years in jail respectively. A unique and worrying take on 'decriminalisation' for cannabis users in Louisiana.
What About Medical Cannabis in Louisiana?
Medical cannabis use has been permitted by law in Louisiana since 1979. However, no formal framework regarding the distribution of medical cannabis was drawn up until much later – 2015, in fact. Again, Governor Bobby Jindal brought into effect an act that outlined when, where, how and by whom medical cannabis could be bought and sold. In a general sense, it was the bill that brought into place the state's medical cannabis dispensary infrastructure, which remains the only legal source of cannabis state-wide.
So, Is Marijuana Legal in Louisiana?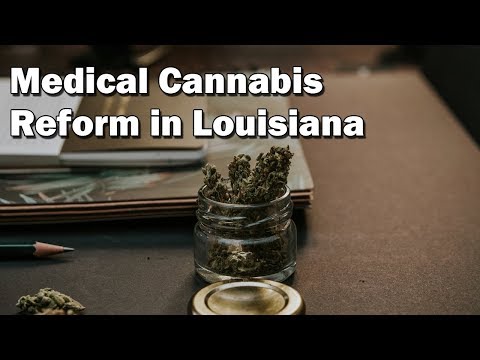 Cannabis is legal in Louisiana for medical use, upon receipt of a medical cannabis card for the treatment of a qualifying condition. All forms of recreational cannabis are 100% illegal and penalties for breaking the law are severe. If you are caught carrying or using medical cannabis without a medical cannabis card or a valid form of ID, you will be deemed to have obtained it illegally and could be liable for a fine or jail time. Penalties may have been significantly reduced as of 2015, but remain some of the harshest in the United States.
Who Has Access to Medical Cannabis in Louisiana?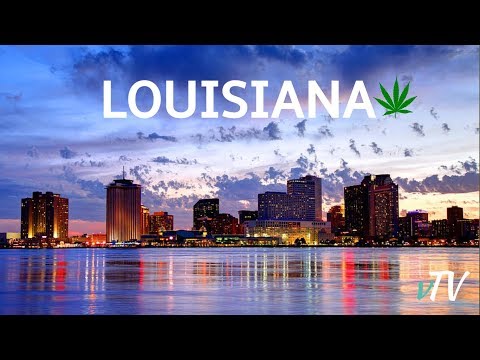 Doctors in Louisiana cannot 'prescribe' cannabis in the traditional sense. Nor can anyone without a specific license stock or sell medical cannabis products. Instead, it is a case of getting a formal recommendation from a licensed physician, after which a medical cannabis permit may be provided. Interestingly, no physician in the state is allowed to have more than 100 medical cannabis patients under their care at any one time. Hence, it's important to find out whether your chosen physician has any 'free spaces' when making your appointment, or you'll be out of luck.
The formalisation of medical cannabis policy in Louisiana still has a long way to go, despite it having officially come into place 40 years ago. Much to the frustration of medical cannabis patients, who to this day often find it difficult to access the cannabis they need to treat their conditions.
Which Conditions Qualify for Medical Cannabis in Louisiana?
Louisiana's network of medical cannabis dispensaries is extremely compact, making it tricky for some patients to access the products they need. In terms of eligible conditions, the state follows the same standards as most other medical cannabis states, considering patients with the following conditions:
Crohn's Disease
Communication difficulties or avoidance that jeopardizes the patient's physical health
Destructive or physically aggressive behaviours
Epilepsy
HIV/AIDS
Muscular Dystrophy
Multiple Sclerosis
Parkinson's Disease
Repetitive or self-stimulatory behaviours that put the patient's physical health at risk
Seizure Disorders
Self-Injuring Behaviours
Severe Muscle Spasms
Wasting Syndrome/Cachexia
Doctors and patients may also file appeals with the state's health department, if their condition doesn't appear on the above list. There is a degree of flexibility, though the process of becoming approved for medical cannabis without a formal qualifying condition can be complex and drawn-out.
How Can I Become a Medical Marijuana Patient in Louisiana?
The main proviso for a medical cannabis patient to qualify in Louisiana is being diagnosed with one or more of the conditions mentioned above. After which, the process looks a little like this:
It's first important to note that you can only qualify for a medical cannabis permit if you are a current resident of Louisiana. Along with proof of your condition, you'll also need to provide formal proof of residency.
Make sure the cannabis doctor you visit has access to all of your recent and relevant medical records. If you need to organise their transfer from a different or out-of-state doctor, do so as early as possible in the process.
Interestingly, it's not necessary to register with any specific state-wide medical cannabis registry or database. You'll simply need the recommendation of a doctor who has the approval of the Louisiana State Board of Medical Examiners to obtain medical cannabis.
After being diagnosed and recommended by a doctor for medical cannabis, you'll need to head to whichever dispensary serves your area of residence. It's only possible to purchase medical cannabis using cash – no credit or debit cards accepted.
Medical cannabis has technically been legal (to some degree) in Louisiana for four decades, yet the first official medical marijuana sales took place as recently as late 2018. The entire system is therefore still finding its feet and is rife with complications and imperfections.
What About the Use of Cannabinoid Oil in Louisiana?
Alongside medical cannabis, the popularity of CBD oil is growing across the United States in general. Scientific and anecdotal evidence suggesting that the measured use of CBD can prove helpful in the treatment for a wide spectrum of conditions – anxiety, chronic pain, seizures, insomnia and so on.
In Louisiana, hemp was legalised for cultivation and subsequent refinement in 2018. This made products containing hemp-derived CBD legal to produce and distribute too. However, would-be growers are warned that to cultivate hemp is to run the risk of attracting both the attention and heavy scrutiny of lawmakers, due to the state's OTT cannabis laws.
What Penalties Apply for Illegal Cannabis Use?
The decriminalisation of cannabis usually means minor penalties or on-the-spot citation for first-time offenders and minor infractions. In Louisiana, it means nothing of the sort. Possession of small quantities of cannabis can lead to heavy fines or imprisonment. If you're caught in possession with the apparent intent to supply, they'll throw the book at you.
For example, if you're caught in possession of less than 15g of cannabis for personal use only, you could face a fine of $1,000 and up to 15 days in jail. Anything above 15g and you'll be looking at up to six months behind bars, increasing to a maximum 10 years in prison for holding up to 60lbs of cannabis…not that you would.
Anyone deemed to have the intent to supply cannabis illegally faces a mandatory five years in jail, which may be increased to 30 years for more serious offenses. Even as a medical cannabis patient, there is no allowance for growing cannabis at home under any circumstances. Cultivation is treated in the same way as intent to supply – even if you're simply growing your own medicine. Another aspect of the state's cannabis policy that continues to draw heavy criticism.
What Are the Marijuana DUI Laws in Louisiana?
As you'd expect, the state of Louisiana isn't exactly forgiving when it comes to cannabis-related DUIs. Cannabis driving laws are similar to those of alcohol DUI laws, though anyone busted for a cannabis DUI is also liable to be punished for illegal possession – perhaps even intent to supply. What's more, there are no specific or accurate roadside cannabis testing methods currently in use. Blood samples are instead taken at a local police station, which could test positive for THC several days after consumption.
Cannabis DUIs in Louisiana are punishable by way of up to six months in jail and a fine of up to $1,000 for a first offense. Repeat offenders can find themselves facing up to five years in jail and the confiscation of their licence and their vehicle. Hence, a risk not worth taking.
Will Louisiana Legalize Recreational Cannabis?
Given the current state of Louisiana's medical cannabis system and the harshness of its recreational cannabis laws, it seems unlikely. At least, not for some time. Louisiana is one of several North American states that seems to be distancing itself from the prospect of recreational cannabis legalization, rather than following the example of forward-thinking states like Colorado and California.