Cannabis seeds in Washington D.C.
In Washington D.C., it's legal to possess, grow and consume cannabis for both recreational and medicinal purposes, however, these laws are not without their caveats - and they're ones you need to be aware of.
Under Initiative 71, Washington D.C. has legalized the possession of up to two ounces of marijuana per adult over the age of 21, though this does not apply on federal lands, as federal law still prohibits all cannabis use and possession.
Cannabis is not quite as free as you might hope here, as consuming or growing marijuana outdoors is still illegal along with the sale of it. D.C's social use ban and unmoving stance on selling pot remains ongoing and has created a gift economy culture of businesses supplying 'free' weed and pop-up events (the latter of which are regularly shut down due to violation of the no social use edict).
As home growing for personal use or gifting is perfectly legal, D.C. is as fine a place as any for the budding cultivator to grow their best cannabis seeds.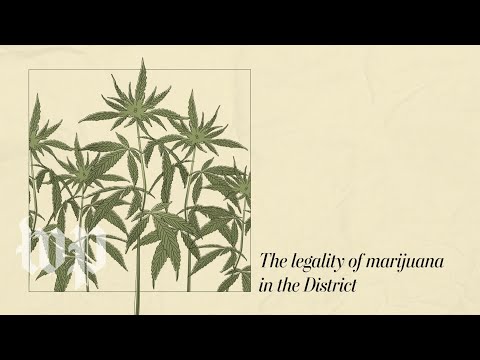 Washington D.C. Cannabis Laws - What's Legal?
In November 2014, the Legalization of Possession of Minimal Amounts of Marijuana for Personal Use Initiative passed. Despite the already sexy name, the bill has become known as Initiative 71, and as of Thursday the 26th February 2015 at 12:01 am, became law.
The law made possession of minor quantities of weed legal throughout Washington D.C. for those over the age of 21, albeit with some critical caveats. The government of the District of Columbia released a useful FAQ on Initiative 71 and D.C's marijuana laws, which can be summed up as follows.
In Washington D.C., it's legal to:
Be in possession of two ounces of marijuana or less.
Give one ounce or less to anyone over the age of 21, provided the cannabis is not paid for or traded for with goods or services (like in Alaska, Colorado and Washington state).
Be in possession of weed paraphernalia relating to the possession of one ounce or less, such as bongs, papers, wrappers, grinders.
Consume cannabis on private property while indoors.
Grow up to six cannabis plants at home, indoors. Only three of these plants can be budding/flowering/maturing at any one time.
It is illegal to:
Sell any amount of marijuana to anyone.
Be in possession of more than 2 ounces of cannabis.
Grow weed outside.
Operate a vehicle while under the influence of weed - much like the other pro-pot states, there is no 'legal limit' as with alcohol.
Consume weed in any way at all in a public space. This includes anywhere the public is welcome, such as the street, parks, parking areas, or in a vehicle on the street, and is enforceable via a fine and the seizure of your cannabis.
Possess or consume cannabis under the age of 21. Any such offence concerning more than two ounces is arrestable, while under 2 ounces is punishable by seizure of the cannabis only.
While Initiative 71 still leaves plenty of cannabis culture in the illegal category, punishable by law with fines and jail time, those who operate within Washington D.C's strict cannabis laws will find ample room for marijuana enjoyment.
Interestingly, in the case of weed being seized by police (say, if you did not have your I.D. on you to prove your age), provided the quantity does not exceed the two-ounce limit, police issue warning tickets - when these tickets are brought with your proof of age to the issuing police station and district, the authorities will return your weed to you - even if you were caught consuming cannabis in public!
As with much in D.C., this intriguing concept is not without its own caveat, though a time limit to claim of between 24 hours and 21 days after the police have seized your pot seems more than reasonable enough.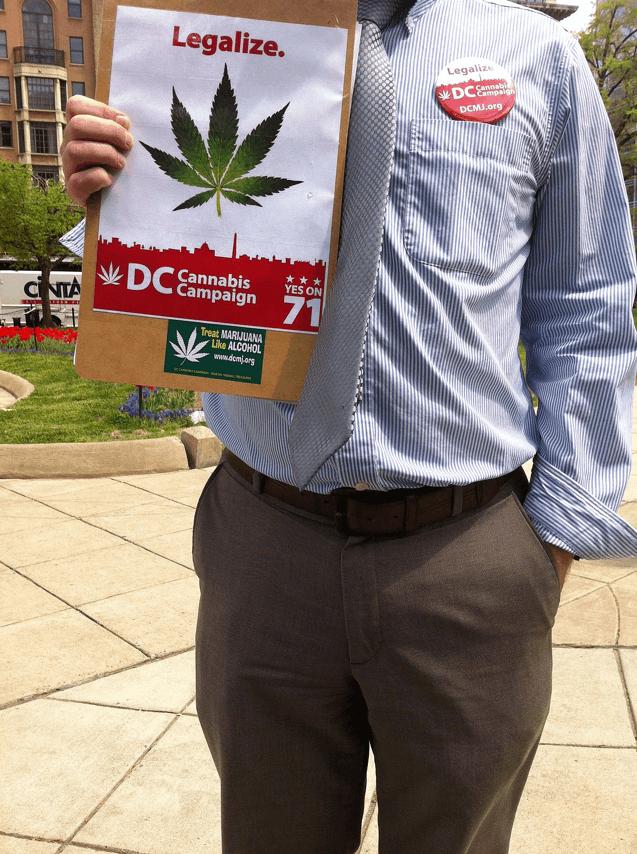 Opposition to the Legalization
Though Initiative 71 was passed in November 2014 with a 64.87% approval rating, the legalization bill was blocked by congress, who sought to veto the legislation through particular wordings.
Using preventative measures in place for an unrelated $1.1 trillion spending deal, congress demanded that no money be spent attempting to 'enact' Initiative 71, hoping this would halt the legalization effort entirely. In reality, all this did was prevent city officials from establishing a viable plan for the sale and taxation of legal marijuana (a year+ long process in other more pot-friendly states like Colorado).
In turn, Washington D.C.'s odd approach of keeping the sale of weed illegal has fed a series of entrepreneurs, who have found ways to distribute marijuana in total and complete compliance with Initiative 71.
Washington D.C.'s Grey Area Cannabis Gift Culture
Those wondering how to get weed in Washington D.C. in 2020, you're in the right place.
As we've mentioned, marijuana can't be bought or sold legally. Washington D.C. has no recreational dispensaries and the 'enact' caveat of those who opposed cannabis legalization prevents the District from setting up retail sales outlets such as you'll find in Los Angeles, Seattle or Denver.
In answer to the public's need for weed and addressing the problem that many potheads are not skilled cannabis cultivators able to grow their own, savvy businesses have sprung up with an innovative answer to the problem.
Led by the likes of HighSpeed and Joint Delivery, these operations offer marijuana as a free gift alongside other related or non-related purchases. Operating within their ingenious loophole, these companies are entirely Initiative 71 compliant, openly advertising their services across public websites, reviews and media throughout the internet.
These weed-gifting deliver and pickup services tend to sell products like shirts, mugs, bags, artwork, or even simply request a 'donation'. You don't need a medical card or to be a resident, and once you've placed your marked-up order, you will receive your brand new hat and free thank you gift of some delectable nugs, hash, edibles or you name it.
It may seem hazy to some, but these services are entirely legitimate and even deemed so essential that they have remained open during the COVID-19 pandemic lockdown.
The alternative is - get a medical card (or grow your own using some standout feminized or regular cannabis seeds).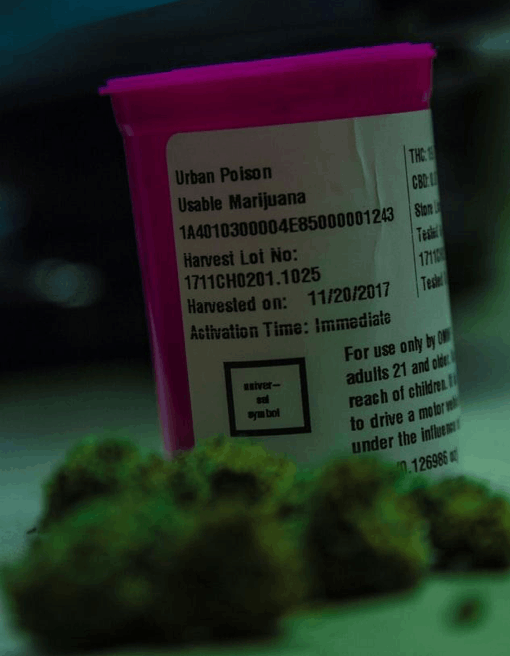 Medical Marijuana in Washington D.C.
Medical marijuana has been officially legal in D.C. since 2011, though this was after a lengthy struggle beginning decades earlier, and only took effect in 2013, at which point medicinal pot dispensaries began to appear.
Anyone issued with a Medical Marijuana Card by the District Department of Health can have up to two ounces of therapeutic cannabis each month, and as of 2020, it is still illegal and an arrestable offence to consume weed for medicinal purposes in a public area.
Washington D.C. has relatively loose medical regulations when it comes to therapeutic tokers, and has done since emergency legislation enacted in 2015. There are many who receive their medical card and pot prescription for anything which might even remotely benefit from some THC therapy.
As of 2020, there are a total of seven medical marijuana dispensaries in D.C., including the likes of the Metropolitan Wellness Center, Capital City Care, and the National Holistic Healing Center. Keep in mind, these dispensaries can only sell pot to registered medical patients from D.C., as well as certain other states with similar medical marijuana programs in place - be sure to bring your medical card!
Federal Law Cautions
Under federal law, the possession or consumption of cannabis in any way or of any quantity is still considered a crime. This means federal officers can arrest anyone for having any amount of bud on their person, as they're violating federal law.
This is especially important to be aware of, given that between 22 and 30% of Washington D.C. is federal property or federally subsidized housing. While you can carry up to two ounces in public (but not consume it), you'll need to be careful where you wander to.
Find yourself on federal lands like National Mall, Rock Creek Park, West Potomac Park, visiting the Lincoln Memorial or even within a 47 square block radius around the Capitol building with marijuana on your person and you could be in serious trouble.
As always, SeedSupreme Seed Bank encourages you to know the law and follow all regional requirements.