Soma Seeds
Soma Seeds, aka Soma's Sacred Seeds, have been a world-renowned source of the highest quality cannabis seeds and eco-friendly growth information for over 20 years.
A seed bank founded on the unshakable beliefs that weed is more than a seed or strain, but rather a lifestyle, and that the contribution of cannabis and the entire hemp family to the world of medicine and beyond is incalculable and invaluable.
These are weed seeds for the connoisseur who holds Mary Jane in the highest of regards and who seeks the finest herb on the market.
SeedSupreme Seed Bank is privileged to provide these award-winning organically grown feminized, regular, and autoflowering cannabis seeds and help spread the Soma message that weed is for everyone.
Origins
The birth of present-day Amsterdam-based Soma Seeds lies many decades ago, long before the breeder's Reclining Buddha strain brought him international fame at the '99 High Times Cannabis Cup.
The year was 1967, and Soma was far from the dedicated Rastafari he is today. It's tough now to imagine him back then at 18, a corporate drone in a 3 piece suit and tie working as a mail clerk at IBM in New York City, though it's perfect to picture his moment of enlightenment down by the East River, suited, booted and rolling the first joint (one a colleague had to help him roll!).
From there, like in the now-classic scene in a stoner movie, Soma fell in love.
Brand Evolution
Committed to Mother Nature
Marijuana works a mighty spell on those receptive to her, and from his first hit, Soma found a new purpose in life.
By 1971, Soma had fairly fully renounced the ways of his old life and began cultivating cannabis in southern Vermont while owning and running a vegetarian restaurant and bakery - many miles physically and spiritually from that first toke in corporate America.
It was during this time that Soma naturally became more conscious of his diet and developed a deeper wealth of knowledge and understanding of the cultivation, ecology, and its effect on the environment as a whole.
Through a rising awareness of his carbon footprint and the connectivity of all life, Soma gravitated towards growing ganja in the most organic and eco-friendly ways possible, learning from the traditional techniques used throughout the world to care for his cannabis.
Pot Philosophy
Soma has stated categorically that cannabis is one of the most positive forces in his life, and for the 50+ years since that turning-point first took, this belief has driven him, the strains he's bred, and the creation of Soma Seeds.
To Soma, it's clear that cannabis is here for a purpose and should be readily available for everyone, regardless of where they are or who they are. And it's impossible to argue with that, or Rastafari's conviction that restoring marijuana to its rightful position in the world is a crucial step towards a better tomorrow.
Soma sees a future beyond medicinal marijuana; one where the entire plant is used as intended by Mother Nature, where the pulp becomes paper, the oils create renewable sources of bio-fuel and the vegetable protein helps to combat world hunger.
And to Soma Seeds, the influence of this devotion to the cannabis plant and its potential shines through in every weed seed stocked on their shelves.
Community Contributions
With his aim of helping the planet become greener and weed being free to grow wherever possible, it's no wonder that Soma swiftly became an active member of the cannabis community.
The innumerable articles he's written for various weed publications over the years have turned him into a trusted authority on biologically friendly cultivation methods and a veritable ganja guru for the world.
Beyond said articles, Soma is a prolific creator of and featured in plentiful videos targeting education and sharing his findings with the marijuana masses.
He has even written books that represent years of study and testing different growth methods in the hopes of helping ganja growers and stoners with their hearts set on organic cannabis.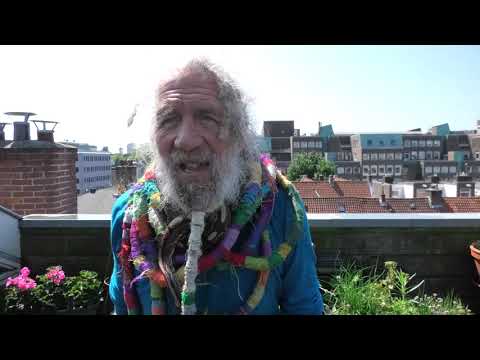 Devotion and Passion
It's not difficult to find a seed bank dedicated to marijuana, but few can rightfully claim such devotion as the legendary Soma.
Even among the weedy faithful, there might be those who scrunch their noses at such complete harmony between man and plant, however, from this writer's perspective, the tale of Soma is truly one for the ages.
And when the founder and breeder behind Soma Seeds is this unique individual for whom weed has woven a place in his life, merging with his interests, guiding him to exploration and paths which otherwise might never have been pursued, it's clear as day to see why the cannabis seeds he produces are such prized specimens of high-quality ganja.
Just a peek at Soma's life - how he uprooted his existence to find a new home where weed was legal, where he could hone the art of cultivation and live a life surrounded by cannabis in all its forms, from clothing to food, plants, paper, medicine, and smoke joints - is enough to feel in the safest and wisest hands with seeds from Soma Seeds.
Essential Strains
Whether you're a breeder looking for the finest genetics for your next project or a grower hoping for a better crop than your last batch, Soma Seeds caters to every weed need.
With a full range of feminized, regular, and autoflowering seeds, some rather expensive price tags and a strong selection of the greatest of all-time strains, it can be tricky knowing where to begin.
And, in truth, with any seed from Soma Seeds, you're guaranteed exquisite results (you get what you pay for, after all!). The love and attention each strain from this seed bank has received are clear to behold, but we'll explore some of the most legendary here.
NYC Diesel
One of Soma Seeds' most popular strains and 2nd place winner of the '01, '03, and '04 High Times Cannabis Cup for Best Sativa.
She comes from Mexican Sativa and Afghani lineage, is a generous yielder, and is packed with moreish, exotic tastes and smells like ripe red grapefruits which, Soma says, overpower any other smell in the room and lend themselves to medicinal use beautifully.
Amnesia Haze
A 70% Sativa hybrid, winner of the 1st place Cannabis Cup award in 2012 for Best Strain and result of a complex genetic cross. Amnesia Haze seeds come to us from the rich genetics of Jamaican Haze varieties, Aghani-Hawaiian, and Southeast Asian genes.
A best-seller since she first arrived on the scene, she might present some challenges for novice growers and isn't the fastest flowering, but boy, for those yields, taste, and high, she's well worth your time.
Somari
An Indica-dominant cross between NYC Diesel, Kushadelic, and Buddha's Sister, and winner of the 1st place Amsterdam Cannabis Cup in 2013 for Best Indica.
Somari comes with a note of Skunk flavor and a hint of the G13 Haze (which forms part of the genetics of Kushadelic), and, by Soma's recommendation, is a perfect daytime smoke.